"Nothing changes if nothing changes." - Earnie Larson
Despite the huge "risk-on" move in equities, I remain unconvinced that anything has changed in terms of the conditions favoring further deterioration of asset prices into the end of the year. First, one day is not enough to change the underlying intermarket messages I focus on. Second, the entire decline in November can really be attributed to the jump in Italy's and Spain's yields. As of this writing, Italy's 10-year is still above 7%, i.e. the temperature has not broken and European yields did not confirm the excitement by equity investors. More so than that, the intraday action in Treasuries suggests continued skepticism by our own bond markets here. A big move up in equities should ideally be confirmed by a big move down in bond prices (jump in yields). This was not the case on the post-Black Friday rally.
Credit spreads also have not improved substantially enough in the near-term. Take a look below at the price ratio of the SPDR High Yield Bond ETF (NYSEARCA:JNK) relative to the iShares 7-10 Year Treasury Bond ETF (NYSEARCA:IVV). As a reminder, a rising price ratio means the numerator/JNK is outperforming (up more/down less) the denominator/IVV. Focus less on the ratio itself and more on the trend.
Click to enlarge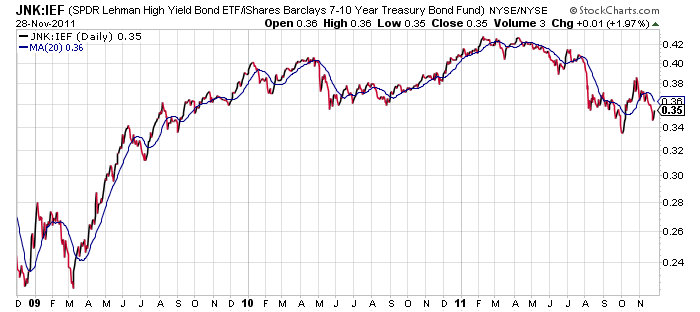 Think of an uptrend in the ratio as credit spreads narrowing between risky junk debt and "risk-free" Treasuries. Generally, this is bullish as it means the bond market's perception of default risk is diminishing. The opposite is true with a downtrend – Junk debt underperforming Treasuries means credit spreads are widening as default risk premiums get priced in with higher probability.
The main point here is that the ratio on the far right is still trending down and remains below its 20-day (1 trading month) moving average. While possible that the trend reverses, it's too early to think one day changes everything. If anything, it could just be the bounce before the breakdown in risk-assets which I believe could occur in the coming December to Remember.
Disclosure: I have no positions in any stocks mentioned, and no plans to initiate any positions within the next 72 hours.
Additional disclosure: The author, Pension Partners, LLC, and/or its clients may hold positions in securities mentioned in this article at time of writing. The commentary does not constitute individualized investment advice. The opinions offered herein are not personalized recommendations to buy, sell or hold securities.