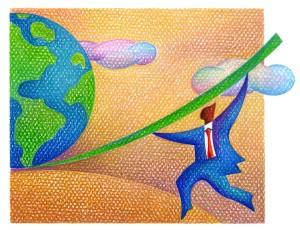 Exchange traded fund manager Direxion plans to increase the leverage for several ETFs that currently seek 200% of the daily returns of their tracking benchmarks.
The Boston-based firm said 10 ETFs will shift to 300% daily leverage effective Dec. 1. The move affects five "bull" funds and five "bear" funds.
Direxion is keen to get the word out so there are no surprises for shareholders when the ETFs make the move to higher leverage later this week, said Andy O'Rourke, Direxion's marketing director, in a telephone interview.
All of the firm's leveraged ETFs will be based on 300% leverage following the move.
Direxion competes against other leveraged ETF providers such as ProShares and Rydex SGI, which is being bought by Guggenheim Partners.
O'Rourke said the move to higher leverage is based on client feedback and needs.
"They're not intimidated by 300% daily leverage. They prefer to see the higher leverage point," he said. The users of active ETFs "have a lot of conviction in their trades" and "like more leverage."
Leveraged and inverse ETFs have faced scrutiny from regulators who worry investors may not understand the products and that holding derivatives introduces counterparty risks. Managers of leveraged ETFs say that their sophisticated client base is familiar with how the products work. Also, high turnover levels suggest the ETFs are being used as designed – for trading.
O'Rourke said more financial advisors are starting to better understand leveraged ETFs and may use them more in trading strategies.
These 10 Direxion ETFs will convert to 300% leverage effective Dec. 1:
| | | |
| --- | --- | --- |
| Symbol | Previous ETF Name | New ETF Name |
| BRIL | Daily BRIC Bull 2x Shares | Daily BRIC Bull 3x Shares |
| BRIS | Daily BRIC Bear 2x Shares | Daily BRIC Bear 3x Shares |
| INDL | Daily India Bull 2x Shares | Daily India Bull 3x Shares |
| INDZ | Daily India Bear 2x Shares | Daily India Bear 3x Shares |
| NUGT | Daily Gold Miners Bull 2x Shares | Daily Gold Miners Bull 3x Shares |
| DUST | Daily Gold Miners Bear 2x Shares | Daily Gold Miners Bear 3x Shares |
| GASL | Daily Natural Gas Related Bull 2x Shares | Daily Natural Gas Related Bull 3x Shares |
| GASX | Daily Natural Gas Related Bear 2x Shares | Daily Natural Gas Related Bear 3x Shares |
| RETL | Daily Retail Bull 2x Shares | Daily Retail Bull 3x Shares |
| RETS | Daily Retail Bear 2x Shares | Daily Retail Bear 3x Shares |
Disclosure: None