Banro Corporation (BAA), the Toronto-based gold miner, started production in early October in the Democratic Republic of Congo (DRC). Banro has four open-pit gold production projects that it is currently working on in the DRC. These include the company's flagship project in Twangiza, which is the project that began production in October of this year, and three others are the Namoya, Kamituga, and Lugushwa projects.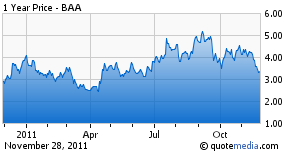 Banro is an attractive company for investors to do their due diligence on for several reasons. Primarily, now that the company has gone into production, it will start to generate a huge amount of free cash flow given that their extraction costs are extremely low relative to their industry. Additionally, Banro holds a large amount of gold on its properties and currently has indicated and inferred reserves of approximately 11.3 million gold ounces.
According to the Seeking Alpha article "4 Intermediate Buying Opportunities In Gold Producers" that was published on November 1st by Randall Thomas:
Its first mine has begun production at an initial rate of 10,000 ounces per month. BAA's estimated gold production for 2012 is 140,000 ounces. In 2014 its second mine will enter production and the first mine is scheduled to increase production. Together these mines will produce 250,000 ounces per year starting in 2014. Two additional mining properties will enter production after 2014. These have 3.7 million ounces of inferred gold, which is included in the 11.3 million ounce company total.
Moreover, according to Randall Thomas:
With a market equity value of $771 million, this leads to Banro's gold resources being valued at $68 per ounce. The company's extraction costs are calculated at $450/oz., yielding an investor cost of $518 per extracted ounce. This is quite a bargain. The price/book value is 2.0. Since Banro is a less mature company, it has a mildly negative cash flow from operations while devoting $0.13/share to capital expenditures. Now that revenues have started, this mix will change dramatically, with the returns flowing to the shareholders and cash flow from operations likely crossing into the positive in 2012. Banro has no long term debt and a current ratio of 3.4.
In my view, the only objection that an investor could think of about not opening up a position in Banro Corporation at these levels would be if investors are hesitant to take on the political risk associated with the Democratic Republic of the Congo. However, according to Michael Cooper, CFA, President of Toronto-based Cooper Financial Research, in an October 27th 2011 telephone interview I conducted: The political risk in the DRC has been steadily decreasing over the past few years, with major reforms that have been implemented by the pro-business government benefiting international private companies operating in the DRC.
Additionally, in a November 2010 equity research report, CIBC points out that Banro might be a very compelling acquisition target. This argument is strengthened by the fact that there are a plethora of international mining companies already in the DRC such as Freeport McMoran (FCX), BHP Billiton (BHP), and Vale (VALE) that are currently sitting on a lot of cash and which can swiftly incorporate Banro's operations into their own.
Banro is strategically developing one of the largest gold belts in Africa. It has delineated 11.2 million oz. of gold resources (including inferred) in four deposits along the Twangiza-Namoya gold belt, which spans over 210 km. We believe this large land package makes Banro an attractive M&A target.
As a result of the company's fundamentals, I believe it is a very compelling investment opportunity and should be considered by investors looking to gain exposure to an emerging gold miner with significant capital appreciation upside.
Disclosure: I have no positions in any stocks mentioned, and no plans to initiate any positions within the next 72 hours.