By Joseph Hogue, CFA
The National Oceanic and Atmospheric Administration (NOAA) has released its winter weather outlook for the United States. La Nina and the erratic climatic factors that have affected the last two winters will return this season, making for a colder and wetter scenario over much of the country.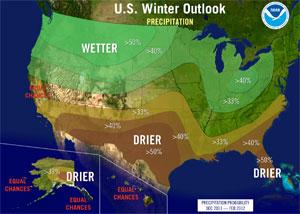 Given the possibility of a repeat in the weather patterns seen over the last two winters, it might be instructive to look at how the pattern affected certain stocks during the prior periods. Following are two companies that could see increased strength if the weather turns particularly cold, but also have strong fundamentals to outperform regardless of the climatic events. The agricultural chemicals sector provides two companies that could be used as short plays or hedges.
Two Cold Winter Winners
Columbia Sportswear (COLM) designs, markets, and distributes outdoor apparel, footwear and accessories under four brands: Columbia, Mountain Hardwear, Sorel and Montrail. Though products are fairly diversified, the company has a large offering in winter apparel and should do well with a cold winter scenario. The shares trade at 16.8 times trailing earnings and at a discount to the industry average of 18.8 times. Short interest is high at almost 13.0% of shares outstanding, making it a candidate for a short squeeze if an upside catalyst comes along.
Sales in Europe, Middle East, and Africa (EMEA) almost quadrupled for the Sorel brand in the third quarter and sales overall for the brand increased 116% on a year over year basis. The company increased its 2011 guidance to 15-16% revenue growth on lower air freight costs and an increase in sales on higher-margin direct-to-consumer business.
Exelon Corp (EXC) is a utility services holding company engaged in delivery and generation of energy and energy services. The company announced its merger with Constellation Energy this year solidifying its leadership in power and natural gas. The merger is a stock-for-stock deal and so it will not necessitate increased debt or a dilutive equity issue. Company fundamentals are extremely strong relative to the industry. Exelon trades at a P/E ratio of 11.6 times trailing earnings versus an industry average of 14.4 times. Despite a lower levered balance sheet at 1.0 times debt to equity versus the industry average of 1.2 times, the company maintains an above average ROE of 17.0% versus the industry average of 9.4%. The company also pays a strong dividend of 5.0% and shares have appreciated by 6.1% over the last twelve months.
Two Winter Wannabes
Dow Chemical Company (DOW) is a diversified manufacturer of industrial and agricultural chemicals sold worldwide. Sales outside the United States accounted for 67% of total sales in 2010. Though positive global growth should keep demand healthy for the next year, a recession in Europe and economic contagion could depress sales. The company is relatively diversified with approximately 40% of sales from cyclical commodity-related products and the remainder from less cyclically-driven specialty products. The P/E ratio is lower than the industry average at 10.7 times versus 13.8 times for the chemicals industry. The company's ROE is lower than the industry average but still quite respectable for a mature company at 14.8%.
The company reported "headwinds" in the second quarter of this year due to adverse winter weather, decreasing sales in its agricultural products and paints. A repeat of last year's cold and wet conditions could again mean lower than expected sales for the company.
Landec Corporation (LNDC), also in the chemicals industry, fell 8% on December 13th last year and cut its 2011 outlook on an earnings hit due to cold weather. The company designs, develops, manufactures and sells polymer products for food and agricultural products, medical devices and other applications in polymers. The company trades for 16.1 times trailing earnings, making it one of the more expensive in the industry. The company pays no dividend, one of the few in the industry that do not return money to shareholders, and has an extremely low ROE of 2.5%. The shares have outperformed Dow Chemical in the last twelve months with a loss of 13.0% versus a loss of 22.4% for the larger company.
A long position in Dow, given its stronger fundamentals and diversified product selection, could be hedged with a short position in Landec. Either of the two chemical manufacturers could be used as short plays against a cold winter.
Disclosure: I have no positions in any stocks mentioned, and no plans to initiate any positions within the next 72 hours.