During the last two weeks, Digital Generation's (DG) (NASDAQ:DGIT) shares have traded for $11.7-15 per share, which is an attractive entry point.
INVESTMENT THESIS
I believe that it is more likely than not that within the next 4 years DGIT's share price will appreciate to $17-45/share. My estimate uses the following assumptions:
- Yearly EBITDA will be range-bound $110-140 million going forward;
- The debt will be reduced substantially during the next 3-4 years;
- The market will value the company at no less than 7x – 11.5x EBITDA;
- There will be no more than 32 million shares (about 27.5 million existing shares + up to 4.5 million new shares currently reserved for the incentive award plan).
Reason to invest: The first global one-stop-shop able to service, handle and manage multimedia assets across multiple channels (radio, TV, online, print).
Catalyst: The takeover of DGIT
KEY CONCERNS
1. CEO shakeup (Nov-2011)
2. Growth potential
3. Business model disruption
COMPANY BACKGROUND
Mr. Scott Ginsburg (currently Chairman and owner of 8% of the company) led the company (since 1998) to become:
- The most prominent US player with regard to the distribution of short-form audio/video commercials;
- A key player in long-form video distribution;
- The 2nd largest player in online third party ad serving (after Google (NASDAQ:GOOG), but before Microsoft (NASDAQ:MSFT)).
DGIT has been the innovator that led the substitution of physical distribution (tapes) by electronic deliveries in radio, then TV. It also became the consolidator of its industry and enlarged its circle of competence rationally and consistently. Its acquisitions were strategically accretive - they provided DGIT with:
- Market share;
- Assets - technology, skills, customer lists;
- New leads – business lines/further acquisitions.
The recent acquisitions (Mediamind, Eyewonder/Chors) and the partnership with SmartJog helped DGIT to gather:
- Global one-stop-shop credentials (intellectual, digital and physical assets + expertise);
- Market share: US + international (clients, publishers and broadcasters base);
- Removal of its two largest independent competitors in the on-line space + synergies;
- Technology (rich media, ad delivery/management platform, real time bidding platform, analytics);
In addition to the above, the partnership with SmartJog allows DGIT to offer a cloud platform (in the past DGIT's partnerships evolved into mergers, acquisitions. If that will be the case here remains to be seen, but I note that: i) SmartJog's parent is TDF which is majority owned by a private equity firm; ii) SmartJog's former COO joined DGIT to lead European sales).
Coherent strategy
It appears to me that since 1998 DGIT acted upon a straight, forward-looking strategy:
- Became "THE" standard in the industry (a dependable link between the largest US advertisers/programmers and radio/TV players);
- Supplied value added services (VAS) to strengthen the core business;
- Gradually expanded the company's presence and circle of competence:
audio => short-form video => long-form video => TV/online convergence
audio => TV + print => online
distribution => audio/video VAS => online campaign management tools
satellite => + internet => + (cloud, via SmartJog)
regional => national => global
DGIT possesses the assets, expertise and credentials to offer a one-stop-shop for global campaign management and distribution of media assets: audio, video, online (including mobile) and print.
Advertising Distribution (short form video commercials)
In 2008, through the acquisition of Vyvx (from Level 3 Communications), DGIT removed the last significant competitor in the video distribution business and has practically become THE (only) one-stop-choice for all major advertisers and broadcasters looking to reach national audiences. There still were "dub-and-ship" players which played a role in serving local/regional markets and of whom DGIT acquired a few along the years to enrich its client base and local capabilities (24/7 service and other).
As part of its business model DGIT installed its own equipment (servers) and specialized software in each of their customers' studios. Before the advent of cloud that was a formidable barrier to entry. It remains a very valuable asset:
- DGIT could add cloud to its offer but a competitor cannot add (easily) the servers;
- It is trusted and reliable and it is already integrated into the customers' systems - using DGIT's systems became habitual for them;
In addition to the distribution of commercials (one hour delivery, four hours, next day, second day) across three national channels: satellite, internet and physical – a comforting safety net for advertisers and broadcasters - even if disaster strikes there were alternative ways to air the spots in time), DGIT delivers critical services to advertisers/agencies:
- On-air monitoring services
- Media production and duplication
- Media asset management
- Online creative research
Long-form Programming Distribution (TV)
DGIT entered the markets of the electronic delivery of syndicated programming (such as "Jeopardy," "Friends," and "Wheel of Fortune"), news, electronic press kits and the digital cinema initiative market, through the acquisition of Pathfire (in 2007) and strengthened later with the addition of Match Point. In this line of business, it competes mainly with Pitch Blue, a service offered by a joint venture among Deluxe Entertainment Group (who recently purchased certain Ascent Media assets), Warner Brothers Technical Division and CBS as well as with other players.
Online
With the acquisition of Mediamind (64 countries, 8,200 web sites, 9,000 advertisers, 3,800 media agencies) and Eyewonder (targeting expert which served 3.5 billion impressions in Q2-11), DGIT became the 2nd largest player in third party ad serving. Market shares:
| | |
| --- | --- |
| 37.6% | DoubleClick (Google) |
| 22.3% | DGIT |
| 19.3% | Atlas (Microsoft) |
Source: DGIT Q3-11, Presentation
DGIT's agnostic technology works with all industry technologies and formats and enables publishers, advertisers and their agencies to manage the complex process of deploying online and mobile advertising campaigns. It delivers several different video formats, 3-D content, and all classic and custom rich media ad units. Services include creating the advertising assets, selecting the sites on which the advertisements will be deployed, setting the campaign parameters (ad rotation, the frequency with which an ad may be deployed, and others) and the deployment and tracking of campaign results, real time media bidding, direct response marketing.
One-Stop-Shop – first mover advantage
DGIT is like an intelligent toolbox. It offers highly specialized tools that enable its customers to make use of and manage multimedia assets across multiple channels (radio, TV, online, print). In their latest presentation, the management team of DGIT points that they pursue growth on the following routes:
USA ⇒ Global
TV ⇒ Multiscreen
Delivery ⇒ Data, Engagement
Each business line of the company presents growth opportunities and challenges. More details about that are available in SEC filings (company, competitors) as well as from various other sources. I note here two of the key issues signaled by the company's Sep 30, 2011 and other previous reports:
- "Both HD and SD revenue per delivery decreased due to volume discounts and the competitive environment." (10Q, Sep 2011)
=> Pressure is there and unless DGIT is able to preserve its dominant position margins of the distribution business margins will decrease. Electronic distribution is/was much cheaper than physical distribution, which allowed DGIT's customers to save money when they switched the old way for the new. With electronic/digital becoming the standard and the cloud players pushing down prices the only way to preserve margins is to be dominant and/or to offer customers something of great value, which saves them money, time, both or offers them something not available elsewhere – I believe the one-stop-shop offers just that (value).
- Intensifying competition from incumbent players and technologies as well as new ones which may emerge.
=> Pressure is there and DGIT acted upon it by putting itself in a different league: global-one-stop-shop. None of their competitors can (yet) offer that. The first mover advantage shall help.
The advent of cloud, coupled with the skills and expertise of some of Mr. Ginsburg's former partners / employees led to the creation of a credible competitor for the US video distribution business: Extreme Reach Media (ERM). ERM uses Nirvanix and Amazon's (NASDAQ:AMZN) web services to offer a platform, which they claim is superior to DGIT's. They also claim to offer their services with a 30% saving "when DGIT's clients switch to their platform". ERM was start up in 2009, made revenues of $7 million in 2010, has 10,000 customers already, aims a turnover of $20 million in 2011 and claims to be "very profitable". The vision of Mr. John Roland (ERM's CEO) is to make Extreme Reach " a clearinghouse for video ads to be distributed in fusing online advertising and TV". "Web video advertising is only a $1 billion business so far, compared to TV's $60 billion, but it's "growing at a good clip", Roland says".
Mr. John Roland has some history with DGIT. He "persuaded" Mr. Ginsburg to purchase Fast Channel in 2006 (DGIT aimed to consolidate market share and ... preserve margins) and Mr. John Roland was COO/CEO at FastChannel Inc. and then he became a consultant to DGFastChannel in April 2006, in connection with the merger... On what terms did he leave in 2009? Is the setup of Extreme Reach just business or is it personal, too?
My thoughts regarding the key issues mentioned above follow.
CEO SHAKEUP NOT MATERIAL
I am of the opinion that the CEO shakeup is not material. Mr. Ginsburg will closely supervise a solid management team.
Scott Ginsburg remains Chairman (and 8% shareholder). However, he yielded the CEO position to Neil Nygen who joined DGIT in 2005 following the acquisition of Point.360 (and became COO and a Board member in 2009). Omar Choucair remains CFO.
Interestingly, the new CEO's and CFO's employment contracts have been amended so that for them an acquisition would not be a severance-triggering event.
Two co-founders of Mediamind (Gal Trifon, Ofer Zadicario) join DGIT to lead the on-line division. Thomas Bremond, until recently COO of SmartJog, has joined as Senior VP to lead European expansion. Elad Manishviz, TV veteran, joined as VP Products.
OTHER MANAGEMENT ISSUES
Overall, I believe the management team is dedicated and rational. None of the concerns addressed below prevented me from becoming an investor in DGIT. I believe $12-15/share to be a good entry point.
Issues:
The Chairman's past had to deal with the insider trading matter described here. Whatever the truth for the events in 1996/7, I believe that Scott Ginsburg cares for his reputation and for a certain standing in the Dallas community (See his other business interests to note his status concern).
Up to 4.5 million new shares might be issued to employees, which is a lot in my opinion, but if they do their job the shareholders shall enjoy too. I wish (for any public company) remuneration of management teams to be more in control of the shareholders (job descriptions, targets, etc), but as it is, the management packages at the company are not breath taking.
Following the latter acquisitions, I think there is some lack of detailed disclosure. I hope the company will provide more detail in the future on items such as other current assets, accrued liabilities, accounts payable.
Achievements
Scott Ginsburg, Omar Choucair, Neil Nguyen, made DGIT number 1 in radio and TV ad distribution services and more. Principals of Mijo (who joined DG upon the merger and run the Canadian division) have built a strong company in Canada which they sold to DGIT. Gal Trifon and Ofer Zadicario made Mediamind a force in online. They had a vision and they achieved a lot through rationally pursuing the proper strategies to make their companies best in class. All these people work now for DGIT – I think it is not only the money, but also some enthusiasm and vision that drives them.
Some details about the acquisitions undertaken by DGIT during 2004-2011 are published here.
GROWTH POTENTIAL
Its brand and assets (client base, technology, strategy and expertise) put DGIT in the best position to become a global leader in each of its two divisions: TV and online.
The international venue might be productive. DGIT already works with 96 of the largest 100 advertisers. By becoming a one-stop-shop with international reach (64 countries - Mediamind, Eyewonder, Chorus, SmartJog) DGIT enhanced its chances to take its 96 clients not only in the USA and Canada, but in 64 countries. The online segment will capture a larger share of the budgets and DGIT stands to benefit. Multinational advertisers will be happy to work with DGIT all over the globe and that will reinforce DGIT's domestic market position so it will benefit twice (international + domestic).
Advertising - DGIT has bundled the assets that enable it to help global companies to manage global advertising campaigns across multiple channels.
Long-term programing - this segment will benefit from DGIT's new global capabilities and might deliver substantial international growth (why not add cinema?) – or it could be sold.
Full service ad serving – DGIT is the 2nd largest player (only Google is larger), the only independent while Unicast, Mediamind and Eyewonder are highly regarded by the advertising community. Expert comments available here.
US online ad spending could double in the next five years. Various industry connoisseurs think TV and radio will grow a little of their relative share of the total ad mix. See this link that explains more about the table below: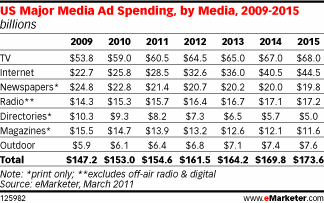 DGIT stands to benefit from multiple growth segments. Probably the relative weights and trends are comparable on a global level.
Interestingly, back in 1998, radio advertising was $15.3 billion, TV (broadcast and cable) was $47.5 billion - source here. (At the time newspapers and magazines achieved more than $51.8 billion in annual advertising revenue .... To me it was a bit of a surprise to see that radio held its grip and it is still about the same level as it was in 1998).
Other revenue streams
It's difficult to estimate how many shows, movies, plays, concerts, etc. will be distributed and/or watched online in the coming years and I cannot present any numbers. More probably than not, DGIT will be there to acquire some share of these evolving markets.
Business model disruption
I think DGIT can handle change and will exploit to its advantage the evolving advertising landscape.
Cloud competition arising and replacing the incumbent model (satellite/internet)?
Advertisers (radio, TV) will not switch to a different provider easily, based on price only, but the very existence of these competitors and of the "over the top" technology removes some of the formidable barriers to entry which were represented by the servers installed by DGIT in the studios/programming rooms. I think the cloud could have indeed been a major threat to the DGIT business model if DGIT did not react.
With the acquisitions of Mediamind, Eyewonder and with the three-year partnership with SmartJog DGIT added technological platforms, global stature and enhanced its ability of full service ad serving. All these together provided a first mover advantage that puts DGIT in a league of its own.
Management of change
The Chairman and the CFO of DGIT have innovated and led the industry shift from physical to electronic (and now from SD to HD). Before Mediamind and Eyewonder they managed and integrated 10 acquisitions (not considering the radio broadcasting businesses before DGIT) while Neil Nguyen has been closely involved starting with 2008 (DGIT's entry into online). I have listened to the presentation made by Neil and Gal at the Oppenheimer Technology Conference. They impressed me with coherence and logic in presenting their stuff as well as with the fact that they seemed to get along, and fill in for each other very well. I think the current management team is both experienced and capable and that people at Mediamind, Eyewonder and Unicast are happy to be able to work together (Unicast and Mediamind have already built together one ad friendly IAB ad unit – the Slider. Details here.
I think these people will do well for DGIT and Mr. Ginsburg – the Chairman – will help and care.
Competitive threats
Indeed. Nevertheless, DGIT is the only box that carries all the highly specialized tools required by multimedia advertising. Industry experts explained the need for such a one-stop-shop here. A few excerpts below:
"... The business of serving digital media has become incredibly complicated (overly complicated in many cases). Ad serving companies need to become more full service, instead of focusing on a single aspect of media such as Rich, Video, or Mobile. Whoever can do this, and convince advertisers that they can do it well, seeks to gain a lot of business. DG is betting that MediaMind, combined with its other holdings, will meet this need." Mitchell Weinstein, VP, Director of Ad Operations, Universal McCann

"DG buying Mediamind makes a lot of sense to me. DG manages a lot of the "plumbing" in the delivery of ad creatives in TV. Mediamind is a leader in the delivery of rich media creatives online. Everyone expects that the online and TV ad worlds are going to get a lot closer over the next few years, so it sounds like DG wants to put more of its future destiny in its control today and its spending $400+ million to do it." Dave Morgan, CEO, Simulmedia

"The Digital Marketplace is full of feature companies. This combination brings together two platforms that may make for an interesting cross channel product with a heavy focus on Rich Media and Video Ads. Good scale, great Global footprint. The combination puts them on a much bigger stage in terms of larger technology solutions. This definitely adds more fuel to the fire about the technology consolidation wave that's happening in the industry. Recent acquisitions prove out the point that marketers are clamoring for more powerful, centralized solutions. The days of running multiple technologies across your site for various solutions and none of them learn from each other is ending. Google and AdMeld, DG and MediaMind are just the beginning. If you are one feature on the technology landscape slide, then you should get the 'For Sale' sign out and quick." Will Margiloff, CEO, Ignition One
My Valuation Assumptions
Below are my estimates, but you must use your own reason and judge for yourself.
DGIT's revenues would have been about $260 million in 2011 and EBITDA was approximately $120 million in 2010. Before being acquired by DGIT the Mediamind management laid out the following projections:
| | | | | | |
| --- | --- | --- | --- | --- | --- |
| USD million | 2011 | 2012 | 2013 | 2014 | 2015 |
| Revenues | 100.2 | 129.2 | 166.7 | 216.5 | 282.9 |
| EBITDA | 22.7 | 29.9 | 42.3 | 52.8 | 65.7 |
| EBITDA margin | 22.7% | 23.1% | 25.4% | 24.4% | 23.2% |
Source : Mediamind (SCHEDULE 14D-9)
Adding to that, DGIT said it expected Eyewonder to add about $36-37 million in revenues. Assuming EBITDA margin of 10-20%, that would make $3.6-7.2 million.
Maybe in 2011 the consolidated entity will generate about $330 million in revenue and EBITDA of $100 million (acquisition costs taking their toll). I assume different growth rates for TV (slower) and online (higher) and a gradual erosion of EBITDA margins after 2012 (in 2012 I assume acquisition synergies of about $15 million to be accomplished and some political revenues). I assume that 100% of the net profit + 30% of the depreciation is used to pay down debt. The interest rate is the current LIBOR rate +0.5% per annum (cumulatively).
Qatalyst Partners, which advised Mediamind on its sale to DGIT, considered that a range of 7x to 11.5x EBITDA would be representative to value the company. I presume there will be no more than 31.5 million shares outstanding.
Using all that, I reason as follows:
click to enlarge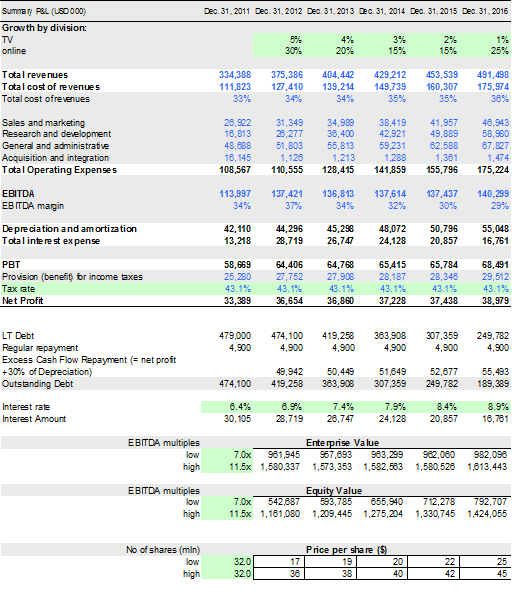 Remember these are my estimates - you must make your own judgments.
DGIT's acquisition
Some rumors were published by Bloomberg - see here.
Disclosure: I am long DGIT.