I've read and heard a lot of negative things about buying the banks lately, but none of it seems to make any sense.
Now, I know what people are thinking - "Banks are way too risky!", or "I hate banks!" - but if you put those thoughts aside, and just look at the numbers without letting your emotions get involved, then you'll understand why there is little risk and a big opportunity to profit off it.
First of all, I define "risk" simply as the possibility of losing money, not as beta or anything else. It doesn't really make a difference if the stock is trading in line with the market, other than the fact that it may present good buying opportunities. What seems more important is if you can lose money on your investment.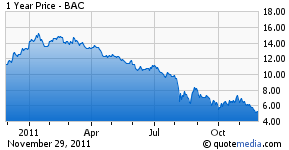 So, when you consider that Bank of America (NYSE:BAC) is the 2nd largest bank by assets in the US, yet it is valued by the market at only $52 billion, you know there's something wrong this picture. For comparison, just look at one of the Canadian banks, Scotiabank (NYSE:BNS). BNS is the 3rd largest bank in Canada, not even 1st or 2nd, and it is also valued at $52 billion currently. BNS has no place being valued at the same price as BAC. If I could buy the whole bank at these prices, I'd buy BAC any day over BNS.
BAC's tangible book value is over $13/share, yet shares have been trading for $5.20 or less recently. That basically means that if BAC were to close up shop today, then each shareholder would end up with a nice little profit. So the risk of you losing money is reduced if not eliminated by buying at these prices. If you were to buy at $13/share or more, then it may increase your risk of losing money. Now, I'm not saying that BAC will be closing up shop and that's how you'll be able to profit with little risk. BAC is a profitable business and will likely be profitable going forward, so it's highly unlikely that it will close up shop. The average analyst estimate for Q4 2011 is $0.20/share and the average analyst estimate for FY 2012 is $1.10/share. So this just adds to why I love BAC and why it appears to have little risk to buy at these prices.
Once the Fed allows banks to buy back their own shares, BAC will be able to use its earnings to buy all of its shares within a few years at these prices. And if you think prices will drop in the future, that just means that BAC will be able to buy all of its outstanding shares even faster.
This is just a simple way to look at BAC and realize that you can profit off of it with little to no risk.
You don't have to take my word for it; just look at some big-time investors like Bruce Berkowitz, John Paulson, and Mohnish Pabrai. Their track records can speak for themselves and they just bought BAC shares last quarter when it was higher than it is today. Plus, you know if Congress is buying common shares and Buffett is buying warrants then it must not be going bankrupt.
Disclosure: I am long BAC.