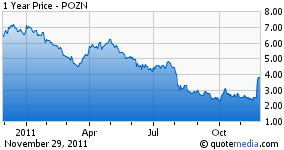 On Monday, POZEN Inc. (NASDAQ:POZN) announced more details regarding a transaction in which they sold most of the future royalty and milestone payments covering Treximet sales in the United States to a financial investor for $75 million.
Investors sent shares of the company soaring over 40% last week after it was first reported that the company had sold its right to receive American royalties from its migraine drug to Canada's national pension fund.
Treximet was approved by the FDA in April 2008 for the acute treatment of migraine attacks. By virtue of the agreement, the financial investor will be entitled to receive royalties on net sales of Treximet and any other products containing sumatriptan and naproxen sodium developed and sold by GlaxoSmithKline (NYSE:GSK) under the collaboration and license agreement in the United States on or after October 1, 2011. POZEN retains rights to 20% of royalties paid on net sales of Treximet and such other products in the United States, beginning in the second quarter of 2018. This agreement has no effect on any future royalties from MT400 that might originate from sales of the product outside of the United States.
Since inception, POZEN has created novel pharmacologic agents primarily for pain and pain-related conditions by combining existing drug therapies that result in superior patient outcomes. It is focused on the following therapeutic areas that include: migraine, arthritis, cardiovascular, other therapeutic areas. The company's product portfolio includes: Treximet, VIMOVO for the relief of signs and symptoms of osteoarthritis (OA), rheumatoid arthritis (RA), and ankylosing spondylitis (AS) and to decrease the risk of developing gastric ulcers in patients at risk of developing NSAID associated gastric ulcers; and PA32540 for the secondary prevention of cardiovascular disease.
"Monetizing this portion of the U.S. Treximet royalty unlocks its inherent value and significantly improves our balance sheet without dilution of existing shareholders. This enables us to negotiate with potential partners for PA32540 from a much stronger position and to continue to execute our strategic plan," said Dr. John R. Plachetka, Chairman, President and Chief Executive Officer. "With the completion of this transaction, we now expect to end 2011 with greater than $110 million, or approximately $3.67 per share, in cash, cash equivalents and short-term investments."
The BioMedReports FDA Calendar and Worldwide Regulatory Tracker shows several milestones for POZEN in 2012- including the expected results of the two ongoing pivotal Phase III trials of PA32540 in the first half of the year, they will have all of the necessary components for the PA32540 NDA which is scheduled for submission to the FDA during the second half of 2012. That information comes from an official company issued news release which was published in early October.
The company says it will record the $75 million purchase price, less transaction costs, as revenue in the fourth quarter of 2011. It is revising earlier estimated full year 2011 revenue to be in the range of $86-$87 million. Officials are now estimating full year 2011 operating expenses to be in the range of $45-$47 million and estimating a full year after-tax net income of $39.5-$41.5 million. Based upon our current 2012 plan, which includes filing the NDA for PA32540, the firm also expects to have cash and short-term investments of >$85 million at the end of 2012, before recording any cash that may be realized from a partnership arrangement on PA32540 or other pipeline assets.
Disclosure: I have no positions in any stocks mentioned, and no plans to initiate any positions within the next 72 hours.