By Louis Bedigian
Or do investors still need protection from this protective gear company?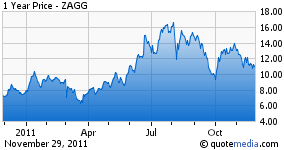 ZAGG.com (NASDAQ:ZAGG), the company behind items like the invisibleSHIELD (a protective screen cover for iPhones and other devices), the ZAGGfolio (a fold-up keyboard dock for the iPad 2), and the EarPollution Earbuds (standard-looking earbuds with a pollution symbol on the back), has been making a degree of progress this year.
In early January, the stock was trading below $8. ZAGG soared in the coming weeks, closing at $10.37 on January 13. After that, the company faced a bit of a roller coaster, fluctuating between the $8 and $10 mark through the rest of the season. Then in March, ZAGG faced what could be the year's most devastating blow: the stock dropped below $6.50.
Despite all that, ZAGG is still in a much better position in 2011 than it was throughout most of 2010. Up until October of last year, ZAGG had yet to cross the $6 mark. But on October 14, 2010, ZAGG closed at $7.29.
This year, ZAGG has been riding high on impressive earnings, in which the company beat Q3 EPS estimates by nine cents, and beat revenue estimates by more than one million. ZAGG has worked hard to increase its presence in the marketplace with an expanded product lineup at AT&T (NYSE:T) stores nationwide. The company was one of the first manufacturers to announce a new line of protective accessories designed specifically for Apple's (NASDAQ:AAPL) latest iPhone.
In August, Ladenburg Thalmann raised its PT on ZAGG to $21. That wasn't too big of a shocker considering that the stock had risen from its July low of $12.62 to $16.62 on August 3 (despite a negative report from Citron Research). But just as before, the stock continued to zigzag in the coming days, dropping to $11.90 on August 8 before rising back to $15.67 on August 15. That last rise could be attributed to the company's 42% surge in Q2 net income. Unfortunately, that success was short lived; two months later on October 3, the stock fell to $9.34.
Regardless, the stock is still performing better than last year. While investors can't seem to make up their minds as to whether or not they should buy or sell ZAGG (the aforementioned fluctuations are just the tip of the iceberg), the stock is currently trading more than 50% above its average price in November 2010.
This, however, does not guarantee that the company is safe. In July, Citron Research outlined a few frightening tidbits that could provide a reason for investors to think twice before leaping into ZAGG.
"While the company is battling scarce cash, it is perilously dependent on a single concentrated retail relationship that in Citron's opinion puts it at huge risk of restatement," Citron wrote. "Meanwhile there's a very troubling track record of insider transactions among management that are adverse to shareholder interests, an 11th hour auditor switcheroo last year, and a long record of abject failure at executing on 'the next big thing.'"
Still, it's hard to argue ZAGG's success. As part of the company's two-day Cyber Monday sale, all invisibleSHIELDs are 50% off. That's a nice discount, but there is a more important number written right underneath the promotion: "20 Million+ Sold." At $15 to $25 for the iPhone invisibleSHIELDs, ZAGG might have a bit of a cash cow on its hands.
However, it's important to remember that the protective cover market is hugely competitive, heavily saturated, and is not as sexy as it was five or 10 years ago. Earbuds and headphones are also an overly crowded market with little value for most companies. That's why the ZAGG website focuses on style and a variety of colors, hoping that these minor elements will help the product stand apart from the usual collection of audio equipment available at Best Buy (NYSE:BBY).
Can ZAGG keep up its success? Will its current line of products be enough to sustain the growth it has experienced this year? That is unclear. Investors who are serious about this company should take a close look at ZAGG.com and ask themselves the following question: would I buy that? If there are a ton of products you want, that could be a good sign. The opposite may also be true; if you can't come up with a single product you'd like to purchase, you might want to reevaluate ZAGG's future.
ACTION ITEMS:
Bullish:
Are you excited for new protective shields? Are you intrigued by colored earbuds? If so, consider these trades:
Best Buy and Amazon.com (NASDAQ:AMZN) are among the many retailers that carry ZAGG's products.
Considering today is Cyber Monday, ZAGG could benefit from the farrago of frantic shoppers.
Bearish:
If you're concerned about ZAGG's future, consider this alternative:
Forward Industries (NASDAQ:FORD) has an entirely different line of protective cases for consumers who aren't satisfied with ZAGG's offerings.
Neither Benzinga nor its staff recommend that you buy, sell, or hold any security. We do not offer investment advice, personalized or otherwise. Benzinga recommends that you conduct your own due diligence and consult a certified financial professional for personalized advice about your financial situation.
Disclosure: I have no positions in any stocks mentioned, and no plans to initiate any positions within the next 72 hours.