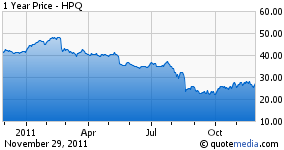 As a result of a meeting with CEO Meg Whitman, RBC Capital issued an upgrade of Hewlett Packard (NYSE:HPQ) today to Outperform from Sector Perform. It appears Whitman was able to convince the analyst that not only is the company now more stable, but it will outperform its peers – a group that includes the likes of Cisco (NASDAQ:CSCO), Oracle (NASDAQ:ORCL), IBM (NYSE:IBM) and Dell (NASDAQ:DELL).
Actually we now have to throw in Apple (NASDAQ:AAPL) as a "peer" now that HP has decided not only to keep its PC business but has instituted plans to further its tablet strategy. This was already a tall order even without Apple in the equation. RBC issued a target price of $32 noting that HP's margin pressure should ease sometime in the second half of 2012.
RBC Capital is not alone in its optimistic view of the company. Last week Sterne Agee expressed the same sentiment upon issuing its own upgrade of the stock while providing a target price of $34. The analyst then noted the following:
Our sense talking to investors over the last few weeks is that expectations are that new CEO Meg Whitman will lower the bar to reset expectations. This makes sense coming in as the new CEO but also as global macroeconomic conditions remain very challenging. We have heard as low as $3.00-$4.00 in EPS.
While we agree that numbers need to come down, we believe they will be better than feared, likely in the $4.30-$4.40 EPS range. We believe shares are arguably oversold trading at 5-6x CY12 EPS. We believe its multiple trading could expand to 7-8x as investors get more comfortable with HPQ's turnaround efforts.
With the stock currently trading at $26, both upgraded targets represent 23% and 30% premiums, respectively. So clearly this should make Hewlett Packard extremely attractive and undervalued, yet investors aren't buying it. Why?
The Market Has Taken a Wait and See Approach
This is understandable considering the new leadership that the company has installed – especially one hired from outside the company. It stands to reason that significant changes are certain to follow, many of which will require time and long periods of adjustments. During that span it will also be understandable that mistakes are going to be made as new leadership takes some chances to fix previous mistakes made by previous leaders.
One of the first key changes made my Whitman was HP's announcement that it would keep its PC business. Many have wondered if this is in fact a good move. While HP is the clear-cut leader in PC sales, with Dell being a close second, there is no dispute that it is no longer a growth area. In fact, Apple has become the more attractive choice in that market. So the idea that HP feels it needs to preserve that side of the business makes little (if any) sense – particularly if it has to reinvest in that operation to make it sustainable.
What Does It Do Well?
Looking at its Q4 earnings report, it is hard to answer that question. Clearly, printing would have thought to be the easy answer, but that no longer appears to be the case as it was one of the poorest performers of its business in terms of the top line. Not only did it report a 10% decline in revenue, but it also had a 5% drop in sales when compared to the previous year. Is this just one event or is it the beginning of a trend?
If that was not bad enough, its once dominant server business continues to erode as both Dell and IBM stole market share during the quarter. It seems that its software and services business were the bright lights of the report. But considering the tumultuous year that the company has seen, I think the report overall was decent.
Hope Rests With Whitman
First and foremost she clearly has a solid grasp on the company and has become in tune with its strengths and weaknesses. While it is going to take time to restore HP's relevance, I am curious to see how whether or not Whitman is willing to take some risks to accomplish her goals. Maintaining the status quo is not going to work if HP is to "re-invent" itself and truly outperform its peers as the analysts above suggests.
Summary
"Invent" is its slogan and investors will want to see innovative ideas and inventions before excitement about the company can be restored. HP is now experiencing the same challenges as Microsoft (NASDAQ:MSFT) in this current Apple vs. Google (NASDAQ:GOOG) era. It is both a market leader and grossly irrelevant at the same time. While firms such as Research in Motion (RIMM) and Netflix (NASDAQ:NFLX) are getting cheaper by the day, perhaps HP should consider buying its way back to relevance. Hey, who says "inventors" can't also be acquirers?
Disclosure: I am long CSCO, ORCL, AAPL, MSFT.