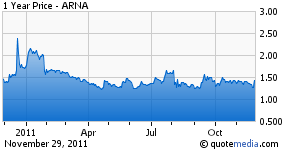 We anticipate that shares of Arena Pharmaceuticals (NASDAQ:ARNA) will continue to creep up after Analysts at Piper Jaffray have upgraded the firm and raised the share price target from $1.50 to $3.
The Piper analyst says the company has made substantial progress addressing the FDA's requests in its Complete Response Letter, and rectified all the necessary issues to meet the final requirements for a New Drug Application re-submission involving Lorcaserin Hydrochloride for the treatment of Obesity. Back in October of 2010, U.S. Food and Drug Administration officials issued the Complete Response Letter.
The lorcaserin NDA was based on a data package from lorcaserin's development program that includes 18 clinical trials totaling 8,576 patients. The pivotal Phase 3 clinical trial program, BLOOM (Behavioral modification and Lorcaserin for Overweight and Obesity Management) and BLOSSOM (Behavioral modification and Lorcaserin Second Study for Obesity Management), evaluated nearly 7,200 patients treated for up to two years.
Lorcaserin is a new chemical entity that is believed to act as a selective serotonin 2C receptor agonist. The serotonin 2C receptor is expressed in the brain, including the hypothalamus, an area believed to be involved in the control of appetite and metabolism. Arena has patents that cover Lorcaserin in the United States and other jurisdictions that in most cases are capable of continuing into 2023 without taking into account any patent term extensions or other exclusivity Arena might obtain.
On Monday, the stock made the list of U.S. stock options that had the biggest percentage changes in implied volatility from the previous trading day.
Last year shortly after getting the Complete Response Letter, Arena Pharmaceuticals, Inc. and Eisai Inc. announced the completion of an end-of-review meeting with the US Food and Drug Administration for the lorcaserin New Drug Application. Based on guidance they received from the agency, they are executed several activities and expect to resubmit the Lorcaserin NDA by the end of 2011.
In May, Arena Pharmaceuticals, Inc. presented meta-analyses of the three trials in the Lorcaserin Phase III clinical trial program at ECO 2011, the 18th European Congress on Obesity. The analyses showed that Lorcaserin caused statistically significant weight loss compared to placebo at one year among 7,500 obese and overweight, diabetic and non-diabetic adults. The lorcaserin-mediated weight loss was associated with favorable changes in biomarkers that may be predictive of cardiovascular and metabolic risk and in quality of life.
Arena's research and development is focused on G protein-coupled receptor, or GPCR, drug-discovery technologies. Its GPCR platform includes a process called Constitutively Activated Receptor Technology and Melanophore technology which helps in the drug discovery and development. Its research program is focused on: cardiovascular disease, central nervous system disorders, inflammatory disease and metabolic disease.
Arena's product pipeline includes: Lorcaserin Hydrochloride for the treatment of Obesity; APD791 for the treatment of Arterial Thrombosis; APD597 for the treatment of Type 2 Diabetes; APD811 for the treatment of Pulmonary Arterial Hypertension; and APD334 for the treatment of number of conditions related to autoimmune diseases, including multiple sclerosis and rheumatoid arthritis.
S1P1 receptors like APD334 have been demonstrated to be involved in the modulation of several biological responses, including lymphocyte trafficking. They have optimized potent small molecule S1P1 receptor agonists that reduce the severity of disease in preclinical autoimmune disease models of multiple sclerosis, such as the experimental autoimmune encephalomyelitis, or EAE, model, and the collagen-induced arthritis, or CIA, animal disease model. In their March, 2011 10-K SEC Filing, the company said they intended to advance APD334 toward clinical development in 2011 and as such we have also listed that milestone in our BioMedReports FDA Calendar and Worldwide Catalyst Tracker as a potential Clinical Trial Initiation catalyst due to be announced in the short term.
The company is scheduled to present at the Piper Jaffray 23rd Annual Health Care Conference on Wednesday, November 30, 2011, at 9:00 a.m. Eastern Time (6:00 a.m. Pacific Time) at The New York Palace in New York City. Jack Lief, Arena's President and Chief Executive Officer, and Craig M. Audet, Arena's Vice President, Global Regulatory Affairs, are scheduled to provide a corporate overview which will be available on the company website for playback.
Disclosure: I have no positions in any stocks mentioned, and no plans to initiate any positions within the next 72 hours.