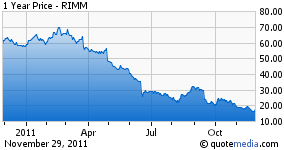 It's a foregone conclusion that Research In Motion (RIMM) has lost the battle in the smart phone and devices market to Apple (NASDAQ:AAPL) and alternatives on Google's (NASDAQ:GOOG) Android platform. But what lessons can investors learn from a demise that seems inevitable? In a recent article, I suggested that the company is Palm 2.0. But in searching for lessons, this comparison is more relevant than you might otherwise think. Because RIM did to Palm exactly what Apple is now doing to RIM – this is what ultimately allowed Palm to then be scooped up by HP (NYSE:HPQ) for pennies on the dollar.
There have been many companies who have largely invented markets as RIM did and then allow others to steal away the business. You don't have to look farther than the aforementioned companies as prime examples. Apple has claimed that Microsoft (NASDAQ:MSFT) stole away Windows or the graphical user interface idea, which it was then blamed to have stolen from Xerox (NYSE:XRX).
Google came out of nowhere and took away the search business from the once invincible Yahoo (NASDAQ:YHOO). At one point AOL (NYSE:AOL) grew so big in its early entry into social networking that it bought media giant Time Warner (NYSE:TWX). Now not only has it become an obscure brand, I don't know too many people who would admit to still using it. At one point the built-to-order PC business was dominated by Gateway until Dell (NASDAQ:DELL) figured out how to do it better. There are also examples where duopolies such as Sirius (NASDAQ:SIRI) and then XM Satellite Radio unite for self preservation.
So clearly in these examples the obvious lesson is that corporate theft is as American as apple pie. Perhaps "theft" is a bit of a stretch unless you were long Apple prior to 1999. But at the very least and as in the case of many societies, "survival of the fittest" is truly the mantra on the market. But as also in the example of Apple, "what was once old can also be new again." But the question for RIM investors remain: Does it have what it takes? After all, there is not a Steve Jobs-type on the payroll.
What Could Save RIM?
Honestly, aside from an acquisition, I just don't see how it can remain solvent, especially considering the disaster that was its recent earnings report. It reported second quarter results that only confirmed what many investors had feared – the run has long been over and is likely not to return. Its product portfolio is no longer resonating with formerly loyal customers.
The company reported 10% declines in sales. Management pointed out that unit shipments came in "slightly below" forecast and attributed the disappointing trends to lower demand for its older phone models. OK, this is not news. The disappointment was that it failed to offer investors any idea as to how it plans to reverse the trend.
But it realizes that where it is unable to sell and be profitable, perhaps it can save. The company is trying to slash expenses and increase profits by cutting an unspecified number of jobs as part of a "cost optimization program." It also announced plans to buy back as much as 5% of its outstanding common shares.
Summary
With $2 billion in cash, RIM is not going away tomorrow and I think the company has an IP estate that could yet deliver competitive devices. Even with my doubts for its ability to survive, I have to remind myself that a decade ago very few people thought the Apple or even Motorola (NYSE:MMI) had anything special left until their devices hit the market.
While the comparisons to Apple will likely convince some investors to take a chance that a RIM recovery just might be possible, former Palm investors will remind those that are currently long RIM of the lesson that teaches "what goes around comes around."
Disclosure: I am long AAPL, SIRI, MSFT.