By Matt Burns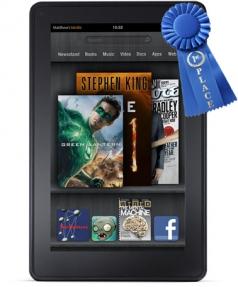 Be careful, the Kindle Fire is hot. Burning up you might say. Get it? Because it's the Fire? Never mind…
Amazon's (NASDAQ:AMZN) first foray into the tablet world seems to be a runaway success. The Fire has occupied the top spot on Amazon's best sellers list for weeks even prior to the device shipping. Now, at Best Buy (NYSE:BBY), the $199 Fire sits higher the 16GB iPad as the top selling device in the hot category. Yep, it's safe to say that Amazon is well on its way to officially winning the Android tablet wars.
Amazon's first color tablet had a banner Black Friday weekend. The retail previously stated that it moved four times more Kindles this year than last (although hard numbers were not given). Consumers are seemingly eating up the Fire.
The device received a fair amount of criticism from early reviewers. Most wrote off flaws and bugs to early software bugs, but also the $199 price. Compromises had to be made to keep the price down, they said. However, reviewers and consumer alike are singing the good graces of Amazon's content-first scheme. Like the Fire's main competitor, the Nook Tablet, the tablet is marketed without much talk of computing specs. Instead, Amazon and B&N (NYSE:BKS) talk about the device's media consumption capabilities, a strategy ignored by most Android tab makers but successfully employed by Apple. Specs are dead.
It's hard to predict if the Fire will retain its lead over the iPad at major retailers like Amazon and Best Buy. The $199 price will certainly carry it through the upcoming holiday but interest might wane after the holiday spending season. Then again, the growing ranks of Fire owners will likely take to the social media networks and publicly praise the device. The only thing that might suffocate the Fire is the iPad 3 — but that's not likely to hit until February or March.