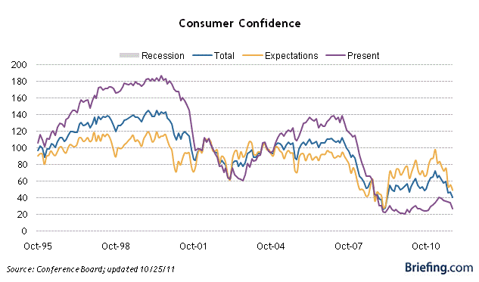 Click to enlarge
The market moved mostly higher on Tuesday although technology and the Nasdaq did perform weakly. The market was fueled by good data from consumer confidence in November as well as strength in the euro that weakened the dollar and helped the markets. Consumer confidence came in at 56 for November, while estimates had been around 43. The number was a large improvement MoM, and it helped get the market going this morning and push higher.
Europe was up, and the market was up. The continued correlation between the two has been strong. European ministers had been meeting in Brussels, which also gave the market some confidence. No confirmation of anything from that meeting has broken at this point, but the market seems to be anticipating a positive report from the meeting.

Earnings have started to slow, although we do have some important retailers still to report over the next week. Today, we did get some significant upgrades and price target modifications. Netflix (NASDAQ:NFLX) saw a reiteration of Sell from Canaccord with a PT drop from $60 to $57. Analysts continue to abandon NFLX. Stifel Nicolaus upped its PT on Sandisk (SNDK) to $68 and reiterated its Buy. Corning (NYSE:GLW) held the Nasdaq down with a 10%-plus drop as it cut its LCD glass volume growth forecast as the company sees tablets slowing down in production.
We had another nice day in the market. Our long on Smithfield Foods (NYSE:SFD) from Monday moved up over 3% on the day, and we locked in some profits for a 2% gain. We also saw a positive performance in our Visa (NYSE:V) 85/82.50 bull put spread for Dec 17 expiration. Apple (NASDAQ:AAPL) was flat, and we are still holding hope for our long as we think the stock could make a turn in December. McDonald's (NYSE:MCD) continued to move higher. Nike (NYSE:NKE) continued its move higher, helping our sold $85 puts. It looks like, however, our Ralph Lauren (NYSE:RL) position will be a loser as RL continues to underperform the market. We also saw our Deere (NYSE:DE) position hit above 77, getting close to our target.
We added to our mix today a short on oil with Ultrashort Proshares DJ-UBS Oil ETF (NYSEARCA:SCO). We do not believe oil can hold over $100 in this market. It moved up on some fear and a weak dollar, but if the dollar does not stay weak, oil will drop again. The euro made a nice move the past two days, but if any fear at all returns, the dollar quickly increases. We were 100% long coming into today, so we wanted to add some bearish positions to the mix.
Moving into tomorrow, we have a lot on our plate. We have a bearish feeling as the market has gone a long way on very little over the past two days. We are at the 50-day MA on the SPY, so either we break that and make a nice breakout or this is probably a toppy area. If we see any weakness in Europe overnight, all bets are off. We have a lot of data out tomorrow with ADP Employment, Challenger Job Cuts, Crude Inventories, Chicago PMI and more. We have earnings from American Eagle (NYSE:AEO) tomorrow.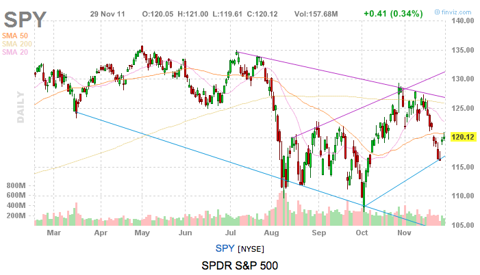 Click to enlarge
Right now, the main stocks we are watching are Salesforce.com (NYSE:CRM), Netflix (NFLX) and LinkedIn (NYSE:LNKD). We would love to enter some bear call spreads on these stocks on any major strength or pop in them. We will be watching for that over the next few days. None of these companies should be as highly priced as they are, and they are starting to quickly fall out of favor.
Disclosure: I am long DE, SCO, NKE, MCD, AAPL, RL, V, SFD.