Since we identified Netflix (NASDAQ:NFLX) as a high flyer with a ridiculous valuation over the summer - and identified the valuation of AMR Corp (AMR), the parent of American Airlines, as practically worthless - we've been searching for other good put candidates for our Best Ideas portfolio, which continues to outpace the S&P by nearly 2000 basis points so far this year (in the spirit of transparency, we show our performance below).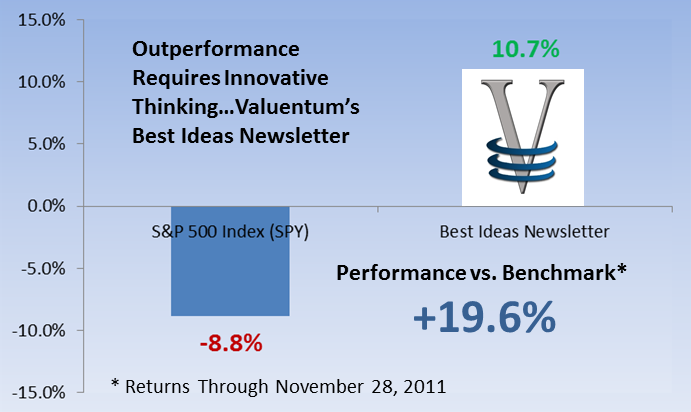 We admittedly missed out on Green Mountain Coffee Roasters (NASDAQ:GMCR), though we thought the name was anything but safe, and we have steered far away from Under Armour (NYSE:UA) and LinkedIn (NYSE:LNKD) on the long side.
This brings us to another high flyer, Lululemon (NASDAQ:LULU). When you consider both the price action and high short interest over the last several weeks, it looks like many investors are bearish on the firm going into its third quarter earnings (Lulu reports on December 1). We don't like playing the earnings game. However, we also think Lululemon is among the best executing apparel companies right now, and not a name we would be short. Lululemon also doesn't have a terrible score on our Buying Index, and we'd only look to open a put option on firms that register very low on our scale (10 is best):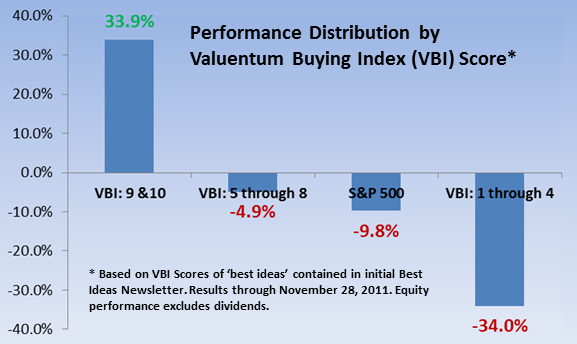 Business Model Not Broken
When analyzing the major issues at fallen high fliers like Netflix and Salesforce.com (NYSE:CRM), they have one commonality: a broken business model. Salesforce.com is still dealing with profitless growth, while Netflix announced a new subscriber pricing model to pay for its sky-high content obligations.
Lululemon isn't selling cloud services or streaming expensive content. Rather, they simply produce an excellent product, put it in their stores, and sell it to customers for a profit. Feel free to debate the relative usefulness of $98 yoga pants and $10 of online content streaming, but Lululemon has a great business.
We don't see any signs of it stopping. Same store sales were up 20% in the second quarter, and we think they should remain in the high teens for the third and fourth quarter. The in-store shopping experience is one of the strongest in the industry, reminiscent of Apple (NASDAQ:AAPL) where you see consumers genuinely intrigued by every product the store has to offer. Its sales associates are better paid than most in the industry, which translates to superior customer service and passion about the brand and its products. In tough economic conditions, we see the company differentiating its shopping experience to serve its high-end customer.
Even if you aren't a believer in the nebulous "shopping experience," the numbers don't lie. Gross margins were a robust 57.5% in the second quarter, helping earnings expand by 74%. These numbers are usually reserved for healthcare and tech companies, proving how well the company is executing. People are buying $98 yoga pants, and they are buying them in massive quantities.
Valuation: Not Nearly As Absurd As It Seems
Lululemon has clearly been targeted as a short candidate thanks to its lofty valuation. It trades at about 31x our 2012 earnings forecast, which isn't cheap, but also isn't awful given we think earnings per share will grow by about 32%. This puts the PEG at about 1. For relative comparison, Under Armour trades at 36x its 2012 earnings, with expected EPS growth of only 23%.
This isn't much compared to Salesforce.com, which trades at 68x forward earnings, LinkedIn (well over 200x), or Netflix, which still trades at 90x forward earnings. Given its recent track record, Lululemon certainly looks less expensive than any of these companies.
But It's Just a Fad
Yes, yoga pants are a fad. Or are they? It's likely investors said the same thing about Nike (NYSE:NKE) and basketball shoes in the 1980s, and investors also thought Under Armour was just another fad, as it continues to grow and become an integral part of consumers' closets.
Albeit, there are countless examples of fads that came and went (Starter Jackets, parachute pants, Heely's, Razrs, baseball cards). Perhaps none of those are still with us today. However, Nike shoes, Levi Jeans, Converse All Stars, UGG boots, Polo shirts and video games are all integral parts of Western life. Whether the Lululemon brand can become more than just a yoga pants fad is impossible to tell, but athletic apparel is a growing business, and the company is as well positioned to capitalize on it as almost anyone.
Inventories a Small Concern
It's never a great sign to see inventories increasing faster than sales, which we did see at Green Mountain (along with some possible alleged accounting fraud). Naturally it worries us a bit when we see revenues up 39% versus inventories up 55%, which was the case for the second quarter. Yet with the company opening new stores every quarter (27 since the third quarter of 2010) and expanding its online business, we think inventories are of little concern. Inventories only totaled $88 million, and by some estimates, are too low to keep up with demand. We think an inventory build into the holiday season is to be expected, but we will be skeptical if they seem to be increasing too quickly.
Ultimately, we don't think it's wise to buy or sell short Lululemon specifically due to earnings, but we do think the company is fairly valued at current levels, and it probably won't have the same path as several other high fliers, which were also flawed companies. If it does fall 20-30% and there is no bad news, we think Lululemon could be an addition for investors searching for growth.
Disclosure: I have no positions in any stocks mentioned, and no plans to initiate any positions within the next 72 hours.