For those who enjoy long-term investing and short-term trading, we have another perfect opportunity for short- to medium-term option trading with General Electric (GE). GE operates as a technology, service, and finance company worldwide.
They are coming off a very important support level and if history is consistent, GE will give us opportunity to create an option play that could bring a nice profit in.
GE is a good long-term investment. Suman Chatterjee recently wrote an article on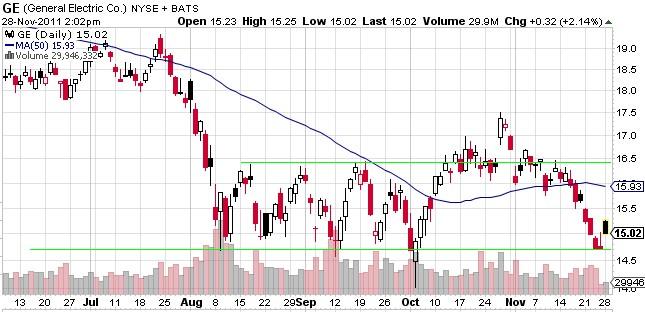 General Electric, and in it he noted how it has been affected in a negative way like most companies in this global recession but it has been able to rebound because of the overseas sales in emerging markets.
Sales have grown by 25%, and he writes that this offsets the weaker sales in the United States and Europe. This has helps GE remain a strong global company and a good long-term investment.
For those who do their due diligence and own the stock, you might think of GE as an income-producing stock by using options instead of waiting for dividends. As GE prepared to move up, one can sell options to create an income. As an example, a December 17 call is presently being sold for $.03. This is above the resistance level of 16.50 and one would sell it expecting it to expire not expecting the stock to move that high by mid December.
Another option strategy that looks even more inviting is a short-term vertical debit spread. Presently a trader can buy a 16 December call for $0.11 and sell a 17 for $0.04. This gives us a risk of $.07. It is highly probable that GE can make the 16 level but not the 17 by expiration if it follows the pattern it has been in. A good profit can be made on investing in these options at the right time. Now is a perfect time for those who are also interested in short term-trading to look into GE options.