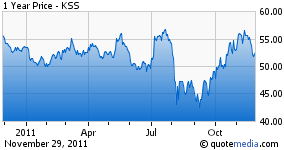 By Mark Bern, CPA CFA
Kohl's (NYSE:KSS) does not usually come to mind when trying to come up with a good dividend investment. There are a couple of reasons: The company just started paying a dividend in 2011 and the company is known more for its consistently, above average earnings growth. But I'm here to tell you to rethink that equation. The company now pays a dividend of $1.00 per share annually and I expect the rate to increase along with earnings at a similar pace.
Earnings growth over the last 10 years has averaged 15% per year. That includes a very difficult period for retail over the past five years during which earnings per share have increased by an average of 9.5% annually. Earnings in 2011 are likely to come in about 20% above 2010 and unless we fall back into recession here in the good old USA, earnings should increase by another 12% or more in 2012. I expect that EPS should average near 11% per year over the next five years due to several factors.
Internet sales are increasing for Kohl's after the company has invested heavily in this area and should continue to grow. But the investments will be reduced to a maintenance level (lower expenses) while product mix improvements should also improve margins in this venue. Sales over the Internet should top $1 billion this year compared to $720 million last year.
The company issued $650 million in new debt at 4%, using the proceeds for three purposes: retire $100 million of 7.375% notes that came due earlier this year, remodeling of a substantial number of stores for greater customer appeal, and share repurchases. The company used $1.2 billion to buy back 23 million shares in the first half of the year, prior to the debt issuance.
Kohl's branded credit card sales rose to 55% of sales, increasing 3% year over year. These sales tend to create greater customer loyalty which also leads to higher sales. Another boost comes from increased sales from private label and exclusive brands such as Jennifer Lopez, Mark Anthony, Rock and Republic. These categories carry higher margins.
Getting back to the dividend, the payout ratio is about 22% in 2011 and I expect the ratio to remain in the 22-25% range over the long term. Assuming that to be correct, the dividends should rise right along with earnings at about 11% per year on average. I don't know about you, but I like getting a double digit raise each year.
Disclosure: I have no positions in any stocks mentioned, but may initiate a long position in KSS over the next 72 hours.