I wrote in my Kinder Morgan (NYSE:KMP) article back on October 7th. of this year that the stock "was one of the best examples of income and growth that I could find in the market" at that time.
The stock was trading at a dividend adjusted price of $68.90 on that date. Today Kinder Morgan is trading at $77.31 per share. The stock is up 12.2% since that time. The S&P 500 is up just 1.5% during that same period of time.
I also pointed out in the article that Kinder Morgan had outperformed the market by a wide margin over the last 1, 3, 5 and 10 years. Here is how those performance numbers look today: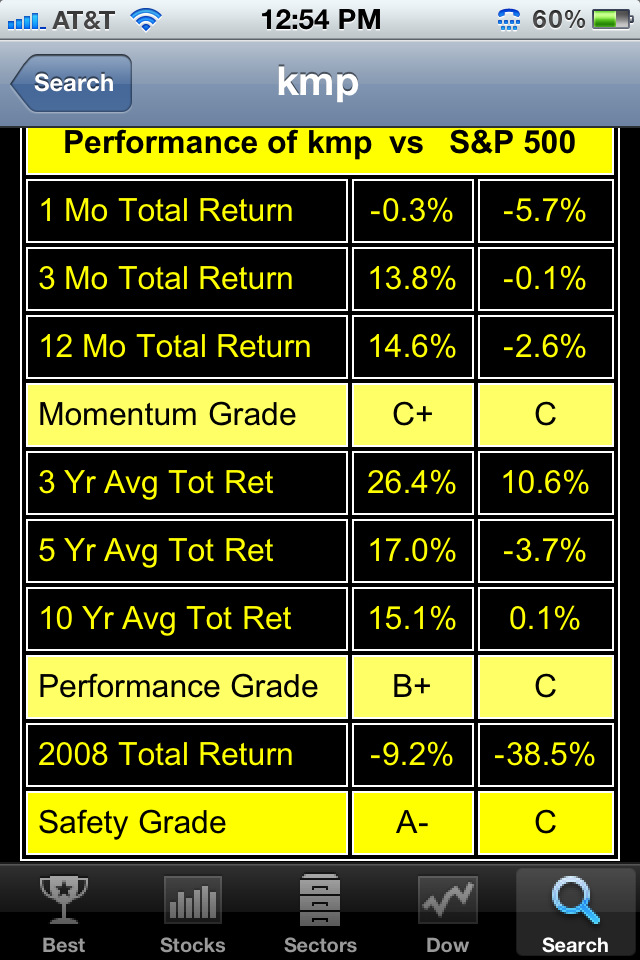 Data from Best Stocks Now App.
As you can see, the stock has outperformed the S&P 500 over every period of time that I measure performance for. You can also see that the stock was only down 9.2% in 2008 while the S&P 500 was down 38.5%. In addition to this, the stock still sports a 6% dividend.
On October 18th. of this year I wrote another article about Kinder Morgan's acquisition of El Paso (EP) that was titled "Kinder Morgan's El Paso Acquisition is a Smart Move." The stock has also continued to move higher since that time.
One Year Chart of KMP
Click to enlarge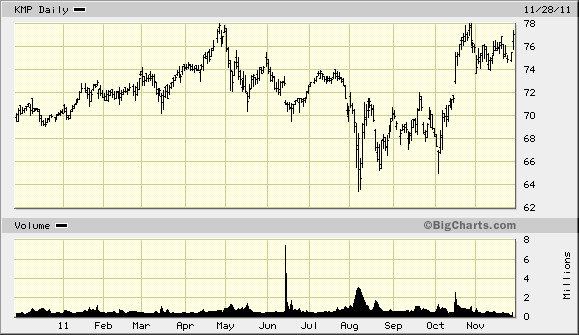 Today, the company announced that "KMP expects to declare cash distributions of $4.98 per unit for 2012, an 8.3% increase over its 2011 budget target of $4.60 per unit, which the company stated in October that it expects to exceed. Chairman and CEO Richard D. Kinder said, "KMP's stable and diversified assets continue to grow and produce incremental cash flow in virtually all types of market conditions. We see exceptional growth opportunities in the midstream energy sector, particularly in the natural gas shale plays and in the coal export business."
It should also be noted that the above estimates do not take into account any impact from the El Paso acquisition which has the potential to drive the dividend even higher.
Kinder Morgan continues to be one of the very best income and growth stocks in the entire market. It never ceases to amaze me that investors will buy AT&T for its 6% dividend, when T has been a miserable total performance stock over the years.
Give me Kinder Morgan's 6.0% dividend and superior management team any day of the week.
Disclosure: I am long KMP.