Of all of the shocking things Reed Hastings has done at Netflix (NASDAQ:NFLX), I'm most astonished that he has never offered me work as a consultant. Throughout 2011, I have not only appeared to have a better handle on his company's business than he does, but I've predicted several things, namely lowered guidance, EPS losses and fundraising efforts, before they happened.
As long as everything's above board, I can be bought, but, because I doubt Hastings is prepared to offer me a load of stock options, I will go public with several things I think Netflix not only should, but easily can do to salvage its dying business and make me a bull.
Each of these moves contribute to the following overarching themes:
Generating multiple streams of revenue
Using proceeds from new revenue streams to fund content acquisition
Refocusing efforts on making the DVD business profitable so that it can continue to subsidize streaming
Creation of a more interactive and dynamic user experience that fosters more time spent on Netflix platforms and encourages subscriber growth
Pizza
Of course, it could be more than pizza, but I think considerable opportunity exists for Netflix to take some sort of, albeit limited, e-commerce approach not only at its website, but via the many other platforms subscribers use to view its streaming content.
At present, streaming a movie or television show via Netflix remains a pretty straightforward proposition. Companies in the audio entertainment space, ranging from Pandora (NYSE:P) to Clear Channel (CCMO.PK) to Sirius XM (NASDAQ:SIRI), continue to up the ante in terms of providing listeners with a better and more interactive listening experience. On the video side, HBO GO is just one of the services that outperforms Netflix on this count. It's not only more interactive, but it's slicker and hipper; simply put, HBO GO is dressed to impress the 18-34 crowd that I assume is Netflix's niche, particularly on the streaming side.
That said, I don't think Netflix should simply do what everybody else is doing. Of course, the company could go the easy route, pull a Clear Channel or Sirius XM and unveil "Pandora-like features." Eventually it will allow its subscribers to make full use of Facebook, Twitter and other social networking sites. I think it needs to be more imaginative, not only to stand out and create a better bond with subscribers, old and new, but to generate desperately-needed revenue.
Consider the following sample of Tweets that come up when you do a simple search for "Netflix" on Twitter.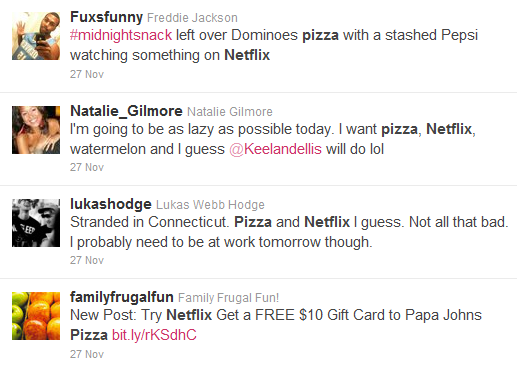 While I like the gift card promotion (in the last Tweet), it's very typical. Those types of deals - subscribe and we'll give you a gift card - are a dime a dozen. As fellow Seeking Alpha contributor Spencer Osborne recently argued in relation to Sirius XM, Netflix needs to step out of the box and do some marketing that will not only speak to its target audience, but increase the prospects of adding new subscribers.
Given the imaginative things Domino's (NYSE:DPZ) has done lately, I am sure it would have no problem partnering with Netflix. Go ahead and order a pizza online from Domino's. It's not only an interactive experience, but it's incredibly well-done. The company has quietly reshaped the experience of ordering a pizza. I often order from Domino's simply to enjoy the experience.
Anyhow, despite the fact that Hastings continues to shove a broken business model and a busted image down everybody's throat, Netflix still does have a decent amount of brand loyalty. Many of its subscribers consider the service an essential part of their lives. The Tweets I posted and how happy customers speak of Netflix across social media suggest the service means something to them. For many, it has become part of a regular routine or a component of an evening of rest and relaxation, studying or some other intimate activities.
By partnering with a company like Domino's, Netflix could offer streaming subscribers the ability to order from the pizza chain, instantly, while using Netflix on a computer, a gadget, a mobile device, a gaming console or an Internet-connected television. It could take things a step further, however, by allowing subscribers to place a Domino's food order in the morning and set a time for evening delivery while noting what movie or TV show they plan to enjoy with their pizza.
Of course, Netflix could work out a deal with Domino's where it receives a share of the revenue produced by this joint venture. And Netflix could also take the opportunity to go beyond the obvious pizza and a movie tie-in. Without cluttering the experience, the sky is the limit.
Adult Films
Somewhat to my surprise, a CNN/Money author made the pitch back in 2003 that Netflix should get into the adult DVD business. I have not seen much discussion about it since then. However, I have been thinking about it for quite some time. On the surface, it triggers a chuckle, but it's a more than viable and legitimate idea.
I think Netflix should buy what amounts to the Netflix of adult films - Adult DVD Empire. The private company does exactly what Netflix does. It ships DVDs (in blue envelopes) and offers online streaming. Of course, the distinction is that its content is X-rated. Consider some facts before casting off the idea as provocative folly.
The Wall Street Journal recently published an article citing several cable and satellite executives, who discussed, on their company's conference calls, the impact of their subscribers opting for adult entertainment online instead of via traditional pay-per-view:
On Thursday, satellite provider DirecTV (NASDAQ:DTV) cited "lower adult buys" as a cause for weaker pay-per-view revenue in its second quarter earnings. That followed Time Warner Cable Inc.'s (NYSE:TWC) admission last week that shrinkage in the adult category was responsible for more than a third of a $14 million drop in video-on-demand revenue. While only a sliver of the cable company's $4.9 billion in revenue for the quarter, porn is one of TV providers' most profitable segments.

Other cable- and satellite-TV executives say they have been weathering the problem for years. "There's been a fairly steady trend over some time period now for adult to go down largely because there's that kind of material available on the Internet for free," Glenn Britt, Time Warner Cable's CEO, said on a conference call to discuss earnings results last week.
Certainly, many consumers of adult entertainment get their video fix for free. The same goes for people who watch traditional movies and TV shows as well as music lovers. That said, take a look at what Adult DVD Empire charges on both the DVD and streaming side (just be careful when you go to the site as it is not kid- or work-friendly). With Netflix's scale, those fees could probably come down considerably as revenues skyrocket. No matter how you slice it, it would be a revenue windfall, allowing Netflix to offer adult movies via DVD and streaming as a separate business or in some type of a la carte or add-on form.
Without a doubt, a move like this would signal what would look like a public relations nightmare for Netflix. But, ask yourself, can it get much worse than it already has? The type of outcry a foray into the world of adult content would trigger would eventually pass, plus it would come from a not-so-silent conservative minority.
I don't think investors would balk. You don't see the big money flocking into "socially responsible" ETFs and mutual funds; instead the big money buys polluters, companies that exploit cheap labor and firms that produce the foods that help make two-thirds of America overweight and obese and on the brink of heart disease, high blood pressure and diabetes if they don't already have one or more of the three.
This is not about changing the world, it's about making money. And, at the moment, for Netflix, it's truly about survival.
Conclusion
At this juncture, Reed Hastings is attempting to salvage a broken business model by stubbornly adhering to pretty much the same broken business model. Newsflash - it was never going to work. It was not going to work in April. Hastings proved to the world it was not going to work over summer. Netflix proved yet again that it's unworkable with its $400M financing scheme.
By attempting to execute a turnaround with the same material that got you into this mess in the first place, Hastings oversees little more than a sinking ship. He can, however, turn things around. While I do not expect him to adopt the sample ideas that might make me bullish, I think the focus at Netflix needs to shift to creating multiple, synergistic streams of revenue. The experiment of using subscriber growth to fund content acquisition died a miserable death. It's time to try something new or get out of the way before its bungled balance sheet lands Netflix in an even more precarious situation than it is in now.
Additional disclosure: I am long P.