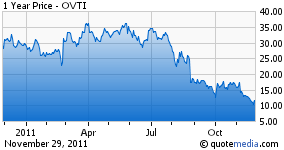 Image sensor maker OmniVision (NASDAQ:OVTI) reported after the close, but dropped 11.5% after-hours to $9.90 after traders digested the exceptionally weak forecast. Shares are already down 69.79% from a 52-week high after market sentiment soured, and rumors that Apple's iPhone 4S did not use OmniVision's sensor.
Apple (NASDAQ:AAPL) shares were in a slight decline in recent weeks, down from the $400- evel and last trading at $373.20. Apple's management of suppliers ensures that companies like OmniVision can always be replaced. OmnVision's forecast reflects this new reality.
HTC, another handset maker that uses OmniVision sensors, recently lowered its outlook.
OmniVision reported in Q2:
Revenue of $217.9M, beating the $214.6M estimate
Non-GAAP profits were $0.48, beating the $0.32 estimate
GAAP net income of $0.35 vs $0.50 a year ago (and $0.68 in Q1)
OmniVision then forecast:
Revenue of $160 - $180M for Q3 versus the $201.4M consensus estimates
Non-GAAP profits of $0.05 – 0.17, well below the $0.26 estimate
GAAP EPS of ($0.06) (loss) – $0.06 on a diluted basis
What is an investor to do?
Wait a day or two (margin calls will mean shares could face greater selling pressure) , and then sell. Re-visit this company in a few weeks.
Shares stabilized to between $15 and $17 as market sentiment improved, attracting some buyers. It then fell to $11 after the company warned on earnings. This represents a substantial paper loss.
In the short-term, investors who entered the stock recently will be inclined to sell. In addition, investors who bought shares in the $30-35 range will want to sell to take a capital gains loss. Shares now trade at a P/E of 4.49, and hover near the cash per share value. In the reported quarter, OmniVision reported a $41.3M decline in cash and cash equivalents to $464.8M. With 59.61M shares outstanding, the cash per share dropped from $8.49 to $7.80.
Still not ready to sell, and to consider buying back later? Reviewing OmniVision's balance sheet, on the asset side:
Inventories rose to $250.5M (October 31 2011) , up from $106.93M (April 30 2011)
Goodwill increase a ten-fold to $10.23M, up from $1.12M
On the liabilities side:
Accounts payable increased to $155.099M, up from $102.519M
Accrued expenses doubled to $50.77M
One positive point for the company was the increase in R&D costs. R&D rose to $29.027M (up from $20.894M). Given the rapidly changing nature of technology, with the company maintaining spending here, OmniVision is a better long-term investment story.
Disclosure: I have no positions in any stocks mentioned, and no plans to initiate any positions within the next 72 hours.