"Wanna buy a used car? Have I got a deal for you!" If just reading the words makes you cringe, then Copart's online 'vehicle re-marketing' auctions may be for you. You may never need to go near a used car salesman again. Copart Inc (NASDAQ:CPRT) sells more than 1.25 million vehicles a year this way, in the US, Canada and the UK.
Online auctions are conducted in real time, though prospective buyers can tender a maximum bid ahead of the sale if they wish, allowing Copart's website software to submit incremental bids on their behalf. Copart even has a patent for its online auction system (patent 7315832). It is, in effect, a real time version of eBay (NASDAQ:EBAY), but exclusively for cars, trucks, SUVs, motorcycles and boats, and even snowmobiles and jet skis. Auction lots are sourced primarily from the insurance industry, and to a lesser extent from finance, banking, motor dealership, rental car companies and private sellers. Copart does not normally purchase vehicles itself (except in the UK, where it has a direct purchase and sale business model) but earns 83% of its revenue from vendor and purchaser fees, and from towing, storage and shipping services. Copart also has over 150 physical facilities where sellers and buyers can access services, submit pre-auction bids and participate in online auctions.
A buyer expecting the streamlined experience of purchasing an automobile from a new car dealer or even a used car dealer will probably be disappointed with the experience. After researching Copart, and after the demise of my daughter's car, I decided to test Copart's services for getting my daughter a new ride. In some states, prospective buyers must be a broker in order to purchase a car from Copart. In states requiring a purchaser to be a broker, a private individual may purchase from Copart via a third-party broker. In my case, Copart does not have a presence in Delaware where I live, but the company does have facilities located in Maryland which is not too far. However, a private individual must be a broker in order to purchase from the facilities located in Maryland. Copart also has establishments in Pennsylvania and the facility located near Philadelphia not requiring a brokers license for private individuals is about an hour's drive time from my home. I didn't want to use a third party, so I decided to try to find a car via the Philadelphia facility.
Starting a basic membership with Copart is very easy and may be performed by simply providing name, address, etc. A Copart basic membership enables bidding up to $1000. For larger purchases, a member must deposit 10% of the expected sale price. Basic member fees for purchasing a vehicle are scaled with a minimum fee of $45 for a sales price less than $100 and a 12% fee for a sale price of greater than $5000. There is also a $30 gate/loading fee and a storage fee of $20/day starting on the 7th day after the high bid was placed from the Internet and starting on the 3rd day if the high bid was placed during the preliminary biding using a kiosk at the company facility. Additionally, a fee of $50 per day is assessed if the auctioned item is not is not completely paid for within 3 business days of the purchase.
After becoming a basic member, a search was performed using Copart's website. The company's website is very easy to use, as searches can be narrowed down to the particular type of vehicle(s) and other constraints desired. As an example, we entered to search vehicles located at the Philadelphia location and constrained the search for "no license required", "no damage", "clean title" and "runs & drives". The search returned several cars, but most of them were either large gas-guzzlers or had standard transmissions, which are not acceptable. I would not want to subject the world to my daughter driving a car with a standard transmission. One car, a Toyota Celica, was interesting, as it was a 2001 with 118K miles and an automatic transmission.
My daughter and I drove to the Philadelphia facility and after adding her to my account and putting on a yellow vest she was able to join me in viewing the automobiles residing at the facility. Copart's Philadelphia operation was quite impressive with 54 acres of vehicles – mostly wrecked. The autos are located on loose stone and in some places mud, so if you go wear an old pair of shoes with a thick sole. After searching for several minutes, we were able to find the Toyota Celica. There wasn't a key, so we walked back to the company's office and got the key. With the key, we returned to the Celica, but the car wouldn't start due to a dead battery. With the help of a Copart employee, we were able to jump-start the car. The employee informed us we could let the engine run, but couldn't drive the car around. The engine ran perfectly and was in good shape, so we decided to bid on the car.
After some research, I determined the Celica would probably fetch somewhere between $2000 and $3000 at auction. Based on this, I added $300 to my account via credit card enabling a bid of up to $3000 for the auction.
Prior to the auction, the bid price for the car was in the $600 neighborhood, so I posted a bid for $650, but it was rejected, as another participant had a maximum bid higher than $600. I continued to increase the posted bid amount until it was accepted at $1900.
At auction, there were no additional bids, so my $1900 bid "won" the auction. At this point I was ready to pay for the car and go pick it up, but Copar's website indicated they were waiting for the seller to accept the $1900 bid price. The website also indicated the minimum bid accepted by the seller was $5000. So, even though I had won the auction, I had not actually purchased the car yet. I was provided with a way to increase my bid, but I declined to increase my bid and decided to wait and see what the seller would do. I did not have to wait long, as on the next business day, the car was no longer listed as an open item. If I had known the seller's minimum bid was $5000, I probably wouldn't have looked at or placed a bid on the car.
Even with some potential drawbacks to the Copart's business model, the company's business eliminates the expense and capital requirements of live physical auctions, as well as opening up competition to global buyers. In North America during 2011, 28% of vehicles sold went to registered bidders located in a different state from the purchased vehicle, and 23% went to bidders in a different country. Copart also operates specially-trained response teams to assess vehicles involved in natural disasters or other catastrophes. It adds further value for customers with shipping services, an online repair parts location system, salvage cost quotes and title processing.
Copart extended its operating base by acquiring companies in the UK salvage market from 2007 onwards, and by introducing programs targeting car dealers and the general public from 2008. This was the start of a gradual move away from its dependence on the North American insurance salvage business. Yet this remains as Copart's major source of revenue in a market where the increasingly complex structures of new vehicles makes them more likely to be written off after an accident because repairs are too costly. Over 80% of vehicles sold come from insurance company sellers, but no single customer has accounted for more than 10% of total revenue in any of the last three years. Vehicle dismantlers, rebuilders and repairers account for the majority of purchasers.
Competition for Copart comes from other re-marketers of both salvage and non-salvage vehicles. KAR Auction Services (NYSE:KAR), formed from the merger of Adesa and Insurance Auto Auctions, and the privately-held Auction Broadcasting Company and Manheim Auctions, are the principal competing auctioneers. Some salvage operators, such as national vehicle dismantler LKQ Corporation (LKQX), have the ability to purchase salvage vehicles directly from insurance companies, removing the need for a re-marketer such as Copart. In the area of sales to the general public, Copart is competing with traditional vehicle retailers like AutoNation (NYSE:AN) and the Penske Automotive Group (NYSE:PAG).
Major risks for Copart include the possibility that it may not be able to retain the agreements it currently has with vehicle sellers, particularly in the salvage area. Their export business is also at the mercy of the decisions of foreign legal jurisdictions about the kind of vehicles that can be imported. The company is currently defending itself against a claim for over $73 million in unpaid sales taxes by the Georgia Department of Revenue.
Copart's fiscal year ends July 31, so the latest financial results are for year 2011. Total revenue was $872 million, with operating profit of $265 million reflecting the high margin (over 30%) returned by predominantly online business. When compared with fiscal 2010, revenue grew by 13% and operating income was 11% higher. Net income was $166 million, or $2.17 per diluted share. The company's 2011 performance eclipsed the exceptional 2008 results, which it had failed to match in 2009 and 2010. Currently the company has around 2,800 employees, including over 500 in the UK.
CEO A Jayson Adair drew attention to Copart's achievements in reducing General & Administrative Expenses at the opening of the company's recent 4th quarter earnings call. A planned move of company headquarters from Fairfield, CA to Dallas, TX in 2012 will make it difficult to repeat this expense containment in the coming year. CFO William E Franklin commented on the fact that volume had grown in both North America and the UK in the fourth quarter, and noted that the proportion of revenue generated by outright purchase and resale had grown as well. Copart aims to continue growing its international business and is working on a major technology overhaul that will allow its website to conduct international business in languages other than English.
Copart's stock price is up around 34% from two years ago and has been in a trading range between $36 and $45 over the last three months as shown below: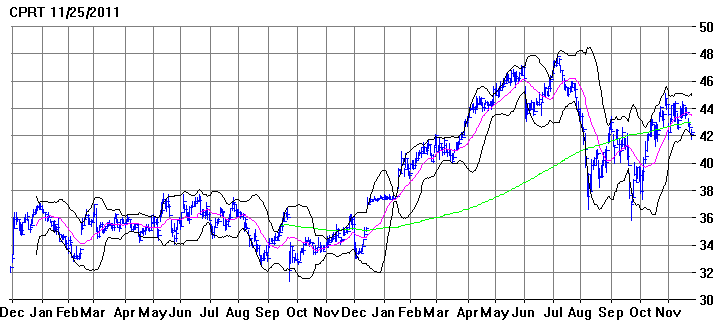 An investor in Copart seeking to hedge the position might consider a put-spread collar. A put-spread collar may be entered by selling a call option for income and entering a put-spread to hedge the position against a moderate drop in price.
For example, using PowerOptions tools, a put-spread collar position for Copart was found with an assigned potential return of 7.4% and a profit/loss scenario as shown below: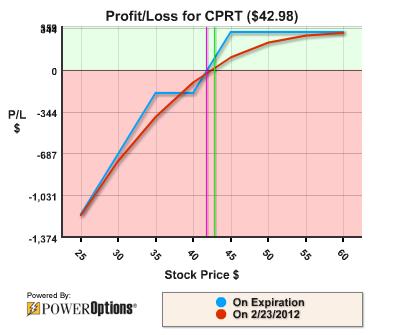 The specific call option to sell is the 2012 May 45 at $2.70, the put option to purchase is the 2012 May 40 at $2.70 and the put option to sell is the 2012 May 35 at $1.10. The time frame for realizing the 7.4% potential return is 173 days. The 2012 My 34 put can be sold, as the chance of the stock price dropping below $35 is not significant, as the stock formed a nice base in the $35 region over the previous year.
Continued growth, both internationally and in sales direct to the public, are likely to be the main weapons in Copart's arsenal when fighting against competition in the future. If it can position itself as a real alternative to running the gauntlet of a used car lot, it may well have a deal for you, but the company will have to make some significant changes to its business model in order to court purchasers of used cars such as splitting the salvage auction portion from its used car auction operation. To be effective in the used car business, the company will also have to change other aspects of the business, such as ability to test drive, pavement instead of loose stone/mud, etc.
Disclosure: I have no positions in any stocks mentioned, and no plans to initiate any positions within the next 72 hours.