The recent Pharmasset, Inc. (VRUS) buyout touched my inquisitive financial emotions. This article addresses the recent biotech buyout and the major gains that shareholders received overnight. I feel like Al Pacino, playing the role of Michael Corleone in "The Godfather: Part III", when he stated:

Why do the biotech gods tempt me so? Hath not I learned my lessons? Greed plays a major factor. An investor needs to sort their emotions in order to maintain a business as usual investment strategy. Nevertheless, I need to express my desire for the major gains that Pharmasset, Inc. investors recently experienced in their portfolios.
There is a biotech lure that sucks even the most casual investor to gasp at the potential gains. When I see the significant gains, I force myself to walk around the block to ensure my head is on straight. I'll address what lit my "warning: greed alert in effect" button. In addition, I'll address some other stocks that have lift off potential.
Pharmasset, Inc.

Pharmasset announced on November 21st they agreed to a merger. The terms, per a SEC 8-K filing, were $137 cash per Pharmasset share.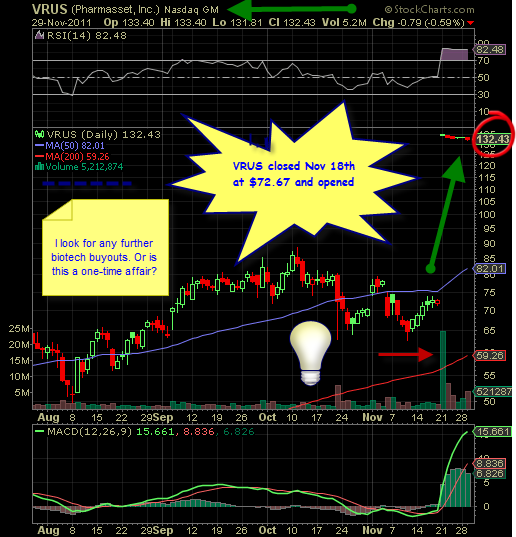 Background
Pharmasset is a clinical stage pharmaceutical company focused on discovering, developing, and commercializing novel drugs to treat viral infections. Pharmasset's core focus is on the development of "nucleoside/tide analogs" as oral therapeutics for the treatment of chronic hepatitis C virus (HCV) infection.
The company was co founded by famed biotech start up whiz Emory University researcher and successful entrepreneur Raymond Schinazi.
Pipeline
The company's pipeline clearly displays the fact of zero Federal Drug Administration (FDA) approvals. The company is losing money. The pipeline's future is what matters.
The lead program, PSI-7977, is hopefully going to receive FDA approval in 2014. The pipeline, if successful, will prove to be a new way to treat new hepatitis C treatments. For now, however, the company remains unprofitable without net profits flowing through to the balance sheet.
Idenix Pharmaceuticals Inc. (NASDAQ:IDIX)
Idenix Pharmaceuticals was co-founded by Emory University researcher and successful biotech entrepreneur Raymond Schinazi. I back winning management teams. I fade losing and all hype management teams. Raymond has delivered results.
The company is unprofitable. The equity has received attention due to the focus upon Mr. Schinazi's involvement. The company, on November 16th, announced a secondary. In fact, 9.3 million shares were sold at $6.50.
Background and Pipeline
Idenix Pharmaceuticals is a biopharmaceutical company focused upon the discovery, development and commercialization of drugs for the treatment of human viral diseases. The company's core focus is on research and development of patients with hepatitis C virus (HCV). The most advanced drug candidate, IDX184, a nucleotide polymerase inhibitor. The IDX184 drug, per the company's website, is in Phase IIb trials.
Partners
Idenix has a strong partner in Novartis (NYSE:NVS).
Catalyst
Idenix Pharmaceuticals will be reporting mid stage development during the 1st quarter of 2012. There are similarities between Idenix Pharmaceuticals and Pharmasset. Investors are taking notice, post secondary offering, of this HCV equity.
Action
I am watching. I am, as stated below, leaning towards a vertical credit call or option spread. The credit spreads take advantage of the volatility and I receive income.
Inhibitex, Inc. (NASDAQ:INHX)
Inhibitex is a bio-pharmaceutical company focused on the development of differentiated anti infective products to prevent and treat serious infections.
Inhibitex is currently focused on treating infections caused by hepatitis C virus (HCV), and herpes zoster. Herpes zoster is also known as shingles.
Financials
The company remains unprofitable. Share dilution is a requirement for raising any additional funds. This assumes a partnership agreement can not be established.
Partners
The company does have Pfizer (NYSE:PFE) as a partner for a Phase II anti bacterial drug Aurexis.
Pipeline
As most investors know, we can follow clinical trials online. I personally focus upon the key drugs which will make or break the company's success. My initial focus will be on INX-189 (HCV). This is the name receiving the most attention - and I shall follow accordingly.
The company has 6 key drugs in the pipeline.
Catalyst
Idenix Pharmaceuticals' product IDX184, will provide mid stage data in the next quarter, is another company with a Pharmasset business type model. The mid stage reports are vital to determining Idenix's potential.
Action
My goal is to become more familiar with this space. My initial reaction is to ensure my positions are reasonable, and risks are spelled out. I may sell credit option trades for gross option income.
Achillion Pharmaceuticals, Inc. (NASDAQ:ACHN)
The company has 3 experimental hepatitis C therapies. The company is expecting clinical data on the 3 drugs and any positive news should be well received by the market.
Catalyst
Achillion Pharmaceuticals has been in the news lately. Achillion Pharmaceuticals CEO had already triggered some modest speculation when he told Bloomberg last week that he had been in "advanced talks" with possible buyers.
Achillion Pharmaceuticals Mr. Michael D. Kishbauch, the CEO, told Bloomberg last week the hepatitis C market could be $20 billion in 2020.
Action
I am monitoring this name. Clearly the name is on the radar of potential buyers. I plan to review research reports, study feedback, and watch the tape for unusual trading patterns.
Keryx Biopharmaceuticals Inc. (NASDAQ:KERX)
Keryx Biopharmaceuticals is a name my dear friend, Seeking Alpha writer Michael J. Ray, has recommended to readers.
Insider Sells Outweigh Insider Buys
Insiders have the inside scoop on a stock. If a speculative stock has insider selling outweighing insider buying, I have learned to quickly say "pass". The below table shows insider trading. Nothing appears to be "positive" or "imminent". Here are the SEC Form 4 filings:

Background
Keryx Biopharmaceuticals Inc. is a bio-pharmaceutical company focused on the acquisition, development and commercialization of cancer and renal disease pharmaceutical products. Per the November 4th SEC 10Q, the source of working capital has been from "private placements of equity securities, option and warrant exercises, public offerings of our common stock".
I avoid biotech companies who do private placements. Many hedge funds will simply take the private placements and short the common stock. They have zero risk as the private placements were received at a discounted price. They short the common shares at a higher price than the private placement price.
On a positive note Keryx Biopharmaceuticals Inc. does receive milestone payments from Japan Tobacco Inc. ("JT") and Torii Pharmaceutical.
Action
I would like to receive private placement shares and short Keryx Biopharmaceuticals. This is not going to happen. This is the "for sure" trade. The stock has just continued to dilute its current shareholders via stock offerings. I 100% avoid these type of situations.
I have zero position in this name but believe the equity goes lower: caveat emptor.
Onyx Pharmaceuticals, Inc. (NASDAQ:ONXX)
Onyx Pharmaceuticals is a biopharmaceutical company focused on extending and enhancing the lives of patients with cancer and other serious illnesses.
Pipeline
The company remains unprofitable. The company appears to have a solid drugs in their pipeline. Nexavar is an oral multiple kinase inhibitor that inhibits proteins involved in both tumor cell proliferation and angiogenesis. Angiogenesis is also known as the formation of new blood vessels that support the growth of cancer cells.
Catalyst
Onyx Pharmaceuticals, on November 29th, announced FDA Acceptance of New Drug Application for Carfilzomib for the Treatment of Relapsed and Refractory Multiple Myeloma.
Antares Pharma Inc. (AIS)
Antares Pharma (AIS) is a name I like to track. I am simply not a risk taker. I am an income investor. I follow Antares Pharma (AIS) based upon Seeking Alpha writer "James Stocklasar Thomas, Jr.". I fact check James work, and he is a solid writer with an informed insight on Antares Pharma.
Asset Allocation with Speculative Biotech Stocks
When it comes to investing, however, I trust only myself. A 'zero refund' policy enacted by the NYSE and NASDAQ requires each investor to fend for themselves. Cookie cutter approaches do not work. This is the typical strategy espoused by many retail investor shops. It's financially embarrassing in my view. A 60% stock, 30% bond, 10% emerging markets is not meant for anybody.
Investing requires hard work to outperform cookie cutter approaches. What the cookie cutter approaches fail to address is what to do in a "down" market. Sales people "sell". I want a vested interest. James Stocklasar Thomas owns Antares Pharma, and knows the company pretty well.
Background
Antares Pharma (AIS) is an emerging pharma company focused upon self injection pharmaceutical products and topical gel based products. Per the SEC 10Q filing, "The Company's subcutaneous and intramuscular injection technology platforms include VIBEX™ disposable pressure assisted auto injectors, Vision™ reusable needle-free injectors, and disposable multi-use pen injectors." In the injector area, Antares Pharma (AIS) has licensed its reusable needle free injection device for use with human growth hormone Teva Pharmaceutical, Ferring Pharmaceuticals BV, and JCR Pharmaceuticals.
Insider Buying
The insider purchases is financially embarrassing to a new investor. The stock is trading at a fairly low level. If the company has so much promise, why the lack of insider purchases? The insider sales outweigh the insider buys. This is a clear indication for me to stay clear. The arrow below points to a sale of 68,750 shares. In two years the total purchases amount to 50,000.

Pipeline
The company has approved products. The company has plenty of products in the pipeline. I need a quarterly profit. Today, November 29th, the company announced a patent notice.
The patent, per the company's website, "....covers a method for treating hypoactive sexual desire disorder (HSDD) or female sexual dysfunction (NYSE:FSD) by alleviating clinical symptoms of hormonal disorders related to HSDD and FSD through the convenient administration of a specially designed transdermal or transmucosal formulation....".
Catalyst
Show me drugs and revenues. I need insider buying, profits, partnerships. I avoid losses or dead end stocks. I am a "quant". I need profits to validate taking a position. Per the SEC 10Q, dated November 3rd, the company is still not profitable. Promises, words, "excitement" does zero for me. If the company isn't making money, I have zero interest unless something is around the next corner. Promises wear thin, very thin with me.
Summary
I will wait for the excitement to settle down. My focus right now is on capital appreciation. I will continue to familiarize myself with these stocks, FDA updates, and product commercialization. Emory University researcher and prolific biotech entrepreneur Raymond Schinazi, an Emory University researcher and successful biotech entrepreneur, has clearly demonstrated his success in the biotech arena. His name is one I will pay close attention to.
Biotechnology typically trades at a disconnect to the SP500. These companies have such high hopes that the volatility in price can be used to an income investor's advantage. The option credit spreads can be very favorable for investors with a knowledge of loved biotech companies.
Please use discretion prior to investing in any of these names. They are high risk only suitable for investors aware of the risks and rewards. I am likely to pursue credit spread option spreads (read: money to me) for the best suited names.
Caveat emptor. God speed.
Disclosure: I have no positions in any stocks mentioned, and no plans to initiate any positions within the next 72 hours.