In a low interest rate world, retirees are experiencing dwindling incomes from their risk-free assets (e.g. government bonds and cash equivalents). Many retirees are looking for relatively safe vehicles that provide yield.
The effective federal funds rate is close to 0% and the federal funds rate drives short-term interest rates.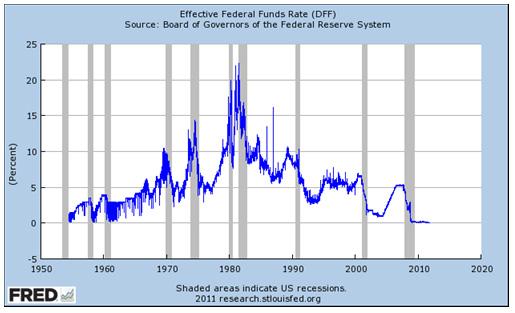 Retirees should seek to build a deep and diversified portfolio of income assets to protect themselves in their retirement. Below are a number of low beta, U.S. equities that retirees should investigate for their portfolios.
These names provide attractive cash dividends in a low growth world. The stocks below provide investors with dividend yields of greater than 3.25%. In addition, these names provide a list of stable dividend payers with relatively modest payout ratios. The payout ratio is dividend paid / net income. Lower payout ratios indicate an ability to increase dividends. Note: KMP is an MLP and it is required to make minimum distributions (which is why the payout ratio is relatively higher).
click on chart to enlarge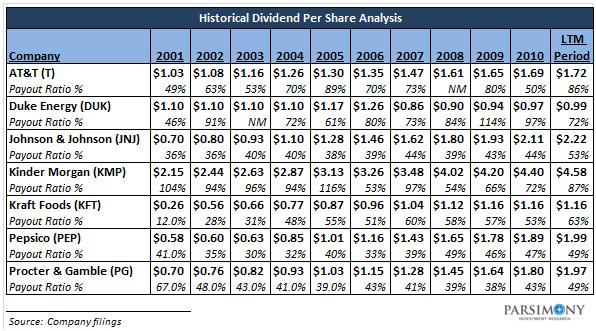 AT&T Inc. (NYSE:T)
Total Debt / EBITDA: 1.8x
Price / Earnings: 14.3x
Dividend Yield: 6.3%
Duke Energy Corporation (NYSE:DUK)
Total Debt / EBITDA: 4.0x
Price / Earnings: 14.3x
Dividend Yield: 5.1%
Johnson & Johnson (NYSE:JNJ)
Total Debt / EBITDA: 0.9x
Price / Earnings: 15.2x
Dividend Yield: 3.7x
Kinder Morgan Energy Partners (NYSE:KMP)
Total Debt / EBITDA: N/A
Price / Earnings: N/A
Dividend Yield: 6.1%
Kraft Foods Inc. (KFT)
Total Debt / EBITDA: 3.4x
Price / Earnings: 18.7x
Dividend Yield: 3.4%
Pepsico, Inc. (NYSE:PEP)
Total Debt / EBITDA: 2.0x
Price / Earnings: 15.8x
Dividend Yield: 3.3%
Procter & Gamble Co. (NYSE:PG)
Total Debt / EBITDA: 1.8x
Price / Earnings: 15.5x
Dividend Yield: 3.4%