"Now we have the potential to overcome the last hurdle between us and lasting success, by achieving a competitive cost and capital structure." – Tim Horton, Chairman, CEO, and President of AMR Corporation
On November 29, Tim Horton replaced Gerard Arpey as Chairman and CEO of AMR, parent company of American Airlines. Horton also replaced Arpey's recent insistence that AMR would not file for bankruptcy with an official announcement of a voluntary filing for reorganization under Chapter 11 (see "AMR and American Airlines File for Chapter 11 Reorganization to Achieve Industry Competitiveness (.pdf)"). In the video message, Horton reassured the public that AMR will emerge from bankruptcy a much stronger airline now that the company can compete with the same advantages its competitors gained after going through bankruptcy procedures over the past 10 years:
Our substantial cost disadvantage compared to our larger competitors, all of which restructured their costs and debt through Chapter 11, became increasingly untenable.
In other words, bankruptcy is a contagion in the airline industry. The precedence was established for bankruptcy to pave the way to a more efficient organization. AMR fought off infection for 10 years, but the company finally wore down:
The people of American have worked very hard and honorably over the last decade to avoid this outcome, but the world has been changing at an increasingly rapid pace. I think we've made it clear that the need to address our cost and capital structure , including labor costs, was becoming increasingly urgent in recent weeks.
During the recent weeks, on October 3, bankruptcy rumors knocked AMR's stock down 33% in one day. At the time, I argued that AMR was a buy for a bounce from a quick-trigger panic. AMR quickly bounced back amidst denials from Arpey and eventually recovered all its losses in less than two weeks. I chose that time to end the trade (see "The AMR Bankruptcy Trade Has Run Its Course For Now") as I had to acknowledge the very real possibility of of an eventual bankruptcy filing. As Smarter Travel's Ed Perkins pointed out at the time in "American: Bankruptcy … Then Merger?":
American will likely do what all of its big "legacy" competitors have done, some more than once: File for Chapter 11 bankruptcy, "clean up" its balance sheet, eliminate many potential losses, and continue flying with an improved cost structure. In such a planned or "pre-packaged" bankruptcy, the company and its advisers get all the big financial stakeholders on board the plan in advance, and the process goes ahead with no surprises.
Assuming AMR gets most of what it wants out of this bankruptcy, I continue to think the new stock will be a decent value play on the other side of this process. As Horton notes, AMR is entering bankruptcy with a strong set of assets, including $4.1B in unrestricted cash, unlike its competitors when they went into bankruptcy.
However, I also cannot help but look back at the "bankruptcy panic" trade and appreciate the real risks inherent in such a trading strategy. Clearly, the market was on to something real. If Arpey proceeded to admit that bankruptcy was indeed a very real prospect, the stock, and the trade would have continued to blow up in rapid order. Instead, for almost two months, many investors and traders were led to believe that AMR would not blow up, even as the stock eventually drifted downward to new all-time lows. In "On eve of bankruptcy, Wall St said hang on to AMR", Reuters demonstrated that even the analyst community remained relatively complacent about the real risks:
Investors who took Wall Street at its word would have been clinging to shares of American Airlines' parent company AMR Corp before Tuesday morning, or even planning to add to their holdings…

…Fourteen of the brokerage firms that cover AMR had a hold or buy rating on the stock before the company filed for bankruptcy protection…

…Out of the top brokerages that cover AMR, only Morningstar had the stock's fair value at zero. In fact, as recently as Monday Morgan Stanley sent a general note to clients that kept an "overweight" rating on AMR…

…Four more brokerages, including Barclays Capital and Deutsche Bank Research were recommending to pile up on the stock as of Monday, with either "buy," "overweight" or "market outperform" ratings.
Perhaps these ratings actually apply to the long-term valuation of the company. For now, the company is worth 34 cents per share on its way to zero as shorts rush to cover their bets while the stock continues to trade. I guess other buyers are speculators who are trying to catch part of a lucky bounce like the 50% gain from today's low of 20 cents.
click to enlarge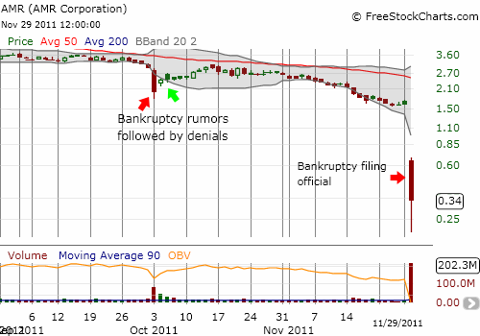 AMR plunges into bankruptcy
Source: FreeStockCharts.com
Be careful out there!
Disclosure: I have no positions in any stocks mentioned, and no plans to initiate any positions within the next 72 hours.