Sinopec (NYSE: SNP) is a state-owned, China-based integrated oil, gas and chemical company. Through its subsidiaries, the company operates in four business segments: Exploration/production, refining, marketing/distribution/chemicals, corporate and other. The company generates around three-fifths of its revenue from its refining segment, while exploration, production and chemicals contribute the remainder.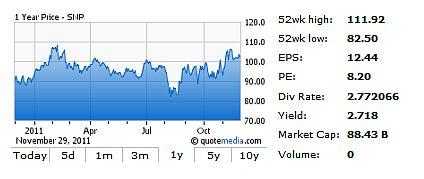 Currently, Sinopec owns eight of the top ten refineries in China and its refining capacity is ranked second globally. Sinopec has become a world leader in recent years. China's new refined oil pricing mechanism in 2008 turned Sinopec's refining business completely around, as it had been struggling in previous years.
One problem with Sinopec's business is the fact that it is highly vulnerable to spikes in crude oil prices, a commodity that is constantly shifting; Sinopec buys more than 70% of its supply from the global markets. Just look at the trend recently as crude oil has surged recently to over $102 per barrel, a 36% rally in the past six weeks. Currently Sinopec is working on diversification plans by building its own shale gas resources; a great new addition to help increase SNP's revenue.
When it comes to the business itself, Sinopec has done significantly well throughout the past year. For the first three quarters of 2011, the company's turnover, operating revenue and income totaled $295.5 billion, increasing 31.3% from the same period in 2010, as per IFRS standards. Net profit increased 8.8% to $9.7 billion, or 11 cents per share, from the first three quarters of 2010. Oil and gas production increased 0.8% year-over-year to 303.27 million barrels of oil equivalent (boe). Natural gas production soared 22.1% to 382.25 billion cubic feet.
Analysts are loving this surge in new orders and growth in business. As a result, according to Bloomberg, over 100% of analysts covering the stock now hold a buy rating on it. Recently, Sinopec announced a huge new deal: The company reached an agreement with the Portuguese oil group Galp Energia to acquire a 30% stake in its Brazilian subsidiary for a total investment of $5.2 billion. The agreement also includes a subscription for new shares and a shareholder loan. The acquisition further expands Sinopec's offshore oil fields in Brazil. With this deal, Sinopec's production will reach 21,300 boe/d in 2015 and hit 112,500 boe/d in 2024.
Sinopec has huge upside going forward. Huge capital injections from its parent company and the change of its refining products' pricing mechanisms have significantly improved the business as a whole. This has all been proven with results, as the stock has already done significantly well in 2011. This gives us no reason to doubt this trend will end in 2012 or beyond. Right now, Sinopec is trading at 7 times its estimated 2011 earnings. On-top of that, SNP shares hold a PEG Ratio of 0.95, a bullish signal for long-term investors. Our 12-month price target is $130 for SNP, a total yield of 30%.
Disclosure: I am long SNP.