As the holiday season has arrived, one of the timeless traditions for both children and parents takes place. Newspapers, stuffed to the brink with ads and flyers, arrive on doorsteps and driveways across the nation on Thanksgiving morning. Children eagerly dissect these papers with the skill of a surgeon in search of just one thing, and that is the massive booklets of toy advertisements placed there by department and chain stores.
So it begins, the children hunker over the ads with markers in hand, feverishly circling their every want for Santa's impending arrival. As I watch this episode play out yearly, I begin to wonder why income investors can't have a wish list as well. If Santa and his elves can manufacture enough toys for the world's children, then dividend paying equities should be a snap.
Falling deeper into the magic of the season, I begin to compile my own list. I already own some of the stocks mentioned below, but I would like more as I think highly of them. Of all the possible stocks and funds to choose from, I'll only pick seven that I would most want under the tree for Xmas. I don't want to appear greedy as it does not pay this time of the year and I could potentially end up on the naughty list and get coal (although certain coal stocks would be nice too).
Making a selection will not be as easy as it sounds. I could simply just pick the highest yielding stocks and throw caution to the wind, but since I plan on keeping these things around I better pick smartly. This would be the gift that keeps on giving as it generates income for years to come. So in no particular order here is my Christmas wish list of equities for the season. I just hope Santa gets this message.
Penn West (NYSE:PWE)
My first pick would be PWE as they are one of my favorite energy income plays. Penn West Petroleum Ltd. engages in acquiring, exploring, developing, exploiting, and holding interests in petroleum and natural gas properties and related assets in North America. The company produces light and medium crude oil, natural gas liquids, heavy oil, and natural gas. I get questioned quite often on PWE as many people point out that their yields are not the highest in the energy sector. They also point to the fact that since the market selloff in August of 2011 the share price has suffered. While all of this is true, I really like PWE for all the positive aspects that the company has going for it.
The company currently has a 6% yield that pays quarterly. This yield is generated off the 6.2 million acres which the company has access to. With all this land mass the company is continuing their growth strategy which involves new drilling technologies which are a highly effective way to get to oil that otherwise might not be attainable using standard methods. It is this new horizontal drilling that could unlock new reserves that have yet to be allocated to the company. According to PWE, only 5% of their reserves are related to the horizontal drilling which represents wells that have been drilled. As this new practice of drilling becomes a mainstay, PWE's reserves should grow by leaps and bounds over time. Of course none of this is cheap and Penn West will have to expend lots of capital to get things moving. The company in 2011 is estimated to expend C$1.4-C$1.5 billion in capital expenditures. Needless to say, this might keep the dividend yield in check for a while, but in the end I think PWE will turn out to be one of the shining stars of the Canadian energy sector for income investors. That being the case, PWE is going on my want list.
Linn Energy, LLC (LINE)
As a big believer in peak oil, a coming energy crisis, and the sector as a whole, I have to go to another energy name for the want list and that name is Linn Energy. LINE is an independent oil and natural gas company, engaged in the development and acquisition of oil and gas properties in the United States. The company holds interests in various properties located in Oklahoma, Kansas, Louisiana, Illinois, Michigan, and California, as well as properties located in the Permian Basin in west Texas and southeast New Mexico. In 2003, LINN Energy had just a handful of natural gas wells, but after an aggressive growth strategy spearheaded by great management, it has become one of the top independent U.S. oil and natural gas companies with more than 2.4 Tcfe of proved reserves. Since January of 2006 it has consistently paid a quarterly distribution to its unitholders, and those distributions have steadily been increasing. For an example, see the chart below. Click to enlarge: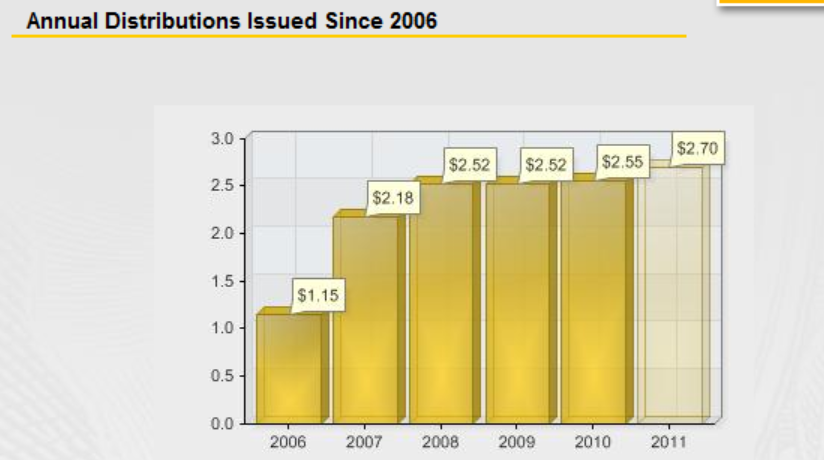 Click to enlarge
To attempt to keep unitholders insulated from current volatility, LINE has an extensive hedging program in place. The current expected natural gas production is hedged at approximately 100% through 2015 and oil production hedged at approximately 100% through 2013 and 80% through 2014 and 2015. To add to this, Linn Energy recently agreed to acquire assets in the Granite Wash of Texas and Oklahoma from Plains Exploration & Production Company (NYSE:PXP). The deal is for $600 million and the acquisition includes mid-continent oil and natural gas properties that represent a net production of 80 million cubic feet equivalent per day. LINE's analyses, plus data from PXP, estimate the proved reserves in 2010 were 263 billion cubic feet equivalent, about 90% of which is natural gas. With a 7.8% yield, I think LINE is definitely going on my Santa want list as well.
Enerplus (NYSE:ERF)
My third pick is yet another gas and oil name, but this one just has to go on the list. ERF is a Canadian company that engages in the acquisition, exploitation and operation of crude oil and natural gas assets in both the United States and Canada. Their energy production is almost an even break of 53% natural gas, 47% crude oil and natural gas liquids. The reason for their inclusion on the wish list is that much like LINE above, ERF's story is also about growth potential with one nice 8.8% yield to boot.
The company's goal is for total production growth of 10 – 15% over the next two years. With natural gas prices sitting on the bottom, that kind of growth is going to be hard to come by especially if 53% of the production is gas. To pull it off, ERF must concentrate on the oil side of the business and that is their plan. Armed with a capital expenditure plan close to C$770 million for 2011, the company wants to increase oil production by over 20% through 2012. To help achieve this goal ERF continues to add to their portfolio of undeveloped land in both Canada and the U.S. With the ever increasing amount of land coming under ERF's control it seems the company has plenty of room to grow and drill. Their strategic land position now includes over 380,000 net acres in some of the most prospective oil and gas plays in North America that will support reserves, production and cash flow growth in the coming years.
Weather has had a major impact on the company recently, which limited their production. In the third quarter of 2011 the weather conditions improved and drilling activities resumed, yet some delays are still occurring in key growth areas. The company has stated that daily production volumes averaged 73,245 BOE/day during the third quarter which was approximately 3% lower than expected. All in all, I think ERF is the perfect stocking stuffer for the holidays for the income investor, so let's hope Santa thinks as much of it as I do.
CVR Partners (NYSE:UAN)
For my income wish list I cannot continue to just pile on oil/gas names (though it would be easy to do). Diversification is always a key investing principle, even in an Xmas wish list, so with that I'll turn to fertilizer (that should give Santa a chuckle). There are a couple of great companies that produce outsized distributions but for the wish list I will go with CVR Partners. UAN was derived as a partnership from CVR Energy Inc. which spun off the company to operate the fertilizer side of the business. But the reason I chose UAN was due to the uniqueness of their business operation. The company is the only fertilizer producer in North America that uses a special petroleum coke process to make its product. They get this special petroleum coke from the refinery which is owned and operated by the parent company CVR Energy, who has a vested interest in seeing that UAN succeeds. The reason this is such a positive is that this coke will be readily available from the parent and also tends to be much less expensive and much more stable in price when compared to natural gas. Now natural gas prices are rather low, but as everyone knows it will not stay that way forever. In future, competitors who use the natural gas, will have to absorb the price volatility and play the hedging game to keep costs under control. Hopefully UAN can avoid this risk.
Another positive is that UAN is located much closer to customers so it will enjoy a transportation cost advantage when compared to other companies. Finally, the world's population growth story continues to play out and the demand for food will continue to increase. UAN knows the price of the fertilizer will be volatile but they are still going to continue an expansion project which is expected to be completed in the first quarter of 2013. This expansion should increase production but will also have the potential to eat into future cash flow as the costs of new assets are brought up online. With a current yield of 10.5% and all the upside potential, UAN is also on my Santa's want list.
Gabelli Global Gold, Natural Resources and Income Trust (NYSEMKT:GGN)
Whenever I write about Closed End Funds (CEF's) I am usually bombarded by many naysayers who question their value and worth (I just hope Santa won't be one of them). Now to give these people their due, they are often correct as there are many pitfalls with CEF's. Dealing with Return of Capital distributions, high management/maintenance fees, and volatile swings in share price versus net asset value can make investing in the funds that much more difficult. That being the case I am going to put GGN on my wish list. This is a closed-ended equity fund launched by GAMCO Investors, Inc. and managed by Gabelli Funds, LLC. The fund is not an investment in gold or natural resources as the name might suggest. It is a CEF that happens to be using gold, silver, and natural resource related stocks to derive income off the selling of covered calls and any dividends. The fund makes investments in equity securities of firms operating in gold and natural resources industries including companies in exploration, mining, fabrication, processing, distribution or trading of gold, financing, managing, controlling or operating of companies engaged in gold-related activities. It also invests in companies principally engaged in the exploration, production or distribution of natural resources, such as gas, oil, paper, food and agriculture, forestry products, metals and minerals as well as related transportation companies and equipment manufacturers. The fund is currently paying an 11% yield and distributes that out on a monthly basis. The distribution amount has remained relatively constant at $0.14 per share and recently the company stated that the distributions for each month of January, February and March 2012 will remain at that same level. To get the shares today, one would have to pay a 3% premium but that can and will change. So let's put this on the wish list and see what Saint Nick has to say.
Atlantic Power Corporation (NYSE:AT)
My sixth pick for the list is Atlantic Power Corporation. AT owns interest in various power projects and a transmission line in the United States. Its portfolio of assets consists of 13 operational power generation projects with approximately 878 MW generation capacity; a 500 kilovolt 84-mile electric transmission line in California; a biomass project under construction in Georgia; and various development stage generating projects. The company also sells steam under sales agreements to industrial purchasers. What I like about AT is that their stated objective for the company is to maintain a stable dividend to shareholders and to maximize the value of the company. As part of this objective, the company understands the need to be adaptive and ready to change in order to meet the customers' and investors' needs. For example, they focus on enhancing the operating and financial performance of current projects as well as pursuing additional acquisitions in the electric power industry in the United States and Canada. A look into their past shows a history of acquiring assets at a steady rate while maintaining their financial stability. As a result, the company has quite a diverse mix of energy generating assets from natural gas, coal, wind, biomass, and hydro. Sporting an 8.5% yield that is distributed on a monthly basis makes this stock that much more appealing.
American Capital Agency Corp (NASDAQ:AGNC)
If you are going to make a wish list, you might as well go big on some of your requests. In the income investing world that translates into getting the highest yield possible. One does not have to look too far to notice the yields that the Mortgage Real Estate Investment Trusts (mREITs) generate. This type of equity is actually pretty complex and I doubt that even Santa with his financial elves would completely understand this type of investment at first sight. To boil it down a bit, mREITs are entities that specialize in investing in mortgage products and trading mortgage backed securities. The main objective is to generate net income for distribution to stockholders through regular dividends, from the spread between the interest income on their portfolio and the interest costs of their borrowings and hedging activities. Add a bit of leverage to the mix and you can get yields as much as 20% in the current markets. Needless to say, that can make these investments very sensitive to swings in the interest rates plus a host of other outside influences. That being the case and knowing the risks, the best bet would be AGNC with its 20% yield that is distributed out on a quarterly basis. Of all the wish list picks, AGNC will be the most risky by far but also could be the most rewarding.
This concludes my wish list for the holidays. Did I pick the right ones? The answer to that is really subjective as each income investor is very different in their risk tolerance and beliefs. I have little doubt that many other investors could easily come up with a completely different set of stocks and plausible reasons why they should be on the list as well. For me, finding any one of these as a gift would be a pleasant surprise and one I would gladly hold in my portfolio for some time to come. Until next time, season's greetings.