Aixtron (NASDAQ:AIXG), headquartered in Germany, is a leading provider of deposition equipment to the semiconductor industry. The company's ADRs are traded on the NASDAQ, with each ADR representing one ordinary share. It has wholly owned subsidiaries in Sweden, South Korea, Japan and Taiwan. The company purchases all of the components and most of the assemblies required to manufacture the equipment from third-party suppliers and then performs final system assembly, product configuration, tuning and testing. It also provides consulting, training and customer support services. The company supplies both full production-scale complex material deposition systems and small scale systems for research and development and small-scale production.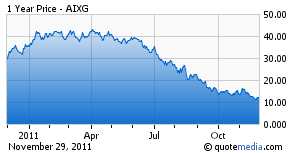 The company's products are used to make compound semiconductors by depositing layers of different elements one on top of the other. Compound semiconductors, unlike the better known silicon, consist of two or more elements. They are used for the manufacture of LEDs, lasers, flexible displays and high power devices among others. Historically, the company's revenues have been cyclical and have tracked the use of compound semiconductor devices in various applications and end user markets. Previous spikes in annual revenue have correlated to increased demand for optoelectronics for use in telecom, organic electronics for flexible displays and LEDs for backlighting. The increase in revenue from 2009 (€302.8m/$402.7m)* to 2010 (€783.7m/$1042.3m) can be entirely attributed to the anticipated increase in the use of LEDs for lighting.
For the year ended December 31, 2010, 6% of the revenue came from spares and services. Customers in Asia accounted for 91% of the revenue. The company's annual revenue grew at an increasingly rapid pace from €214.8m ($285.7m) in '07. Revenues are expected to fall to between €600m ($798m) and €650m ($864.5m) in FY 2011, with Q3 '11 revenue coming in at ~ €89m ($118.4m). Reflecting the drop in revenue, the price of each ADR has fallen from a high of more than $44 in April '11 to $11 and change.
The Q3 '11 decline in revenues can be attributed to an unscheduled adjustment in delivery requirements by a small number of significant customers, particularly in Asia. The company views these adjustments as a market driven correction to an artificially high demand, driven by substantial government funding. It sees this as a revenue timing risk rather than a market risk. The company believes that the LED lighting investment cycle will provide the biggest end market opportunity seen by the industry. Though unable to predict exactly when demand will pick up, the company sees this happening in less than two years time
Like most companies in high fixed cost industries, the company's operating profit margin as a percentage of sales has tracked revenue and gone from ~6.5% in '07 to ~ 34% in '10. In its latest conference call the company states that it can achieve breakeven in the range of €240m ($319.2m) - €250m ($332.5m) with gross margin of around 40% and opex of around €100m ($133m). Consider a worst case scenario where annual revenue comes in at around €250m ($332.5m) for FY 2012.
If the company manages to grow its net operating profit after taxes at a rate of about 1% from this base, a conservative DCF analysis would give each ADR a value of around $7. This assumes that the anticipated increase in LED's for lighting either does not happen or passes the company by and there are no new drivers that produce revenue spikes in the future. A more realistic yet conservative analysis that assumes a couple of years of revenue spikes and 1% growth in net operating profit after taxes, from a revenue base of around €350m ($465.5m) puts the long term value of each ADR at around $10.
The company has no debt and had cash and cash equivalents of €318.6m ($423.7m) on its balance sheet at the end of the last quarter. It has paid regular annual dividends since 2008. Considering the nature of the industry and the company's size, it would be inadvisable to rely on a dividend. It does however show the company's intention of returning value to shareholders when possible. Aixtron has R&D facilities in Germany, U.S and the U.K. Over the past 5 years at least 30% of the period average headcount has been engaged in R&D. Over the same period the company has spent 6%-14% of its annual revenue in R&D. This commitment to R&D is vital for the company's future.
The company is currently seen as operating primarily in the "Solar & LED" space. However an increasing variety of end user applications coupled with falling manufacturing costs is more than likely to increase the demand for compound semiconductors and thus the company's equipment. One promising growth area is the next generation of power semiconductors. Power devices are used in applications ranging from communications to hybrid and electric vehicles. Traditional silicon based power semiconductors are being pushed to their limit and compound semiconductor devices can offer better performance, particularly in more demanding applications.
Aixtron has more than 30 years of experience in managing complex technology developments and volatile investment cycles. Given its growth prospects and its current price relative to value, a position in the company should pay off handsomely for the patient investor.
*€1=$1.33 is used in this article
Disclosure: I am long AIXG.