With the skyrocketing real estate values of the mid 1990s and early 2000s, many Americans (homeowners and home builders alike) felt over confident in this trend as the market saturated and high risk mortgages dropped the bottom of the market. Thankfully, as the system slowly, but steadily is being treated for the ailments of yesterday's 0% down ARM mortgages and the idea that every American can and should be a homeowner, investors can find opportunities in real estate stocks poised for an upswing as the economy heals.
Dropping home values no doubt have left many Americans feeling poor. U.S. home prices have fallen since 2006 leaving 28.6% of U.S. homeowners in negative equity. Home ownership is down to 65.1% from a top around 70%. Homeownership is still historically high due to a push nationally for more homeownership, but declining home prices and negative equity threaten additional default. Too many homeowners in negative equity can't withstand any more hits and many have turned to foreclosure. These foreclosures have been one of the greatest influences to home prices. Almost a third of all homes sold in Q2 were in some sort of distress and the average price of those homes was 32% below non-foreclosure prices.
To add insult to injury, allegations of faulty paperwork and government involvement have worked in delaying many inevitable foreclosures. The powers that be have chosen a slow bleed instead of a swift blow, resulting in many of the past few years' foreclosures just now hitting the market. The situation was predicted to get worse before it gets better. That "worse" has possibly come, as U.S. foreclosure rates hit a 7-month high in October 2011. The shadow of foreclosure inventory is finally being worked through the market and the end of the housing crisis may very well be in sight.
What is not making the headlines is that the extended U.S. real estate crisis and high foreclosure rate is an exception to the rule in most international housing markets. Most international markets have increased in value since 2006. Many blame America's problem on states that have non-recourse mortgages or similar clauses making foreclosure a sting but not a fatal blow to a homeowner's finances. Holding a house upside in its mortgage in many states is ironically less economical than walking away. Most countries have recourse mortgages where a lender can pursue for the value of the loan as well as additional fees. Foreclosure is a more painful event and thus greatly avoided. Without the number of distressed sales, international markets, which also experienced a housing bust, have come back swiftly and stronger than before. This international improvement in the industry offers hope to the American market as the problem of foreclosures has come to a head.
(Click chart to expand)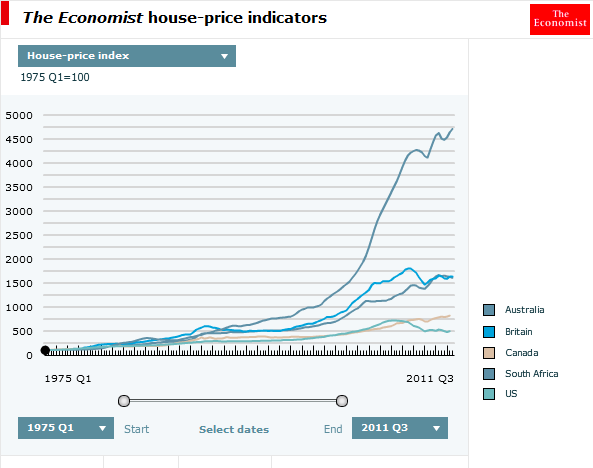 Here you can compare various international real estate markets over history.
Though the U.S. is lagging, foreclosures have only delayed the real estate comeback, which some experts predict in 2012. Our economy is learning from its mistakes and is set to rebound with real value after the shock of these delayed foreclosures subsides. Smart investors will be on the lookout for housing industry related stocks which will benefit.
Opportunity today
The real estate market crash has made many Americans permanent renters and left others skeptical of home ownership. The national message has moved from the overzealous dream of every American owning a home to the reality that a large sector of the population is best renting at this stage. Residential real estate investment trusts (REITs) may see an uptick as the rental market experiences increased demand. Some of the largest names in this industry are Equity Residential Common Share (EQR), AvalonBay Communities (AVB), American Capital Agency (AGNC), UDR (UDR), and Essex Property Trust (ESS).
Future Opportunity
The drastic decrease in property value has lowered many existing home prices below building costs. This discrepancy should be short lived as foreclosure supply dries up. Opportunity for homebuilders to meet the market demand once again won't be far behind this shift. Some of the larger U.S. names in this industry are Pulte Group (PHM), Lennar (LEN), KB Home (KBH), D.R. Horton (DHI), Beazer Homes (BZH), Ryland Group (RYL), Toll Brothers (TOL).
Disclosure: I have no positions in any stocks mentioned, and no plans to initiate any positions within the next 72 hours.