One of the Chinese stocks that has received a lot of attention is Baidu (NASDAQ:BIDU), the Internet search company. The growth possibilities are almost unlimited when you consider the growth projections in the Asian population and middle class. It is almost like my grandfather's idea that if only he could find a way to just make 1 penny from every person in China he'd be set for life. If Gramps was only around to invest in Baidu.
I like stocks having double digit growth projections for both sales and earnings and try to pick them up on market weakness, and as this graph provided by Barchart shows, the stock has had recent weakness:
Click to enlarge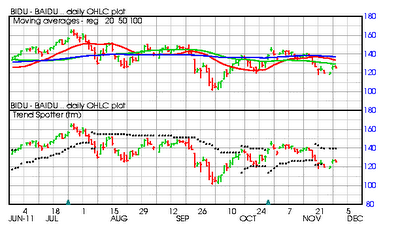 Baidu provides Internet search services. The company offers a Chinese language search platform on its Web site, Baidu.com; and a Japanese language search platform on its Website, Baidu.jp. Its search services enable users to find relevant information online, including Web pages, news, images, documents and multimedia files through the links provided on its Web sites. The company also offers search products and Web directory; online search-based community products; mobile search and related products; products and tools for Website owners and customers; e-commerce and entertainment products; and software and related search products, as well as other products and services.
In addition, it provides online marketing and auction-based P4P services that enable its customers to reach users who search for information related to their products or services. The company serves online marketing customers consisting of small and medium sized enterprises, large domestic corporations, and Chinese divisions or subsidiaries of multinational corporations primarily operating in the medical, machinery, education, software and online games, tourism and ticketing, transportation, franchising, business services, electronic products, information technology services, financial services, construction and decoration, household appliances, and other industries. It sells its online marketing services directly, as well as through its distribution network. The company was formerly known as Baidu.com, Inc. and changed its name to Baidu, Inc. in December 2008. Baidu, Inc. was founded in 2000 and is headquartered in Beijing, the People's Republic of China. (Yahoo Finance profile)
Factors To Consider
Barchart technical indicators:
Barchart uses various technical indicators from seven days to six months to gauge the direction of a stock's momentum
Recently the sell indicators are weakening
56% Barhchart technical sell signal
Trend Spotter sell signal is weakening
Trading below its 20, 50 and 100 day moving averages
Recently 24.23% off its 1 year high
Relative Strength Index 43.99% and still falling
Barchart computes a technical support level at 123.14
Recently traded at 125.90 with a 50 day moving average of 129.21
Fundamental factors:
Widely followed by Wall Street brokerage firms where 28 brokerages have assigned 33 analysts to watch this issue
Analyst sales projections are robust with a forecast of an increase of 86.30% this year and another 51.20% next year
Earnings growth estimates are for an increase of 92.20% this year, an additional 49.00% next year and a five-year annual rate of increase of 48.10%
These consensus forecasts result in analysts issuing 11 strong buy, 16 buy, six hold and no negative or sell recommendations
Although BIDU's P/E of 47.40 is 3 times the market's P/E I think the price growth potential of 15% - 20% per year is still there at this entry price
They recently acquired Qunar, an Asian travel and hotel booking site which should benefit from the growth of the Asian middle class and business traveler.
The company has an A financial strength rating
General investor interest:
Individual investor interest as measured on Motley Fool is high where 4,796 readers express an opinion on the stock
87% of those voting think the stock will beat the market
The more experienced and savvy All Stars voted 88% for the same result
21 financial columnists have written articles with 81% of them positive
The stock is a favorite of both Jim Cramer and Charles Payne
Competitors among Asian search sites are Sina Corp. (NASDAQ:SINA) and Sohu.com (NASDAQ:SOHU). I like to see how a stock has reacted when compared with similar alternatives and BIDU was up 19% in the past year, with Google (NASDAQ:GOOG) up 5%, Sina Corp. down 5% and Sohu.com down 30%:
Click to enlarge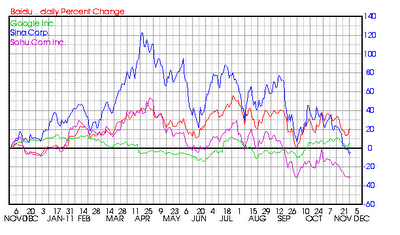 Summary: Since Baidu has high double digit forecast in both sales and earnings there should be no doubt that the company will make money. I do not think the P/E ratio of 3 times the market is too high. I would buy on the recent price dip and place a stop loss at either the bottom of the 14 day turtle channel, presently at 118.00, or after the stock crosses the 50 day moving average, presently at 129.21. Always protect you gains with stop losses.
Click to enlarge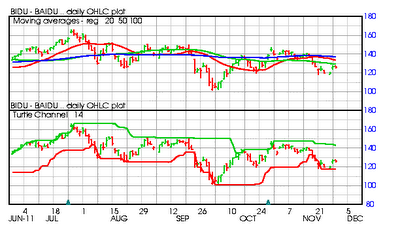 Disclosure: I have no positions in any stocks mentioned, and no plans to initiate any positions within the next 72 hours.