Few things have had as much impact on the investing world as the advent of exchange-traded funds, more commonly known as ETFs. Since 1989, when the predecessor of ETFs premiered, these funds have amassed over $1 trillion in assets by allowing investors to both diversify and concentrate their portfolios. There are products to invest in nearly any index, sector, or commodity. However, this article is not about a particular ETF, but rather an ETF company.
WisdomTree (NASDAQ:WETF) is one of the newest publicly traded asset managers, and it is unique in that it focuses only on ETFs. It's portfolio of 47 ETFs have allowed it to become the eigth-largest ETF provider in the United States. Since its IPO in July, shares of WisdomTree have dropped by over 20%, despite an enormous improvement in the company's fundamentals. We think that this mismatch will not last much longer, and recommend investors add to or initiate positions in WisdomTree at this time.

Shares of WisdomTree have plunged due to concerns over profitability and market conditions, yet these fears are unfounded. WisdomTree's stock price stands in stark contrast to its latest quarter and operational metrics, which we profile below.
On October 27, 2001, WisdomTree reported its Q3 2011 results. The company posted earnings of a penny a share on revenues of $17.736 million. These numbers may seem small, but they become much more meaningful when investors factor in the fact that WisdomTree sports a market capitalization of just $720 million. Furthermore, the last quarter was one of astounding growth for the company. Net income soared over 97% and revenues grew by 75%, demonstrating the company's ability to leverage the business. Revenues reached a record as the company captured 0.9% of all ETF inflows in the quarter, and 4.1% of all inflows year to date.
CEO Jonathan Steinberg commented that he is "pleased that WisdomTree generated record revenues and doubled net income from the prior quarter. These numbers represent solid results in a challenging market environment." WisdomTree was able to buck a number of trend plaguing many of its competitors.
In an industry rife with commoditization, it is crucial to stand out, and WisdomTree does so. Its unique dividend ETFs have had strong performance relative to their peers, and the company recently launched the WisdomTree Euro Debt Fund (NYSEARCA:EU) and the WisdomTree Australia & New Zealand Debt Fund (NYSEARCA:AUNZ) ETFs are rapidly becoming more and more specialized, and WisdomTree is the best way to invest into this trend.
While assets under management did decline this quarter, it would be almost impossible for any asset manager to avoid that in the third quarter. We think it is far more important to note that WisdomTree had net inflows of $179 million, reflecting the continued commitment investors have to this company's products.

This commitment to the company even in challenging times can be shown through performance data. Of the company's 34 equity ETFs, 25 have outperformed their benchmarks. If the company has such a stellar quarter and great operating metrics, how have share plunged? With stock correlations at record highs, nearly every stock moves with the market. And when the market plunges, financial stocks plunge even more, even if the plunge is unwarranted.
While we may know where WisdomTree has been, it is far more important to know where WisdomTree will go in the future. And what we have seen so far is encouraging. WisdomTree makes it extremely simple to follow the company's financial performance, publishing its assets under management, average fees, and net inflows right on its website. And as of November 25, the fourth quarter is shaping up to be even better than the third.
Assets under management have risen by $219 million since the end of the third quarter. And net inflows have so far risen by more than 236% over the third quarter, totaling $424 million. Although the average ETF advisory fee has dropped by 1 basis point, this drop is more than mitigated by the dramatic increase in assets under management and net inflows. These are the three most important measurements needed to gauge WisdomTree's performance, and they are very bullish.
WisdomTree not only has strong operating metrics, its financial metrics are strong as well. The company has over $21 million in cash (18 cents/share), and no long term debt.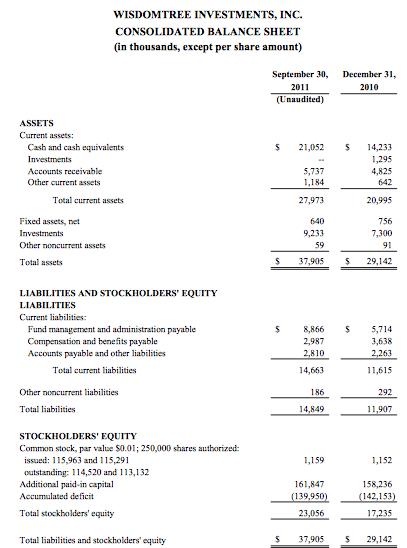 WisdomTree is a young company with a bright future ahead. It is carving a unique and profitable niche in the ETF industry for itself, and investors who add to or initiate a position in the company at these levels should be handsomely rewarded.
The few analysts who cover this company are all positive. Citi rates the stock a buy and has a $9 price target. Gabelli & Co. rates it a buy. Piper Jaffray rates it a buy with a $9.75 price target. And Sterne, Agee & Leach rates it a buy with an $8.50 price target. The average price target is $9.08, representing upside of over 46% from current levels.
And as more analysts come out, we think their ratings will be positive, thus driving up the stock price even more. WisdomTree is a unique company poised for great success. And wise investors will invest in this company before the broader investing world sees the potential of this company.
Disclosure: I have no positions in any stocks mentioned, but may initiate a long position in WETF over the next 72 hours.