Leading US banks heavily exposed to Eurozone risk

A recent article in the International Business Times ("U.S. Banks Dangerously Exposed to European Markets") quoted rating agency Fitch on the exposure of leading American investment banks to eurozone contagion:

Judging by the costs of hedging shares of those three investment banks, market participants seem most concerned about the risks borne by Morgan Stanley. You can see that in the table below, which shows the costs of hedging each of these banks against greater than 21% declines over the next several months, using optimal puts. Recall that, in a Seeking Alpha article published in August, we speculated that high optimal hedging costs could be a red flag for stocks.
Comparisons
For comparison purposes, I've also added the costs of hedging the SPDR S&P 500 Trust ETF (SPY), plus the costs of hedging two non-financial S&P components: Exxon Mobil (XOM) and Microsoft (MSFT) against the same declines. The reason I've included those two non-financial companies is that the optimal puts to hedge them expire at the same time Morgan Stanley's optimal puts do (in April). First, a reminder about what optimal puts are, plus a note about why I've used 21% as a decline threshold here; then, a screen capture showing the optimal puts for Morgan Stanley (MS).
About Optimal Puts
Optimal puts are the ones that will give you the level of protection you want at the lowest possible cost. Portfolio Armor uses an algorithm developed by a finance Ph.D. to sort through and analyze all of the available puts for your position, scanning for the optimal ones.
Decline Thresholds
In this context, "threshold" is the maximum decline you are willing to risk. You can enter any percentage you like for a decline threshold when scanning for optimal puts (the higher the percentage though, the greater the chance you will find optimal puts for your position). Usually, I use 20% decline threshold when hedging, but Morgan Stanley was too expensive to hedge using a 20% threshold (i.e., the cost of hedging it against a 20% decline was itself more than 20% of position value, so Portfolio Armor indicated there were no optimal contracts available for it). There were optimal contracts for all of these stocks against a 21% threshold, so that's the decline threshold I've used here.
The Optimal Puts For MS

Below is a screen capture showing the optimal put option contract to buy to hedge 100 shares of MS against a greater-than-21% drop between now and April 20, 2012. A note about these optimal put options and their cost: to be conservative, Portfolio Armor calculated the cost based on the ask price of the optimal puts. In practice an investor can often purchase puts for a lower price, i.e., some price between the bid and the ask.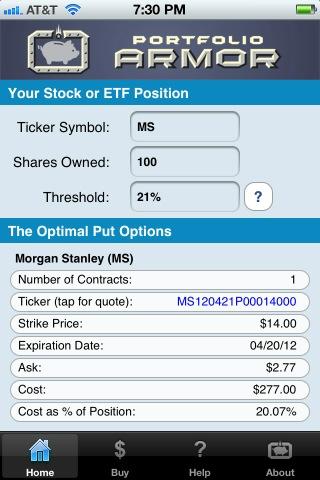 Hedging costs as of Monday's Close
The hedging costs below are as of Monday's close. In the table below, I rounded up the hedging cost of MS from 20.07% to 20.1%.
| | | |
| --- | --- | --- |
| Symbol | Name | Hedging Cost |
| GS | Goldman Sachs | 8.59%* |
| MS | Morgan Stanley | 20.1%* |
| JPM | JP Morgan | 12.2%** |
| XOM | Exxon Mobil Corporation | 2.57%* |
| MSFT | Microsoft Corporation | 2.61%* |
| | SPDR S&P 500 | 4.08%** |
*Based on optimal puts expiring in April, 2012
**Based on optimal puts expiring in June, 2012

Disclosure: I have no positions in any stocks mentioned, and no plans to initiate any positions within the next 72 hours.