Inhibitex, Inc. (NASDAQ:INHX) announced several recent clinical and corporate developments on Tuesday, including top-line safety and antiviral data from its ongoing clinical trial designed to evaluate additional doses of INX-189, which is being developed to treat chronic infections caused by hepatitis C virus, administered as monotherapy or in combination with ribavirin (RBV) for seven days.
"We believe the significant increase in antiviral activity demonstrated with 100 mg INX-189 in combination with RBV, as compared to 100 mg INX-189 dosed as monotherapy, further confirms the antiviral synergy between INX-189 and RBV that we have consistently observed in preclinical and clinical results to-date," stated Dr. Joseph Patti, Senior Vice President and CSO of Inhibitex, Inc.
On Friday, October 7th, when shares were trading at $2.96 we told our premium scubscribers that shares were starting to climbing quietly. The stock had battled back from an insider sale scare, and despite the fact that nearly 3 million shares were short, pressure to cover was mounting as bulls continued to push the stock price higher.
By early November, shares continued to climb significantly- just as the company was set to announce its financial results for the third quarter and provided an update on several recent corporate developments, including top-line safety and antiviral data from the first cohort in its ongoing clinical trial designed to evaluate higher doses of INX-189.
Causing some excitement in the stock on Tuesday was the fact that INHX had recently sold a total of 1,949,015 shares of common stock at an average price per share of $10.25 for total gross proceeds of $19,983,396 through its at-the-market financing vehicle. The intended use of the net proceeds is to support the expansion of the company's planned Phase 2 program for INX-189 in 2012 and for general corporate purposes.
The firm reported today that, subject to regulatory review, it plans to further expand its ongoing Phase 1b extension trial to evaluate once-daily doses of 200 mg INX-189 in combination with RBV; 300 mg INX-189 as monotherapy; and 200 mg INX-005 (a single isomer of INX-189) as monotherapy, respectively, for seven days. The company anticipates that the Phase 1b extension trial will be completed in the first quarter of 2012.That now becomes yet another forward looking news catalyst for biotech traders, so shares should continue trading actively for some time to come despite the fact that we may see some profit taking in the days ahead. Smart money still loves Inhibitex and we would not be surprised to see more institutional buying when the stock starts forming a base for its next leg up.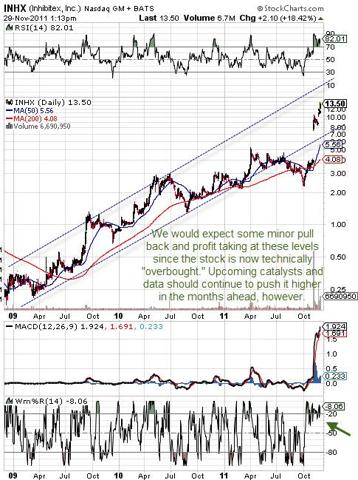 Click to enlarge
(Click to enlarge)
The firm is scheduled to give a presentation tomorrow afternoon at the 23rd Annual Piper Jaffray Health Care Conference. The conference is being held at The New York Palace hotel in New York, NY.
Inhibitex's pipeline addresses significant viral and bacterial infections, including herpes zoster (shingles), chronic hepatitis C, and S. aureus infections. The company's product pipeline includes: FV-100, a bicyclic nucleoside analogue in development for the treatment of herpes zoster (shingles), Aurexis, a humanized monoclonal antibody with a high affinity and specificity to clumping factor A (ClfA), which is expressed by virtually all strains of S. aureus and INX-189, indicated for Hepatitis C. Hepatitis C is a viral disease that leads to swelling (inflammation) of the liver. Most people who were recently infected with hepatitis C do not have symptoms. About 10% have jaundice that gets better. Of people who get infected with HCV, most develop chronic HCV infection. Usually there are no symptoms.
So long as INHX continues to provide solid data for their pipeline, the firm will be positioned to grow and generate profits for speculators and investors alike.
According to published research, in 2009, the global hepatitis market was estimated to be worth $3,276m, representing a Compound Annual Growth Rate (CAGR) of 3.1% between 2001 and 2009. By 2016, the global hepatitis market is estimated to reach $5,977m, indicating a CAGR of 9% between 2009 and 2016. The hepatitis A and hepatitis C markets are expected to grow at a high rate during the forecast period. The target patient base of the hepatitis market includes newly infected or diagnosed hepatitis patients, the treatment of non-responders and patients who discontinued treatment. Hence, there is a huge unmet need in the market. Also, the high cost of therapy has been a major concern for hepatitis patients.
Disclosure: I have no positions in any stocks mentioned, and no plans to initiate any positions within the next 72 hours.