Chesapeake Energy Corporation (NYSE:CHK) is a producer of natural gas and oil and natural gas liquids in the United States. On the year, the stock is down 7.5% and is currently down 34% from its 52-week high of $35.95, as it now trades near $24 a share. I took a long position last week, in part, because from a technical standpoint, the stock is a screaming buy:
CHK Chart:
Click to enlarge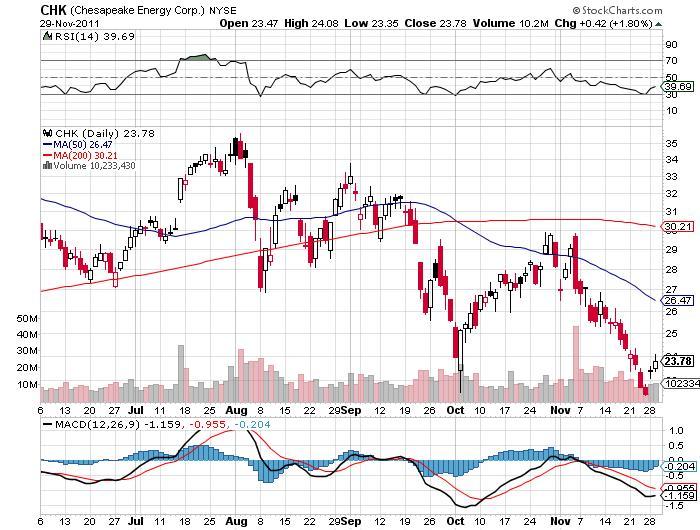 As noted by Seeking Alpha contributor Brian Gorban, recently:
On Nov. 8, board director Louis Simpson bought a big 100,000 shares. CHK is a high quality energy name that has some compelling value at 11x trailing P/E, 9x forward P/E, .8x PEG, 1.1x P/B, and decent 1.4% dividend yield. I'd follow Mr. Simpson here and buy CHK as the stock has some attractive valuations.
In addition to the confidence from large insider purchases, the company also stands to continue to prosper from the ongoing natural gas swell in light of the Exxon Mobil (NYSE:XOM) acquisition of XTO Energy.
Yesterday, Argus Research reiterated its "sell" rating on the company, citing its growing near-term cash needs and "unsustainable" spending levels. Earlier this month, the analyst firm downgraded the name, citing its:
... seemingly insatiable desire for assets, it maintains prolific levels of off balance-sheet debt and management maintains a short-term focus ... Chesapeake holds one of the industry's best collections of acreage. However, we would not own the shares.
At least Argus recognizes Chesapeake's outstanding collections of acreage (tongue-in-cheek).
The rosiest sell-side analyst price target for CHK is a whopping $49. With 659.27M shares out, institutional ownership stands at a healthy 75% and the ticker has a total short interest of 28.8M shares.
Valuation Measures:
| | |
| --- | --- |
| Market Cap (intraday): | 15.21B |
| Enterprise Value (Nov 30, 2011): | 27.89B |
| Trailing P/E (ttm, intraday): | 11.96 |
| Forward P/E (fye Dec 31, 2012): | 9.51 |
| PEG Ratio (5 yr expected)1: | 0.74 |
| Price/Sales (ttm): | 1.40 |
| Price/Book (mrq): | 1.15 |
| Enterprise Value/Revenue (ttm): | 2.56 |
| Enterprise Value/EBITDA (ttm): | 6.72 |
Balance Sheet:
| | |
| --- | --- |
| Total Cash (mrq): | 111.00M |
| Total Cash Per Share (mrq): | 0.17 |
| Total Debt (mrq): | 11.84B |
| Total Debt/Equity (mrq): | 72.62 |
| Current Ratio (mrq): | 0.56 |
| Book Value Per Share (mrq): | 20.69 |
I like land-buyers in this space (or most any space, for that matter) right now, and I will continue to buy CHK on any substantial dips. I believe that this land-hungry company and its shareholders will benefit tremendously, in due time, from its acquisitions and strategies.
Disclosure: I am long CHK, XOM.