Pfizer (NYSE:PFE) is one of the largest drug manufacturers around the world. Founded in 1849, New York-headquartered company is second to only Johnson & Johnson (NYSE:JNJ) in terms of the market cap. The healthcare titan employs over 100000 employees worldwide. Besides the organic growth from its own series of products, Pfizer also acquires smaller pharmaceuticals on a strategic basis. Its recent deal to purchase Excaliard Pharmaceuticals is expected to be finalized by the end of this year.
As of November 29, Pfizer stock was trading at $19, with a 52-week range of $16.25 - $21.45. It has a market cap of $152 billion. Trailing twelve month (ttm) P/E ratio is 15.03, and forward P/E ratio is 8.26. P/B, P/S, and P/CF ratios stand at 1.7, 2.3, and 7.4, respectively. The 3-year annualized revenue and EPS growth stand at 11.9% and -4.7%, respectively. Operating margin is 21%, and net profit margin is 16.7%. The company has some debt issues. Debt-to-equity ratio is 0.4. Pfizer pays nifty dividends from its strong cash position. Current yield is 4.2%.
Pfizer has a 5-star rating from Morningstar. It is categorized as a large-value company. While its trailing P/E ratio is 14.9, it has a 5-year average P/E ratio of 16.7. Thus, Pfizer is trading below its historical P/E ratio. Out of 20 analysts covering the company, 12 have buy, 4 have outperform, and 4 have hold ratings. Wall Street has diverse opinions on Pfizer's future. The bottom line is -5.3% growth, whereas the top-line growth estimate is 4.4% for the next year. Average five-year annualized growth forecast estimate is 3.8%. Major competitors include Johnson & Johnson (JNJ), GlaxoSmithKline (GSK), Merck & Co. (MRK), Sanofi (SNY), Abbott (ABT), and Eli Lilly (LLY).
What is the fair value of Pfizer, given the forecast estimates? We can estimate Pfizer's fair value using discounted earnings plus equity model as follows.
Discounted Earnings Plus Equity Model
This model is primarily used for estimating the returns from long-term projects. It is also frequently used to price fair-valued IPOs. The methodology is based on discounting the present value of the future earnings to the current period:
V = E0 + E1 /(1+r) + E2 /(1+r)2 + E3/(1+r)3 + E4/(1+r)4 + E5/(1+r)5 + Disposal Value
V = E0 + E0 (1+g)/(1+r) + E0(1+g)2/(1+r)2 + … + E0(1+g)5/(1+r)5 + E0(1+g)5/[r(1+r)5]
The earnings after the last period act as a perpetuity that creates regular earnings:
Disposal Value = D = E0(1+g)5/[r(1+r)5] = E5 / r
While this formula might look scary, it easily calculates the fair value of a stock. All we need is the current-period earnings, earnings growth estimate, and the discount rate. To be as objective as possible, I use Morningstar data for my growth estimates. You can set these parameters as you wish, according to your own diligence.
Valuation
Historically, the average return of the DJI has been around 11% (including dividends). Therefore, I will use 11% as my discount rate. In order to smooth the results, I will also take the average of ttm EPS of $1.27 along with the mean EPS estimate of $2.31 for the next year.
E0 = EPS = ($1.27 + $2.31) / 2 = $1.79
Wall Street holds diversified opinions on the company's future. While analysts tend to impose subjective opinions on their estimates, the average analyst estimate is a good starting point. Average five-year growth forecast is 3.8%. Book value per share is $11.71.
The rest is as follows:
Fair Value Estimator

V0

E0

$1.79

V1

E0 (1+g)/(1+r)

$1.67

V2

E0((1+g)/(1+r))2

$1.57

V3

E0((1+g)/(1+r))3

$1.46

V4

E0((1+g)/(1+r))4

$1.37

V5

E0((1+g)/(1+r))5

$1.28

D

E0(1+g)5/[r(1+r)5]

$11.64

BV

Equals

$11.71

Fair Value Range

Lower Boundary

$20.78

Upper Boundary

$32.49

Minimum Potential

8.86%

Maximum Potential

70.20%
(You can download FED+ Fair Value Estimator here.)
I decided to add the book value per share so that we can distinguish between a low-debt and debt-loaded company. The lower boundary does not include the book value. According to my 5-year discounted-earnings-plus-book-value model, the fair-value range for Pfizer is between $20.78 and $32.49 per share. While Pfizer returned 14% in 2011, it still has at least 8.8% upside potential to reach its fair value range. Moreover, the stock has significant upside potential to reach the upper boundary of its fair-value range.
Peer Comparison
It is a good idea to check with its peers to see where Pfizer stands among the industry. The average yield in the industry is 4.2%. Average industry P/S, P/B, and P/E ratios stand at 2.3, 2.3, and 13.9, respectively.
| | | | | |
| --- | --- | --- | --- | --- |
| Company | Yield | O-Metrix | Fair-Value | YTD Return |
| Pfizer | 4.2% | 3.43 | $21.8 - $32.5 | 14% |
| Johnson & Johnson | 3.66% | 3.60 | $59 - $81 | 4% |
| GSK | 5.20% | 4.90 | $41 - $44 | 14% |
| Merck & Co. | 4.90% | 2.84 | $31 - $49 | -2% |
| Sanofi | 4.00% | 1.60 | $32 - $57 | 8.5% |
| Abbott | 3.61% | 4.43 | $56 - $72 | 15% |
| Eli Lilly | 5.40% | 0.21 | $33 - $46 | 9% |
Among these companies, Abbott was the best performer, returning near 15% since January. Its performance is followed by GlaxoSmithKline, which returned 14% in 2011. Merck was the only looser as of the time of writing. It lost 2% in this year.
As one can see, big pharma companies offer nifty dividends. Eli Lilly's yield of 5.40% is the best among its peers. GSK comes second with a yield of 5.20%, followed by Merck, which offers a yield of 4.90%.
Given the conservative growth expectations, the O-metrix scores of these drug giants is below the market average. While Eli Lilly is the only company with a single digit trailing ratio, due to negative growth expectations, its score is the lowest.
When we look at the fair values, it is interesting to observe that most of the big pharma companies are priced within their fair value range. Only Abbott and Pfizer are priced below their fair-value estimates.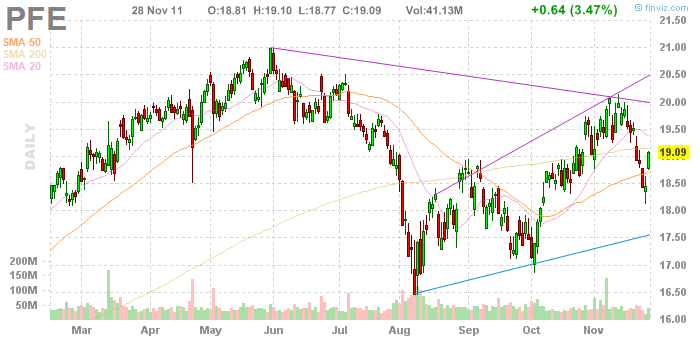 Click to enlarge
(Click to enlarge)
Summary
Healthcare stocks are among the best ways to play defensive in a down market. The companies in the healthcare business offer substantial dividends, which are secured with solid cash flows. In the case of a major down-turn, their dividends provide a safety cushion for the investors. Pfizer is no exception. As one of the largest pharmaceuticals in the world, the company has a healthy price to cash flow of 7.4. It also pays a yield of 4.2% which is pretty much in line with the healthcare sector.
The FED+ Model suggests a fair value range of $21.8 - $32.5 for Pfizer. Given the low P/B ratios in this sector, it is quite normal for the pharmaceutical companies to be priced near the lower-end this range. Similar to what FED+ model suggests, analysts also agree with me. Their mean target price of $23.07 implies almost 21% upside potential.
In its most recent earnings report, Pfizer confirmed its positive outlook, and has beaten the analyst estimates. Q3 EPS of $0.62 was 7 cents higher than the consensus estimates. With a payout ratio of 60%, dividends have plenty of room for growth. That is why; I think Pfizer is a dividend stock pick for the next 5 years.
Disclosure: I have no positions in any stocks mentioned, and no plans to initiate any positions within the next 72 hours.