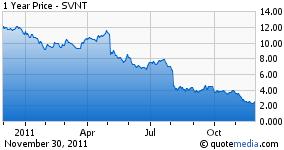 I am recommending purchase of Savient Pharmaceuticals (OTC:SVNT) at the current price of around $2.35. My recommendation is based on the estimate that Krystexxa sales could reach $209 million in 2015 and my valuation methodology suggests that the stock could sell at $6.40 to $8.50 in 2015. The initial launch of Krystexxa has been slow and has discouraged many investors. I think that sales may rise only modestly until mid-2012, before they begin a significant upward inflection. The price may move in concert with Krystexxa sales so that the price movement could be lackluster until mid-2012. Hence, my recommendation is geared to the long term and is not a call based on short term prospects.
Savient is an emerging biotechnology company that is in the early stages of launching its first product, Krystexxa (pegloticase) for chronic refractory gout patients. Krystexxa was approved on September 10, 2010. Shortly after approval, the stock hit a high of $21 on the basis of the approval and the announcement that the board had decided to sell the company. However, no buyers surfaced and the company then decided to launch Krystexxa on its own. So far, the launch has been disappointing and the stock dropped sharply to a recent close of $2.29. The key investment issues are as follows:
1. The disappointing launch has led many investors to conclude that the chronic refractory gout market is tiny and that patients are difficult to find and treat. Because there have been no drugs approved for chronic refractory gout, there is no clear understanding of the market size and the skeptics may be proven right. However, the overall size of the gout market is huge with 3.2 million patients being treated and it is reasonable to think that a meaningful number have progressed to chronic refractory gout. The FDA estimated that there are 50,000 chronic refractory gout patients and a detailed survey performed by a consulting firm for Savient concluded that there are 120,000 such patients. The US addressable market based on 50,000 patients is over $1 billion.
2. The initial launch was poorly executed and sometimes the initial launch determines the ultimate fate of a product. However, Krystexxa represents a breakthrough for chronic refractory gout and there is no other effective therapy. I think that most patients with chronic refractory gout when they become aware of the product will want to try it.
3. The company is burning cash at a prodigious rate as it is on track to burn over $100 million in 2011. It raised $230 million in a convertible note offering in February 2011 which comes due in 2018 and converts at $11.54 per share. At the end of the third quarter, Savient had $203 million of cash on hand. According to management guidance, this cash should last 18 months if the company decides to launch Krystexxa in Europe without a partner. If Krystexxa is partnered in Europe, current cash along with milestone payments will stretch cash out much further, potentially beyond cash flow break even.
4. There is significant new drug development in the treatment of chronic gout with Takeda's Uloric (febuxostat) which was approved in February of 2009, Ardea's (NASDAQ:RDEA) lesinurad and BioCryst's (NASDAQ:BCRX) BCX4028 leading the way. Beyond 2017 there is the potential that these drugs when combined with the current gold standard drug allopurinol could change the natural history for gout patients, reducing the number entering the chronic refractory state and limiting the market potential for Krystexxa. However, none of these drugs promise to have the efficacy of Krystexxa; about 3% of gout patients do not respond to are contraindicated or intolerant of allopurinol; and chronic refractory gout takes many years to reverse. Also, lesinurad and BCX4028 won't be on the market until 2014, 2015 or 2016 and their clinical profile has yet to be defined in phase III trials. If this is a concern, it is for the 2017 and beyond time frame.
5. A combination of factors such as the complexity as the pegloticase molecule, orphan drug status and issued patents makes generic competition to Krystexxa unlikely over the next decade or longer. It has enviable protection from generic competition which sets it apart from many other biopharm companies.
6. Management is guiding investors to expect only modest upward inflection in sales until mid-2012. Hence, investors who buy now may have to wait for a half year before seeing an upward turn in sales that could trigger an upward stock move.
I prefer to value emerging companies on the basis of sales estimates rather than earnings. Sales are more predictable than earnings for an early stage company and this is what investors pay the most attention to. Based on market capitalization to sales ratios that I have seen with other emerging biopharm companies, I think that Savient's market capitalization could reach 3 to 4 times 2015 sales of $246 million. This results in a target price of $6.40 to $8.50 in 2015. Needless to say, these estimates are highly subjective.
The stock has declined dramatically. As is almost always the case with emerging companies, there is lots of uncertainty with this stock and in the worst case in which Krystexxa continues to disappoint and the company significantly runs down its cash balance, there could be considerable downside. However, there is very significant upside if the market is as large as 50,000 patients, which is my base case assumption. The crux of the bear case is that there are substantially fewer than 50,000 patients and that Savient sales force which is targeted at rheumatologists will only to be able to reach a modest percentage of eligible patients because most are treated by general practitioners.
I have put together a sales model that results in Krystexxa sales growth as follows: 2011 ($6 million), 2012 ($24 million), 2013 ($55 million), 2014 ($126 million) and 2015 ($209 million). These estimates are based on the following assumptions: (1) a population of 50,000 chronic refractory gout patients in 2011 grows at 4% per year, (2) a price of $2,300 per infusion, (3) responders receive 18 infusions over nine months, (4) 58% of patients do not respond to therapy and receive only four treatments and drop out, (4) Krystexxa penetrates 12% of the U.S. addressable market in 2015 and (5) European sales ramp comparably to U.S. sales with a lag factor of two years.
Disclosure: I am long OTC:SVNT.