I added Standard Chartered (OTCPK:SCBFF) to the Global Investment Strategist portfolio in late 2008 on the premise that banks are one of the best investment vehicles to gain exposure to emerging markets. The banking industry is the centerpiece of every economy, acting as a facilitator of economic activity (through loans) and a custodian of citizens' money (through deposits).
Standard Chartered is not your typical lender. Although the company is headquartered in the U.K., its primary focus is the emerging markets. Asia is Standard Chartered's most important geographical region, accounting for 83 percent of revenue. Consequently, the bank offers investors direct exposure to fast-growing emerging economies without the dilution of mature markets.
The current economic and market weakness warrants a look at the bank's primary markets. I expect the Asian region will be impacted by the economic hardship facing developed nations. However, Asia's growth remains on an upward trajectory. The real impact of economic hardship in the US and EU on the Asia-Pacific region will be felt in consumer confidence rather than raw economic data.
Furthermore, as was proved during the recent financial crisis, Asia's economies are in a much better position to deal with financial and economic adversity than ever before. Asia's economies are also in a far stronger position to deal with economic hardship than their western counterparts.
It's true that the smaller, more open Asian economies recovered strongly from the financial crisis because they took advantage of a sharp recovery in global trade. On the other hand, there were also strong signs of rising domestic demand. The important economies of China, India and Indonesia all exhibited strong levels of domestic demand and structural growth during the recent financial crisis.
This trend should continue. Asia remains in the sweet spot for growth due to rapid urbanization, expansion of trade and a burgeoning middle class. Consequently, we expect Standard Chartered to sustain double-digit earnings growth and strong returns on equity for the foreseeable future.
However, the Indian market is a challenge to short-term growth for the lender. The Indian market has gradually emerged as a significant contributor to the bank's earnings, but persistent headwinds are now taking their toll on the market's performance. The Indian market has been hit by governance-related issues, slowing domestic demand, weak business sentiment and high interest rates.
These problems may persist for the next six months and investors should expect India's contribution to profits to be subdued. This should affect Standard Chartered's bottom line, because India remains one of the lender's fastest-growing Asian markets.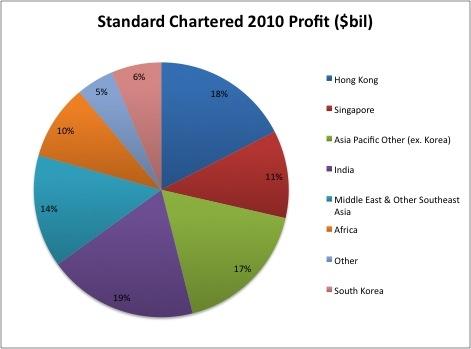 Source: Standard Chartered
Singapore lies on the opposite end of the spectrum, as the city-state is becoming a growth engine for the bank. Singapore is also home to Standard Chartered's regional headquarters and a hub for the lender's Asian business. The bank plans to increase income from Singapore to USD 3 billion by 2014, up from USD 1 billion in 2010.
I believe that Singapore's structural growth in financial services will soon put the city on par with Hong Kong, There's no reason why Standard Chartered won't reap the spoils of this transition, especially as Singapore is also a center for foreign-exchange activity–a segment of the banking market on which Standard Chartered, as a trade facilitator, thrives.
The lender has also identified the Southeast Asian nation of Indonesia as one of its most important growth markets and management believes Indonesia could eventually become one of Standard Chartered's top-five markets. As a result, double-digit income growth of about 20 percent can be expected in Indonesia. If this growth is sustained, it can take the bank's profits to the next level.
The mainland China market is growing steadily and is viewed as a significant opportunity by Standard Chartered's management. Meanwhile, Hong Kong remains the lender's engine of growth, with a solid foundation and strong momentum. In Taiwan, the bank is involved heavily in the mergers and acquisitions segment of the market and has substantial wealth management operations, representing 25 percent of Taiwan-sourced revenue.
Finally, South Korea has been a weak spot for Standard Chartered, as domestic demand has been weaker than expected. The bank also had to contend with a union strike, though this labor dispute has now been settled.
From a long-term perspective, Standard Chartered is a solid growth investment. The lender is well run and offers exposure to many of the fastest growing global banking markets. Furthermore, the bank also has a strong capital and liquidity position and a solid earnings growth outlook.
Short-term risks notwithstanding, Standard Chartered currently trades at a relatively attractive valuation of 1.2 times book value and 9.8 times trailing earnings, while offering a 3.5 percent dividend yield. Dividends are sustainable and are paid semi-annually.
Disclosure: I have no positions in any stocks mentioned, and no plans to initiate any positions within the next 72 hours.