Following Overstock.com's (NASDAQ:OSTK) legal wrangling is an exhausting business, which might explain why the Utah newspapers, bless their cowardly little hearts, don't even try. So I hope I can be forgiven that I totally missed a significant development in the lawsuit filed against this twelfth-string retailer for consumer fraud.
According to papers filed in Alameda County Superior Court last week, the judge hearing the case is "strongly disinclined" to rule in favor of Overstock in its effort to prevent prosecutors from gathering information about its pricing practices.
A copy of the relevant court filing is below.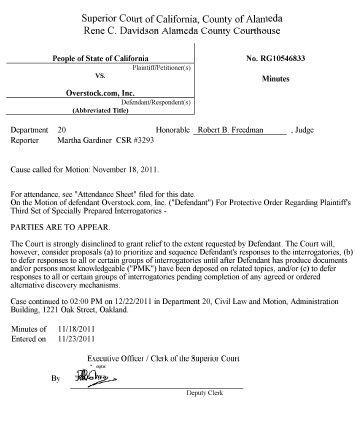 This is really bad news for my favorite corporate crime petri dish.
Overstock had previously screamed bloody murder about efforts by the prosecutors to extract from the company its "methodology" for determining how it listed "comparable" prices on its website.
The company is accused of systematically overstating those prices, to make its "discounts" seem bigger than they actually are. That is straight-up consumer fraud.
The California prosecutors, understandably, want to figure out how Overstock came up with those "comparable" prices. The company, just as understandably, doesn't want to tell the prosecutors a thing, maybe because it picked those prices out of a hat. Or maybe because it's really innocent, but just enjoys paying legal fees to its lawyers.
Anyway, the prosecutors are seeking $15 million, and this imminent legal defeat means that consumers are one step closer to honest pricing from this wretched company, and Overstock is one step closer to defaulting on its bank debt.
I tell you, Overstock is a veritable font of litigation nowadays!
In addition to the consumer fraud suit, a Securities and Exchange Commission investigation is underway into its accounting games, its CEO, Patrick Byrne, is being sued for libel - and facing a contempt of court hearing on Dec. 1 - and the company is suing Goldman Sachs (NYSE:GS).
The Vampire Squid is being sued for masterminding a massive naked shorting conspiracy. My feeling about the suit is that suing Goldman is commendable, but only for stuff that actually happened, like putting the economy out of commission. Suing over conspiracy theories is simply embarrassing, but I guess Byrne is used to that.
None of these suits is going well. The failure of any one of them will put Overstock on the front steps of the poorhouse. That's why Byrne is taking out time from his Fox TV appearances to tell the House Judiciary Committee that Congress mustn't interfere with online retailers' God-given right to not charge taxes even though brick-and-mortar stores have to do so.
If the Internet retailers' free ride comes to an end, as seems increasingly likely, only the strong will survive.
Will Overstock survive? (Hint: it ain't strong.)
Couldn't happen to a more contemptible bunch of corporate vultures, that I will say.
Disclosure: I have no positions in any stocks mentioned, and no plans to initiate any positions within the next 72 hours.