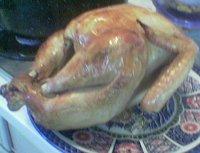 Facebook wants to raise $10 billion, based on a $100 billion valuation, in its coming IPO.
No chance. The boom has already busted. (This Thanksgiving turkey graced my table in 2006. Any similarity between it and a share of any social networking stock is purely coincidental.)
As I predicted long ago, the social networking boom would bust once these companies tried to go public, the primary "victims" being private investors who bought the nonsensical valuations pushed by investment bankers.
The lesson to the top 1% should be clear. Just because you're rich doesn't mean your broker is your buddy. He's still a salesman.
The date the boom busted is already clear to anyone who can read a stock chart. It was November 4, the day of the Groupon (GRPN) IPO. Since then both it and LinkedIn (LNKD) have gone down pretty hard, the latter by about 30%, the former by 40%.
Want more proof? Angie's List (ANGI) fell below its offering price this week. That took about a week. You're going to read a lot over the next few weeks about a Yelp IPO but don't expect to see anyone from that company ringing any opening bells any time soon.
It would surprise me if the coming Zynga (ZYNG) IPO stays above its offering price for longer than it takes to baste that turkey. (Our Mobile Guru expected this one to be on the table for Thanksgiving.)
Those trying to pump up the bubble will point to recent rises in GSV Capital (GSVC) which holds stakes in several social network firms including Twitter. But the tell is Michael Moe of GSVC blaming Sarbanes-Oxley (SarbOx) for the lower prices, saying it makes Silicon Valley executives reluctant to go public.
I would argue that SOX is your friend here, not your enemy. The disclosure requirements of that law kept this boom in private hands until it busted, meaning public shareholders weren't the victims, only those rich folks who bought the siren songs of people like, well, Michael Moe.
What if SarbOx had not been in place, as it wasn't in the 1990s? In that case public investors would have been badly burned here, with Moe going to the IPO well early and often, selling something that in the end was not real. Sure, you missed out on some speculation, but you also kept your money safe, which is the intent of the law. (Sorry Twitter. You're too late.)
Needless to say, don't touch the Facebook IPO. Don't touch any social networking stocks until they can prove, with audited figures, that they have real net income and prospects for more in the future. Let the 1% get burned this time.
Disclosure: I have no positions in any stocks mentioned, and no plans to initiate any positions within the next 72 hours.