Yesterday, Pfizer (NYSE:PFE) lost U.S. patent protection on Lipitor, the best selling drug of all time. Today, after years of distress about the loss of Lipitor revenues, Chicken Little will realize that the sky is not falling after all. In fact, despite Lipitor's lifetime sales of over $100 billion, Pfizer's stock price is lower now than when Lipitor was first introduced in 1998. The market's obsession with the loss of Lipitor patent protection has resulted in a stock valuation that ignores Pfizer's vast growing profits in the past few years.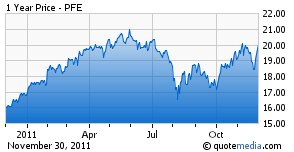 Last year Pfizer had $2.23 a share in adjusted earnings. This year, with eleven instead of twelve months of Lipitor exclusivity, Pfizer is forecasted to earn $2.27 a share. In 2012, with no Pfizer exclusivity, and 7 months of unrestricted generic competition, Pfizer is expected to earn $2.30 a share (all earnings estimates are from Zacks). That's right, even with the loss of patent protection of a drug with $10 billion in 2010 sales, Pfizer expects to grow its profits both this year and next.
Of course, the loss of patent exclusivity does not mean that Pfizer's Lipitor sales immediately drop to zero. In fact, Lipitor lost patent exclusivity in 2010 in Canda, Spain, and Brazil. U.S. sales of Lipitor in 2010 were $5.3 billion. Realizing the power of preserving some Lipitor sales, and cognizant of the increasing role of generic pharmaceuticals in health care, Pfizer has taken some rather innovative steps to mitigate Lipitor's patent expiration.
First, Pfizer has a five-year agreement with Watson Pharmaceuticals (WPI) to be the exclusive seller of "authorized generic" Lipitor. As part of this agreement, Pfizer supplies the pills - which cost pennies apiece - and collects 70% of the sales. Note that this agreement does not apply to Ranbaxy, the other distributor of generic Lipitor for the next six months. As the New York Times reported, Pfizer has also sought "deals with insurers, pharmacy benefit managers, and individual customers to meet or beat the price of [Lipitor's] generic replacements." These include discount cards to reduce Lipitor co-payments to below the level of generics and requirements for pharmacies to substitute prescriptions for generic Lipitor with discounted branded Lipitor instead.
These measures suggest that Pfizer will be remarkably successful in maintaining impressive market share over the next 6 months. Instead of the typical 90% fall in sales after a drug loses patent protection, Watson CEO Paul Bisaro thinks that Pfizer will retain 40 to 45 percent of Lipitor users. These measures suggest that the earnings estimates above are understated; there is significant upside to Pfizer's earnings.
Though not intended to be a comprehensive owner's manual for shareholders of Pfizer, I wanted to mention two other points. First, Pfizer has explored the possibility of shedding several of its business units to refocus on its core businesses. Although there are many other parts of the company that Pfizer could sell to unlock shareholder value, the only deal reached so far was the divestiture of Capsugel to private equity firm Kohlberg Kravis Roberts & Co (NYSE:KKR). Second, the future growth of pharmaceutical companies is highly dependent on a productive pipeline of new potential drugs in development. Pfizer has a well-populated drug pipeline. Although the details of that pipeline are outside the scope of this article, as of Pfizer's last update in August (.pdf), Pfizer has more than 100 molecules in clinical trials or submitted for approval. Pfizer is conducting 25 Phase 3 clinical trials, 31 phase 2, and 37 phase 1. These molecules, or at least a subset of them, represent attractive future growth prospects for Pfizer.
I have previously run a discounted cash flow analysis of Pfizer, and a weighted average of 3 reasonable outcomes (from very pessimistic to Pfizer merely keeping pace with health care inflation) suggested a fair value of $30 a share. Held back for far too long by the threat of a patent cliff, investors can now evaluate Pfizer after the loss of Lipitor exclusivity. They will find a company selling at a P/E of 8.5, with growing earnings, and a 4% dividend. At $20 a share today, Pfizer is nicely undervalued.
Disclosure: I am long PFE.