Current Events
It seems investors are starting to take notice of the extreme values in the market currently. Homebuilder stocks traded higher on Wednesday, lifted by a report stating the number of home buyer contracts signed in October hit the highest level in a year. Moreover, a Raymond James analyst stated select builder stocks are expected to advance prior to next year's spring home-selling season.
Here is a short excerpt from a Bloomberg Report on housing Wednesday:
The National Association of Realtors reported Wednesday that its index of sales agreements climbed 10.4 percent last month to a reading of 93.3. A reading of 100 is considered healthy. The last time it was that high was in April 2010, the last month that homebuyers could qualify for temporary federal tax credits aimed at spurring home sales. Contract signings usually indicate where the housing market is headed. There's typically a one- to two-month lag between a signed contract and a completed deal.
The Alure Of Real Property
In real estate there are a few quotes that stand the test of time. "Don't wait to buy land; they aren't making any more of it." - Will Rogers, "The major fortunes in America have been made in land." - John D. Rockefeller, "It's tangible, it's solid, it's beautiful, and I just love real estate." - Donald Trump. These statements highlight the value of owning real property and hard assets as wealth creation vehicles; there is no disputing this point.
Nevertheless, there are inevitable booms and busts in real estate. The US housing market boomed from 2001 until 2007 based on loose to non-existent mortgage requirements coupled with an investing public soured on the equities market due to the irrational exuberance created by internet stocks which generated a bubble inevitably leading to the "Dot Con" debacle.
In 2001, the house market took off like a rocket with investors turning to concrete investments. Additionally, a syndrome of the time deemed "nesting" due to the 9/11 tragedy took hold causing people to want to improve their homes due to wanting to spend more time at home rather than out and about.
The boom time peaked and the grand crescendo occurred in 2007 when the house of cards fell in a matter of months. For the past four years we have been digging our way out of the ruble and it may just be time to layer into some shares of these beaten down stocks while they are still at their lows. You have to buy low to sell high.
Contrarian Mindset
Times of market turmoil often present the best buying opportunities for savvy investors. Contrarians find their best investment opportunities during times of panic. Cramer says, "No one ever made a dime panicking." The bear market of 1974 gave Warren Buffett the opportunity to purchase a stake in the Washington Post Company (WPO). This one investment subsequently provided Buffett with more than a hundred fold return. One of Buffett's famous quotes is, "Look at market fluctuations as your friend rather than your enemy; profit from folly rather than participate in it."
Our innate instincts encourage us to depart a sinking ship. This survival tactic impacts the way we invest. When market panic creates opportunities to buy stock in solid companies with sound prospects, hopefully you've kept your powder dry and taken advantage. The market is clearly at an inflection point. To open a position you must have courage in your convictions. Just remember, fortune favors the bold. A market correction provides opportunity to buy great names at a discount price.
A contrarian is one who attempts to profit by investing against the grain, to go against the crowd, because the crowd is usually wrong and always late. A contrarian believes that certain crowd behavior among investors can lead to exploitable opportunities. Pervasive cynicism about a stock or sector can drive the price so low that it exaggerates the company's perils, and belittles its future prospects. Identifying and seizing on these opportunities is a well-known investing tactic due to the fact that experts like Warren Buffett and Whitney Tilson have become rich and famous for finding and exploiting such stocks. I believe the following housing related stocks may present such an opportunity.
Thoughts From A Housing Expert
I recently interviewed Louis Espinar, a home building industry executive with 25 years of experience. Formerly with KB Home (NYSE:KBH), Beazer Homes (NYSE:BZH) and now president of an independent builder, Rialto Homes Inc. of Texas, Espinar stated, "The Texas market is doing well, but all real estate is local and some markets are still depressed."
He sees changes in the banks' treatment of foreclosures and mortgages "under water" as the key to the revitalization of the U.S. market. He sees the banks making progress with foreclosures, thus making way for increased new home sales in the near future. Espinar stated:
The banks are doing a good job of working through the foreclosure backlog by employing short sales and renting foreclosures in the mean time. The housing market has bottomed and I expect the top US homebuilders to start picking up profits next year. Many of the independents have gone under and their land positions were picked up by the majors for dirt cheap prices. No pun intended. Additionally, homebuilders have made significant changes to operating principles, enacting a "just in time" approach to new construction, which improves profit margins and cuts costs by reducing speculative builds. The days of "If you build it, they will come" are over.
Espinar's top pick for 2012 is Toll Brothers (NYSE:TOL). He sees increasing demand for high end homes and feels Toll is best positioned to take advantage. Please review the CNBC provided chart below of Toll Brothers documenting Toll's last three month stock performance.
Click to enlarge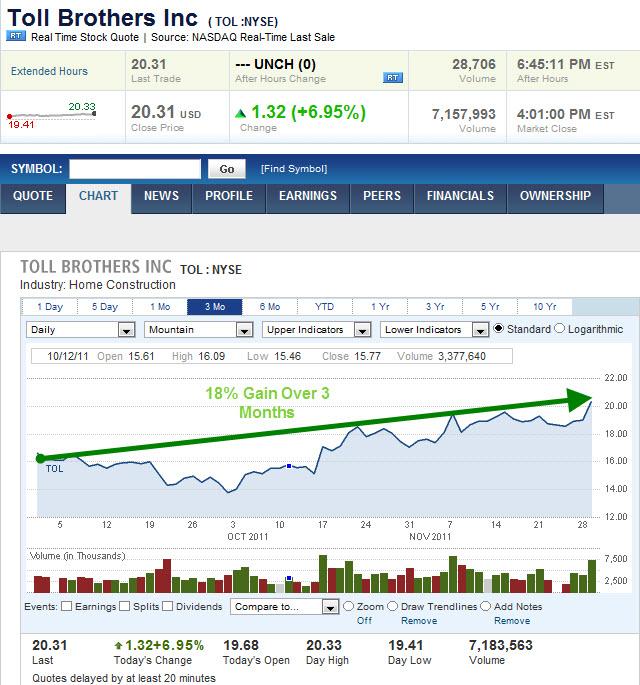 Conclusion
Once everyone realizes European debt issues are being solved, and the global economic recovery continues, I see people taking advantage of the amazing values new homebuilders and banks are offering. I see homebuilder and related bank stocks regaining past glory and reaching new highs.
Here are my top five new homebuilder stocks and two bank stocks providing potential buying opportunities due to the possible bottoming and reversal of trend in the new home building market. The stocks are: Bank of America Corporation (NYSE:BAC), Wells Fargo & Company (NYSE:WFC), DR Horton Inc. (NYSE:DHI), KB Home (KBH), Lennar Corp. (NYSE:LEN), PulteGroup, Inc. (NYSE:PHM) and Toll Brothers Inc. (TOL).
Please review the following tables and charts detailing these new home builder's current fundamental, performance and home building statistics.
Current Fundamental Comparisons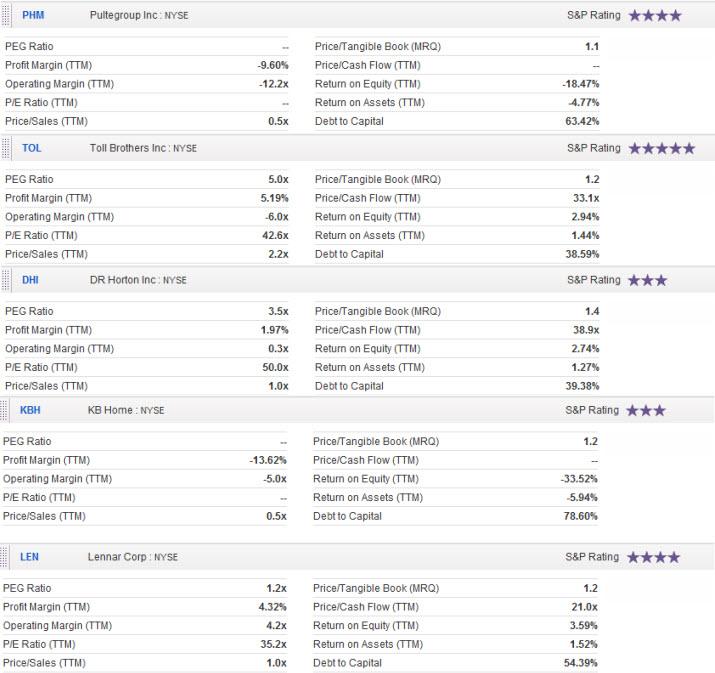 Current Performance Statistics

Home Building Statistics

Disclosure: I have no positions in any stocks mentioned, but may initiate a long position in DHI, KBH, LEN, PHM, TOL, BAC, WFC over the next 72 hours.