As the markets have become increasingly unstable this year (2011), educating/re-educating my clients on strategies to trade against the market has become essential.
Some like using options, which offer versatility, liquidity, leverage, and, most importantly in our case, the ability to bet against an equity. But there is some in-depth knowledge required when executing an options trade, knowledge that is above and beyond what is required to simply buy and sell stocks/ETFs. Because of this, though options are a wonderful and versatile trading tool, they're not for everybody.
The next choice is shorting. Shorting stocks/ETFs can be a very useful trading tool as well, but this trading method comes with some risk. Shorting requires the use of margin. Margin can be a great thing when investing; allowing the investor financial leverage, but the stock market is a finicky place. Leverage or no, the risk of using margin when trading stocks is, in my opinion, unnecessarily high. (I would rather recommend using the leverage offered by options.) Also, shorting a stock leaves the trader open to unlimited risk. For example, if we were to enter a long position (i.e. purchase a stock) the maximum amount of risk we take on is our total capital investment in that stock. If the stock plummets to zero we lose all of our money; not fun, but it actually could be worse. If we were to short a stock (i.e. sell a stock with the promise of buying that stock back and repaying the debt) the stock could spike infinitely (not probable, but possible). Since we have to repay the stock regardless, our risk, the price at which we must purchase the stock, is, therefore, limitless. (When using margin the trader is also subject to interest payment on any margin used.)
For the clients of mine who do not short stocks or trade options I recommend using inverse ETFs (a.k.a. short ETFs or bear ETFs). Inverse ETFs allow the trader to bet against the market without the secondary knowledge and vocabulary required to trade options nor the risk associated with shorting. Yes, inverse ETFs are limited and only allow the trader the ability to trade against a broad market, sector, commodity, etc. but they are simple, straight-forward and trade just like (long) stocks or ETFs.
An example of the usefulness in using inverse ETFs to bet against the market instead of shorting or trading options can be found by looking at gold earlier this year (2011). As the markets became volatile in August, gold began to climb at an impressive rate. But most knew that, sooner or later, gold would run out of steam. As gold started to lose momentum, wise investors began shorting, buying put options, and purchasing inverse gold ETFs like PowerShares DB Gold Short ETN (DGZ) and PowerShares DB Gold Double Short ETN (DZZ). As you can see by the graph below, purchasing an inverse gold ETF like PowerShares DB Gold Short ETN in late August would have produced significant short term returns on gold's fall from the top.
(Please note that, historically, gold is a strong long term investment. This example, therefore, is only intended for use in a short term scenario.)
Click on graphs below to enlarge: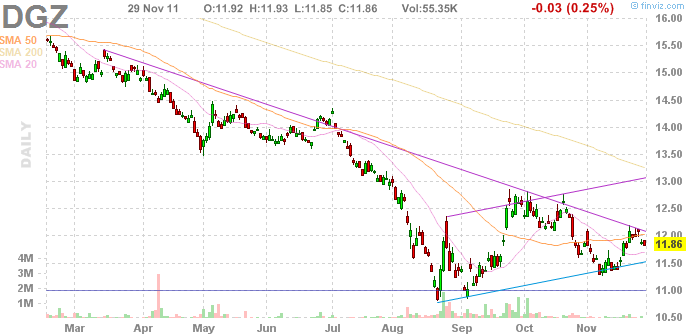 Inverse ETFs can also be used to better analyze a potential reversal in trend or other major market movement, resistance, support, etc. For example, ProShares UltraShort S&P500 (SDS), an ETF that moves inversely to the S&P 500 at twice the leverage, has continuously used the $19.50 price level as support over its trailing 52-week range. This $19.50 price level can be interpreted as a level of support for SDS and, therefore, a place of resistance for the S&P 500. In other words, the S&P 500 seems to lose positive momentum when SDS nears the $19.50 price level. Conversely, if/when SDS breaks below $19.50, this could translate to the beginning of a major shift in our markets and a significant increase in overall investor confidence.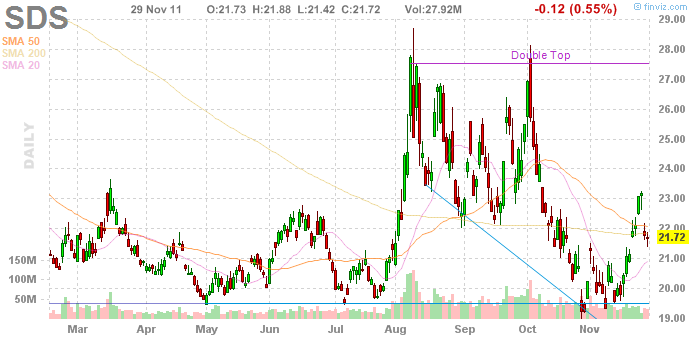 In conclusion, whether you are hedging long positions or trading against the market, inverse ETFs can be a wonderful trading tool when used properly. Below is a table of inverse ETFs categorized by asset class and index. This table can also be viewed here.
Assett Class
Tracks
Symbol
Name
Leverage
Inverse to
Avg Volume
Alter-natives
S&P 500 VIX 2-Month Futures Index ER
BBVX
ETRACS DAily Short 2-Month S&P 500 VIX Futures ETN due September 6, 2041
1x
n/a
9,710
S&P 500 VIX 3-Month Futures Index ER
CCVX
ETRACS Daily Short 3-Month S&P 500 VIX Futures ETN due September 6, 2041
1x
n/a
5,310
S&P 500 VIX 4-Month Futures Index ER
DDVX
ETRACS Daily Short 4-Months S&P 500 VIX Futures ETN due September 6,2041
1x
n/a
2,810
S&P 500 VIX 6-Month Futures Index ER
FFVX
ETRACS Daily Short 6-Month S&P 500 VIX Futures ETN due September 6, 2041
1x
n/a
1,470
S&P 500 VIX Mid-Term Futures Index Excess Return
EEVX
ETRACS Daily Short 4-Months S&P 500 VIX Futures ETN due September 6,2041
1x
n/a
1,670
S&P 500 VIX Mid-Term Futures Index Excess Return
ZIV
VelocityShares Daily Inverse VIX Medium-Term ETN
1x
n/a
18,131
S&P 500 VIX Short-Term Futures Index
SVXY
Short VIX Short-Term Futures ETF
1x
n/a
51,080
S&P 500 VIX Short-Term Futures Index Excess Return
XIV
VelocityShares Daily Inverse VIX Short-Term ETN
1x
n/a
9,143,481
S&P 500 VIX Short-Term Futures Index Excess Return
XXV
Barclays ETN Inverse S&P 500 VIX Short-Term Futures ETN
1x
n/a
175,230
S&P 500 VIX Short-Term Futures Index Excess Return
IVOP
Inverse S&P 500 VIX Short-Term Futures ETN (II) Profile
1x
n/a
35,260
S&P 500 VIX Short-Term Futures Index Excess Return
AAVX
ETRACS 4-Month S&P 500 VIX Futures ETN due SEptermber 6, 2041
1x
n/a
12,330
Bond
Barclays Capital U.S. 20+ Year Treasury Index
TBT
ProShares UltraShort 20 Year Treasury
2x
UBT
10,052,627
Barclays Capital 10 Year U.S. Treasury Futures Targeted Exposure Index
DTYS
US Treasury 10-year Bear Exchange Traded Note
1x
DTYL
20,313
Barclays Capital 2 Year U.S. Treasury Futures Targeted Exposure Index
DTUS
US Treasury 2-year Bear Exchange Traded Note
1x
DTUL
3,820
Barclays Capital 5Y US Treasury Futures Targeted Exposure Index
DFVS
iPath US Treasury 5-year Bear Exchange Traded Note
1x
n/a
1,232
Barclays Capital Long Bond Futures Targeted Exposure Index
DLBS
US Treasury Long Bond Bear Exchange Traded Note
1x
DLBL
39,117
Barclays Capital U.S. 20+ Year Treasury Index
TBF
ProShares Short 20 Year Treasury
1x
n/a
626,608
Barclays Capital U.S. 3-7 Year Treasury Bond Index
TBZ
ProShares UltraShort 3-7 Year Treasury
2x
n/a
871
Barclays Capital U.S. 7-10 Year Treasury Index
PST
ProShares UltraShort 7-10 Year Treasury
2x
UST
156,159
Barclays Capital U.S. 7-10 Year Treasury Index
TBX
ProShares Short 7-10 Year Treasury
1x
n/a
9,394
Barclays Capital U.S. Aggregate Bond Index
SAGG
Direxion Daily Total Bond Market Bear 1x Shares
1x
n/a
15,924
Barclays Capital U.S. Treasury 2 Year/10 Year Yield Curve Index
FLAT
US Treasury Flattener Exchange Traded Note
1x
n/a
41,044
Barclays Capital U.S. Treasury Inflation Protected Securities (OTC:TIPS) Index (Series-L)
TPS
ProShares UltraShort TIPS
2x
n/a
2,769
DB USD JGB Futures Index
JGBD
PowerShares DB 3x Inverse Japanese Govt Bond Future
3x
n/a
1,160
DB USD JGB Futures Index
JGBS
PowerShares DB Inverse Japanese Govt Bond Future
1x
n/a
750
Deutsche Bank Short U.S. Treasury Bond Futures Index
SBND
PowerShares DB 3x Short 25 Year Treasury Bond Exchange Traded Notes
3x
LBND
94,313
iBoxx $ Liquid High Yield Index
SJB
ProShares Short High Yield
1x
n/a
118,802
iBoxx $ Liquid Investment Grade Index
IGS
ProShares Short Investment Grade Corporate
1x
n/a
2,218
NYSE 20 Year Plus Treasury Bond Index
TMV
Direxion Daily 30-Year Treasury Bear 3X
3x
TMF
349,133
NYSE 20 Year Plus Treasury Bond Index
TYBS
Direxion Daily 20 Year Treasury Bear 1x Shares
1x
n/a
718
NYSE 7-10 Year Treasury Bond Index
TYO
Direxion Daily 10-Year Treasury Bear 3X
3x
TYD
29,913
NYSE 7-10 Year Treasury Bond Index
TYNS
Direxion Daily 7-10 Year Treasury Bear 1x Shares
1x
n/a
1,000
NYSE US 10 Year Treasury Futures Index
DSXJ
JPMorgan Double Short US 10 Year Treasury Futures ETNs
2x
n/a
4,542
NYSE US Long Bond Treasury Futures Index
DSTJ
JPMorgan Double Short US Long Bond Treasury Futures ETNs
2x
n/a
1,794

Com-

modity

Deutsche Bank Liquid Commodity Index
DDP
DB Commodity Short ETN
1x
DPU
19,083
Deutsche Bank Liquid Commodity Index
DEE
DB Commodity Double Short ETN
2x
DYY
3,304
Deutsche Bank Liquid Commodity Index-Oil
DTO
PowerShares DB Crude Oil Double Short ETN
2x
n/a
441,544
Deutsche Bank Liquid Commodity Index-Oil
SZO
PowerShares DB Crude Oil Short ETN
1x
OLO
16,413
Deutsche Bank Liquid Commodity Index-Optimum Yield Agriculture
AGA
DB Agriculture Double Short ETN
2x
DAG
20,947
Deutsche Bank Liquid Commodity Index-Optimum Yield Agriculture
ADZ
DB Agriculture Short ETN
1x
AGF
2,388
Deutsche Bank Liquid Commodity Index-Optimum Yield Gold
DZZ
DB Gold Double Short ETN
2x
DGP
4,385,958
Deutsche Bank Liquid Commodity Index-Optimum Yield Gold
DGZ
DB Gold Short ETN
1x
DGL
313,203
Deutsche Bank Liquid Commodity Index-Optimum Yield Industrial Metals
BOM
PowerShares DB Base Metals Double Short ETN
2x
BDD
74,098
Deutsche Bank Liquid Commodity Index-Optimum Yield Industrial Metals
BOS
PowerShares DB Base Metals Short ETN
1x
BDG
33,928
Dow Jones-UBS Commodity Index
CMD
ProShares UltraShort DJ-UBS Commodity
2x
UCD
9,225
Dow Jones-UBS Crude Oil Sub-Index
SCO
ProShares UltraShort DJ-UBS Crude Oil
2x
UCO
1,314,841
Dow Jones-UBS Natural Gas Subindex
KOLD
UltraShort DJ-UBS Natural Gas
2x
n/a
11,144
Gold bullion
GLL
ProShares UltraShort Gold
2x
UGL
1,459,109
Light, sweet crude oil
DNO
US Short Oil Fund
1x
USO
28,900
S&P GSCI Gold Index ER
DGLD
VelocityShares 3x Inverse Gold ETN linked to the S&P GSCI Gold Index Excess Return
3x
n/a
3,872
S&P GSCI Palladium Index ER
IPAL
VelocityShares 2x Inverse Palladium ETN linked to the S&P GSCI Palladium Index ER
2x
n/a
n/a
S&P GSCI Platinum Index ER
IPLT
VelocityShares 2x Inverse Platinum ETN linked to the S&P GSCI Platinum Index ER
2x
n/a
543
S&P GSCI Silver Index ER
DSLV
VelocityShares 3xInverse Silver ETN linked to the S&P GSCI Silver Inverse Index ER
3x
n/a
35,266
Silver bullion
ZSL
ProShares UltraShort Silver
2x
AGQ
10,073,297
UBS Bloomberg CMCI Platinum Excess Return
PTD
UBS E-TRACS CMCI Short Platinum Excess Return ETN
1x
PTM
960
Currency
Deutsche Bank Long U.S. Dollar Index Futures Index - Excess Return
UDNT
PowerShares DB 3x Short US Dollar Index Futures Exchange Traded Notes
3x
n/a
2,481
Deutsche Bank Short US Dollar Index (USDX) Futures Index
UDN
PowerShares DB US Dollar Bearish Fund
1x
UUP
185,877
Double Short Euro Index
DRR
Market Vectors Double Short Euro ETN
2x
URR
79,925
Euro
EUO
ProShares UltraShort Euro
2x
ULE
5,113,944
Japanese Yen
YCS
ProShares UltraShort Yen
2x
YCL
293,995
Equity
Alerian MLP Infrastructure Total Return Index
MLPS
E-TRACS 1xMonthly Short Alerian MLP Infrastructure Total Return ETN
1x
MLPI
4,200
Bank of New York Mellon BRIC Select ADR Index
BRIS
Direxion Daily BRIC Bear 2X Shares
2x
BRIL
2,211
Bank of New York Mellon China Select ADR Index
YANG
Direxion Daily China Bear 3X ETF
3x
n/a
62,730
DAXglobal Agribusiness Index
COWS
Daily Agribusiness Bear 3x Shares
3x
n/a
8,686
DAXglobal Russia Index
RUSS
Daily Russia Bear 3x Shares
3x
n/a
27,472
Dow Jones Industrial Average
SDOW
ProShares UltraPro Short Dow 30 Fund
3x
UDOW
1,039,270
Dow Jones Industrial Average Index
DXD
ProShares UltraShort Dow 30
2x
DDM
4,814,084
Dow Jones Industrial Average Index
DOG
Short Dow 30 Proshares
1x
n/a
931,634
Dow Jones U.S. Basic Materials Index
SMN
ProShares UltraShort Basic Materials
2x
UYM
1,598,292
Dow Jones U.S. Basic Materials Index
SBM
ProShares Short Basic Materials
1x
n/a
29,143
Dow Jones U.S. Consumer Goods Index
SZK
ProShares UltraShort Consumer Goods
2x
UGE
4,994
Dow Jones U.S. Consumer Services Index
SCC
ProShares UltraShort Consumer Services
2x
UCC
29,750
Dow Jones U.S. Financials Index
SKF
ProShares UltraShort Financials
2x
UYG
2,542,455
Dow Jones U.S. Financials Index
SEF
ProShares Short Financials
1x
n/a
347,445
Dow Jones U.S. Health Care Index
RXD
ProShares UltraShort Health Care
2x
RXL
3,531
Dow Jones U.S. Industrials Index
SIJ
ProShares UltraShort Industrials
2x
UXI
14,583
Dow Jones U.S. Oil & Gas Index
DUG
ProShares UltraShort Oil & Gas
2x
DIG
2,070,267
Dow Jones U.S. Oil & Gas Index
DDG
Short Oil and Gas Proshares
1x
n/a
15,856
Dow Jones U.S. Select Telecommunications Index
TLL
ProShares UltraShort Telecommunications
2x
LTL
3,300
Dow Jones U.S. Semiconductors Index
SSG
ProShares UltraShort Semiconductors
2x
USD
51,133
Dow Jones U.S. Technology Index
REW
ProShares UltraShort Technology
2x
ROM
22,411
Dow Jones U.S. Utilities Index
SDP
ProShares UltraShort Utilites
2x
UPW
7,273
FTSE/Xinhua China 25 Index
FXP
ProShares UltraShort FTSE China 25
2x
XPP
631,697
FTSE/Xinhua China 25 Index
YXI
ProShares Short FTSE China 25
1x
n/a
20,278
Health Care Select Sector Index
SICK
Daily Healthcare Bear 3X Shares
3x
n/a
623
Indus India Index
INDZ
Direxion Daily India Bear 2X Shares
2x
INDL
4,647
ISE-REVERE Natural Gas Index
GASX
Direxion Daily Natural Gas Related Bear 2x ETF
2x
n/a
9,389
KBW Regional Banking Index
KRS
ProShares Short KBW Regional Banking
1x
n/a
32,691
Materials Select Sector Index
MATS
Daily Basic Materials Bear 3X Shares
3x
n/a
12,043
MSCI Brazil Index
BZQ
ProShares UltraShort MSCI Brazil
2x
UBR
167,516
MSCI EAFE Index
EFZ
Short MSCI EAFE Proshares
1x
n/a
379,609
MSCI EAFE Index
EFU
ProShares UltraShort MSCI EAFE
2x
EFO
172,983
MSCI EAFE Index
DPK
Developed Markets Bear 3x Shares
3x
DZK
106,459
MSCI EAFE Index
MFSA
iPath Short Enhanced MSCI EAFE Index ETN
2x
MFLA
759
MSCI Emerging Markets Index
EUM
Short MSCI Emerging Markets Proshares
1x
n/a
388,883
MSCI Emerging Markets Index
EDZ
Emerging Markets Bear 3x Shares
3x
EDC
3,221,703
MSCI Emerging Markets Index
EEV
ProShares UltraShort MSCI Emerging Markets
2x
EET
651,305
MSCI Emerging Markets Index
EMSA
iPath Short Enhanced MSCI Emerging Markets Index ETN
2x
EMLB
3,708
MSCI Europe Index
EPV
ProShares UltraShort MSCI Europe
2x
UPV
374,830
MSCI Japan Index
EWV
ProShares UltraShort MSCI Japan
2x
EZJ
14,452
MSCI Mexico Investable Market Index
SMK
ProShares UltraShort MSCI Mexico Investable Market
2x
UMX
5,545
MSCI Pacific ex-Japan Index
JPX
ProShares UltraShort MSCI Pacific ex-Jpn
2x
UXJ
1,184
MSCI US Broad Market Index
TOTS
Daily Total Market Bear 1X Shares
1x
n/a
1,597
NASDAQ Biotechnology Index
BIS
ProShares UltraShort Nasdaq Biotechnology
2x
BIB
2,066
NASDAQ-100 Index
QID
ProShares UltraShort QQQ
2x
QLD
8,613,034
NASDAQ-100 Index
PSQ
Short QQQ Proshares
1x
n/a
1,347,669
NASDAQ-100 Index
SQQQ
ProShares UltraPro Short QQQ Fund
3x
TQQQ
3,139,936
None
HDGE
AdvisorShares Active Bear ETF
1x
n/a
237,813
NYSE Arca Gold Miners Index
DUST
Direxion Daily Gold Miners Bear 2x Shares
2x
NUGT
243,422
PHLX Semiconductor Index
SOXS
Direxion Daily Semiconductor Bear 3X Shares
3x
SOXL
171,298
Russell 1000 Energy Index
ERY
Daily Energy Bear 3x Shares
3x
ERX
5,191,239
Russell 1000 Financial Services Index
FAZ
Direxion Financial Bear 3X Shares
3x
FAS
22,600,787
Russell 1000 Growth Index
SFK
ProShares UltraShort Russell 1000 Growth
2x
UKF
18,440
Russell 1000 Index
BGZ
Direxion Large Cap Bear 3X Shares
3x
BGU
4,050,303
Russell 1000 Index
ROSA
iPath Short Extended Russell 1000 TR Index ETN
3x
ROLA
2,309
Russell 1000 Retail Index
RETS
Direxion Daily Retail Bear 2x Shares
2x
RETL
5,108
Russell 1000 Technology Index
TYP
Direxion Daily Technology Bear 3X Shares
3x
TYH
936,638
Russell 1000 Value Index
SJF
ProShares UltraShort Russell 1000 Value
2x
UVG
3,044
Russell 2000 Growth Index
SKK
ProShares UltraShort Russell 2000 Growth
2x
UKK
19,630
Russell 2000 Index
TZA
Direxion Small Cap Bear 3X Shares 2013 Russell 2000
3x
TNA
30,642,979
Russell 2000 Index
RWM
Short Russell 2000 Proshares
1x
n/a
2,576,661
Russell 2000 Index
TWM
ProShares UltraShort Russell 2000
2x
UWM
5,786,022
Russell 2000 Index
SRTY
ProShares UltraPro Short Russell2000 Fund
3x
URTY
1,473,805
Russell 2000 Index
RTSA
iPath Short Extended Russell 2000 TR Index ETN
3x
RTLA
18,991
Russell 2000 Value Index
SJH
ProShares UltraShort Russell 2000 Value
2x
UVT
6,025
Russell 3000 Index
TWQ
ProShares UltraShort Russell 3000
2x
UWC
5,895
Russell MidCap Growth Index
SDK
ProShares UltraShort Russell MidCap Growth
2x
UKW
2,927
Russell Midcap Index
MWN
Direxion Daily Mid Cap Bear 3x Shares
3x
MWJ
50,984
Russell MidCap Value Index
SJL
UltraShort Russell Mid Cap Value Proshares
2x
UVU
2,785
S&P 500 Bull/TBond Bear Index
FSA
FactorShares 2X: TBond Bull/S&P500 Bear
2x
n/a
2,039
S&P 500 Index
SH
Short S&P 500 Proshares
1x
n/a
8,447,722
S&P 500 Index
SDS
ProShares UltraShort S&P 500
2x
SSO
44,456,961
S&P 500 Index
SPXU
ProShares UltraPro Short S&P 500
3x
UPRO
17,296,178
S&P 500 Index
RSW
Rydex Inverse 2x S&P 500 ETF
2x
RSU
121,478
S&P 500 Index
SFSA
iPath Short Extended S&P 500 TR Index ETN
3x
SFLA
28,417
S&P 500 Total Return Index
BXDB
Barclays Short B Leveraged Inverse S&P 500 Total Return Index
1x
n/a
2,781
S&P 500 Total Return Index
BXDC
Barclays Short C Leveraged Inverse S&P 500 Total Return Index
2x
BXUC
9,113
S&P Latin America 40 Index
LHB
Direxion Daily Latin America Bear 3x Shares
3x
LBJ
39,345
S&P MidCap 400 Index
MZZ
ProShares UltraShort MidCap400
2x
MVV
347,398
S&P MidCap 400 Index
MYY
Short MidCap 400 Proshares
1x
n/a
131,892
S&P MidCap 400 Index
SMDD
ProShares UltraPro Short Mid Cap 400 Fund
3x
UMDD
251,167
S&P SmallCap 600 Index
SBB
Short Small Cap 600 Proshares
1x
n/a
65,108
S&P SmallCap 600 Index
SDD
ProShares UltraShort SmallCap 600
2x
SAA
23,133
Real Estate
Dow Jones U.S. Real Estate Index
SRS
ProShares UltraShort Real Estate
2x
URE
972,021
Dow Jones U.S. Real Estate Index
REK
ProShares Short Real Estate
1x
n/a
38,664
MSCI US REIT Index
DRV
Direxion Daily Real Estate Bear 3x Shares
3x
DRN
251,152