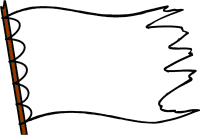 Has Research in Motion (RIMM) given up? On Tuesday Research in Motion rose over five percent to bounce off its recent five-year low when it announced BlackBerry Mobile Fusion. Mobile Fusion allows enterprises to manage mobile devices made by other vendors such as Apple (NASDAQ:AAPL) and Google (NASDAQ:GOOG). This is actually a good move for RIMM and one that I support; however, it is at least two years too late. Now corporate customers will be able to support iPhones and Android devices more easily (in theory at least, the service is not expected to fully launch until March 2012) while still retaining the ability to manage BlackBerries. There are still numerous companies that must rely on BlackBerries for elevated security concerns but the protection features of Apple and Google are more than sufficient for most businesses.
If the BlackBerry platform was a dominate player this 'hail Mary pass' would not be necessary; but any consumer knows that this is not true. This new service might slow the tide of defections from the platform but the writing is on the wall and a mere band-aid will not save the company. Even if the revamped operating system is a hit it would be too late as Apple and Google both have ecosystems that are far more compelling. We all know that mobile operating systems are driven by apps and BlackBerry is drastically lagging in this department. A recent survey reveals that "developers reporting they are 'very interested' in RIM's operating system for its BlackBerry smartphones dropped 7 percentage points to 21 percent and its QNX-based PlayBook tablet dropped 6 points to 13 percent." In essence this is a platform in serious trouble and the slide is irreversible. Mobile Fusion is a frail attempt at throwing a life preserver off of the Titanic.
Other recent news for Research in Motion has hardly been rosy. Retailers are slashing prices for the PlayBook and the company is likely taking a loss on each unit sold at these prices. Even when RIMM is upgraded it is full of bad news: Sanford Bernstein upgraded the company from Underperform to Market Perform but slashed the price target from $20 to $16.
How To Play It:
Mobile Fusion is very interesting because it simultaneously improves the short-term financial outlook while damaging the long-term position. I still believe in my 5 Reasons Research In Motion Could Fail In 2012 so I suggest buying January 2013 $15 Puts currently trading at $2.99. I still ultimately believe that RIMM will be acquired for its patents, brand, etc. that still have value but the premium is shrinking. Make no mistake, with everyday that passes and every iPhone that is sold Research in Motion falls in value.