Kids love McDonald's (NYSE:MCD), and so should investors. In these tough economic times, it seems that Mom and Dad are turning to the Golden Arches to treat their little ones and shareholders have been rewarded with increasing profits, great underlying fundamentals and a healthy dividend from the (perhaps) not so healthy diner.
MCD shares are currently trading around $95. Its last 12-month earnings per share of $5.10 places its shares on a trailing price to earnings ratio of 18.63. This compares with the sector average of 19.91.
Operating margin at the fast food chain is running at 30.49%, and return on equity is a more than healthy 39.80%. These numbers are being driven by a keen management that has seen the company turn around from its troubles of a less than a decade ago, when underachievement was born from poor quality produce and a workforce perceived to be at the low end of the labor scale.
Not so now. Employee training programs and incentives have combined with better quality produce to up the in-store experience for customers. Restaurants are now light, airy and inviting, a far cry from the dull and dingy diners of ten years ago. The company is even adding healthier eating options to its menu: oatmeal being the latest offering.
The dividend for last year was $2.80, and is covered nearly 2 times by company earnings - a nice mouthful of income for the investors.
Revenue at MCD is increasing healthily, too. Quarterly revenue growth is currently running at around 13.7%, though higher input costs have limited quarterly earnings growth to around 9%. With the prices of commodities easing in the face of a weakening global economy, however, increasing costs of raw materials may not be the earnings limiting factor that some believe.
Next year's earnings (for the year ending December 2012) are expected to come in at $5.71 per share, a level that places the shares on a forward price to earnings ratio of 16.65. Such earnings growth would give plenty of scope for further dividend increases, which have been increased each year since they were first paid in 1976.
The good news doesn't stop there. The company plans to open 700 new stores in that burgeoning capitalist economy, China. If MCD can plant a firm foothold there, in a country that has more children per family than almost any other, and which is moving toward a more western way of life, then earnings could see a real boost in years to come.
click to enlarge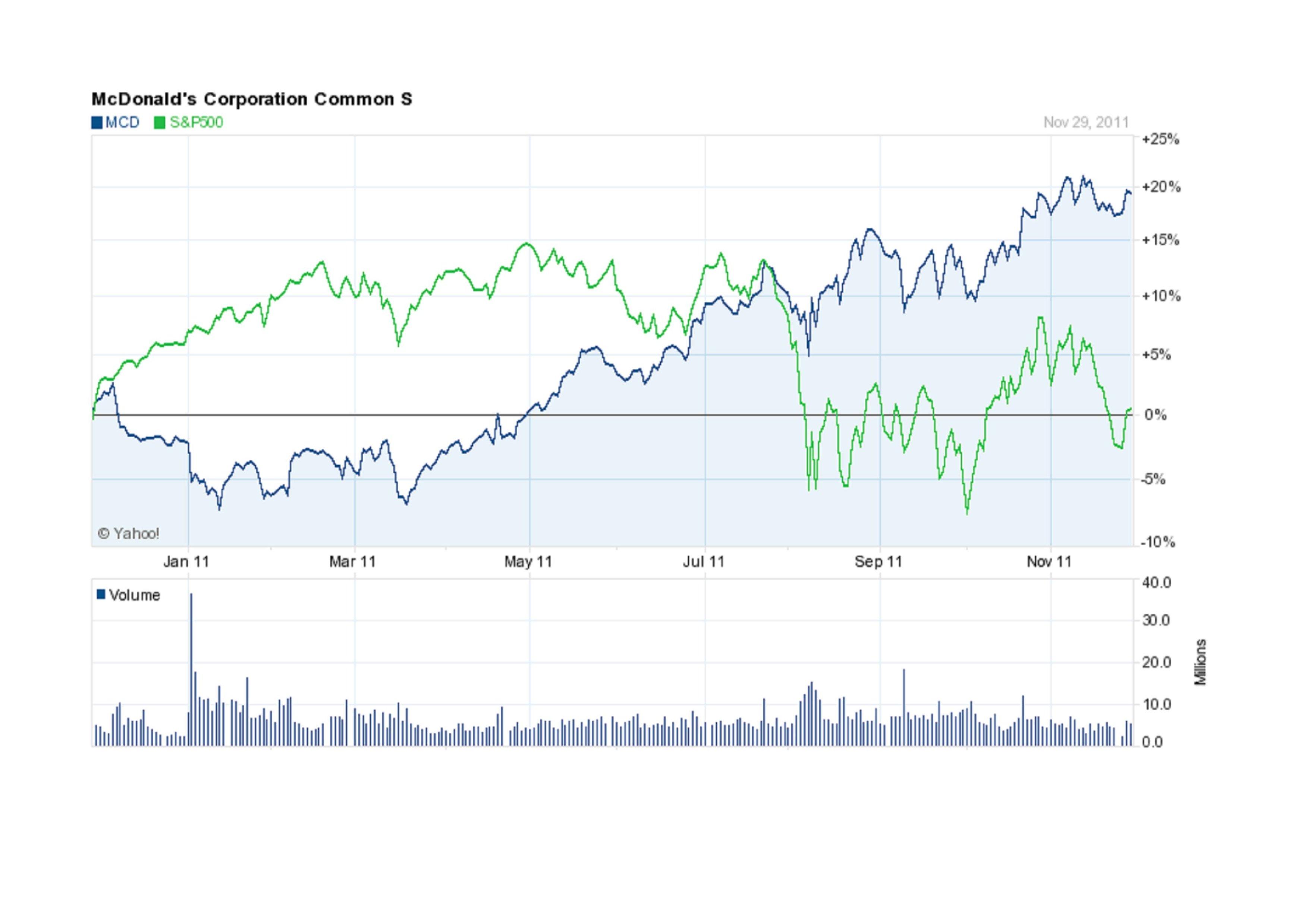 Click to enlargeLooking at the chart, MCD shares have out-performed the S&P 500 by a huge margin over the last 12 months. The shares are currently standing at the high end of their 52-week trading range of $72.14 to $95.50, driven higher by growth prospects in this defensive stock. While there may be a small pullback if looser investors want to take some profits, I see any such reversal as short lived with good support coming in around $85 to $90. For those investors looking at a 12 month time horizon, the shares represent good value in a broader market that could be held back by global economic concerns.
Disclosure: I have no positions in any stocks mentioned, and no plans to initiate any positions within the next 72 hours.