Nokia (NOK) was one of the first successful cell phone companies. It played an essential role in the development of the Global System for Mobile Communications. GSM was a revolutionary technology which became the standard mobile technology that connected the masses. As a result, Nokia's stock shot up to the stratosphere, peaking in the early 2000s. But today, the stock trades at less than six dollars, and talk of Nokia is drowned out by the buzz surrounding the latest Apple (AAPL) and Google (GOOG) smartphones.
Click on chart to enlarge: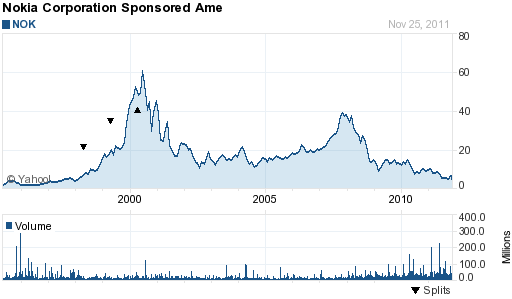 Source: Yahoo Finance
Nokia is trying to get back in the game with a new partnership with Microsoft (MSFT) and its Windows Phone 7 platform. The latest phone released under this collaboration is the Lumia 800—a watered down version of the Nokia N9. Still, the Lumia 800 maintains the beautiful curved AMOLED Gorilla Glass screen (by Corning (GLW)) and the Karl Zeiss 8MP camera the N9 has, but loses 512 MBs of RAM and the 64gb internal storage option. Yet even with the slight downgrade, the Lumia 800 is a pretty solid phone in terms of hardware. I'm much more worried about the software though.
Nokia's Microsoft partnership is the wrong choice. For a company that desperately needs to get a phone out the door that will sell now, why would it pick a software platform that is not well established? Microsoft is neither the first nor the second mover in the smartphone OS war and lacks the hype that surrounds Apple's iOS and Google's Android. Nokia should have chosen to use Google's Android OS on the Lumia 800 to sell more phones now, rather than waiting for Microsoft to firmly establish itself as a smartphone OS leader (which may never happen).
Bottom line
Nokia's Lumia 800 is a solid phone, but Nokia's partnership with Microsoft is unlikely to pay off in the short-run. I don't see Nokia making a turnaround in the near future; conservative investors may want to avoid the stock for the time being.
Disclosure: I have no positions in any stocks mentioned, and no plans to initiate any positions within the next 72 hours.