There is no doubt in my mind that yesterday`s massive rally (4.14% for the Dow Jones Industrial Average) was widespread market recognition and relief that central banks around the world are coordinating to bail out the global economy.
The US Federal Reserve made it cheaper for European banks to borrow US dollars. At the same time (in fact, within minutes of the Fed`s move), China lowered the reserve ratio for the first time since 2008. These are the publicized actions - who knows what the central banks are buying behind closed doors.
According to Bank of Japan Governor Masaaki Shirakawa, "This was in response to increased tension in global financial markets. Coordinated action will give markets a sense of security." Hence yesterday`s rally.
Realistically, however, this may only be the beginning of a major easing cycle, the effects of which may not have an impact for weeks or months. After all, the Federal Reserve began easing the Federal Funds rate in September 2007 and the market did not rally in a significant way until March 2009.
If this is in fact the beginning of a massive liquidity injection into the global economy, it may be time to re-consider high beta sectors like silver producers. Hard assets, such as silver, benefit from rising liquidity, and therefore silver producers should benefit from central bank easing that coincides with declining systemic risk.
In the chart below I have listed 8 silver producers (Hecla Mining Co. (NYSE:HL), First Majestic Silver Corp (NYSE:AG), Coeur d'Alene Mines Corp (NYSE:CDE), Endeavour Silver Corp (NYSE:EXK), Pan American Silver Corp (NASDAQ:PAAS), Silver Wheaton Corp (NYSE:SLW), Silvercorp Metals Inc (SVM), Silver Standard Resources Inc (NASDAQ:SSRI)) in order of their November 30th performance. While one data-point does not make a trend, yesterday`s performance could identify the silver stocks that are most sensitive to central bank intervention. If and when investors believe markets will rally on rising liquidity and a falling dollar, they may benefit from holding the 6 most sensitive silver producers, namely HL, AG, CDE, EXK, PAAS and SLW.
Personally, I might initiate a small position, but I don`t plan to dive head-first.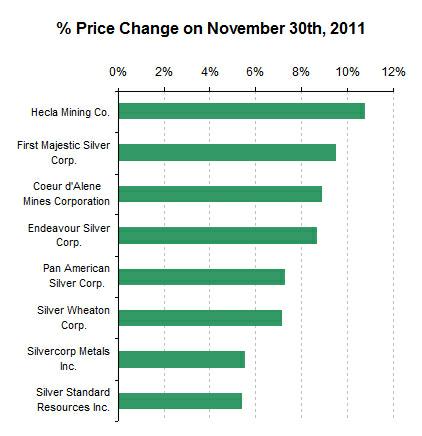 Of course, this all depends on whether investors think yesterday`s rally is fleeting or if it is the start of a longer-term trend. Regardless, I still believe investors must consider how they will position their portfolio when a bull market does eventually begin.
As part of this portfolio positioning, I think investors looking to tap into a potential liquidity rally would be interested in the recent historical performance of these silver stocks. The chart below shows the quarterly, half-year and full-year performance of the previously-mentioned stocks. Many of these stocks have seen major declines and are primed to ride a central bank reflation wave.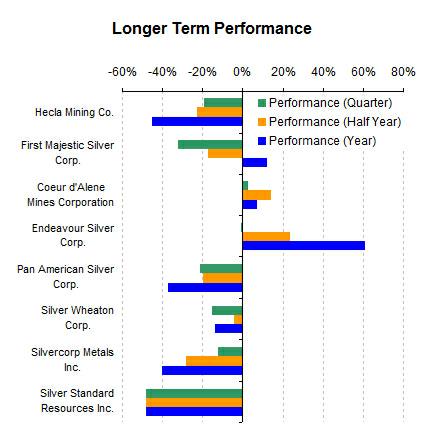 Disclosure: I have no positions in any stocks mentioned, but may initiate a long position in PAAS over the next 72 hours.