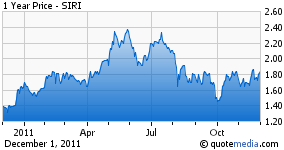 It seems that the speculation surrounding Sirius XM (NASDAQ:SIRI) and its supposed "imminent" acquisition by Liberty Media (LCAPA) has become a story that just won't go away – and frankly one that has not only taken a life of its own, but also has become pretty annoying.
I continue to question the merits of the NY Post article and its source. One has to consider that if Liberty were truly making a play for Sirius, why would they tip their hands almost five months before they are able to do anything (if factoring the NOLs as a temporary detractor) only to allow Sirius to grow more expensive. It's just not a sound strategy.
As an example, immediately upon the release of the article, the stock climbed 14 cents and if it continues its climb in anticipation of a takeover, this would cost Liberty billions. It just doesn't make a whole lot of sense and I have to think that none of it adds up to anything more than guesswork – albeit one that generates quite a bit of interest as investors are inclined to buy solely on this rumor. But as I have stated before, this becomes a dangerous proposition.
Don't Be A Sellout
Instant gratification is the name of the game. There is no better example of this than winning the lottery. How else can one's life change without the conventions of what is known to make it one of quality? With a bit of luck a ticket holder can become an instant millionaire just by holding a $1 ticket – immediately "out-earning" someone that has worked for 30 years. It's both great and sad at the same time.
The stock market is no different as every participant shares only one craving – wealth. As in the lottery example, this can be acquired by having invested in an intelligent manner through the long haul with an established portfolio or it can occur in an instant by being in the right stock at the right time. As for as the latter, there is no better example than being in a stock that is on the verge of being scooped up via an M&A – often presenting upwards of immediate 20% (or higher) premiums. But should you sell out?
It's widely understood that mergers and acquisitions (or M&As as they are called) are an essential (or at the very least integral) component of the investing experience – at least for me. Over the years, I have held equities that have been acquired by larger companies. But each time it has come with mixed results. One such deal occurred in 2005 when I received word that my position in Macromedia was being acquired by Adobe (NASDAQ:ADBE).
This deal brought some excitement because not only did it present an instant 25% premium, but I had already understood that Macromedia (at the time) had reached its plateau – at least in my mind. This is the same reason that I think a company such as research In Motion (RIMM) has no choice but to sell. But has Sirius reached such a plateau? That is what needs to be answered before investors should feel comfortable about an acquisition. In other words, is its current trajectory "as good as it's going to get?"
For Sirius, while a Liberty buyout bid can give a nice return to a short-term investor, those who are in for the long haul should consider that Sirius is not in the best position since Liberty already owns 40%. This leaves out the possibility of any bidding war unfolding between another potential suitor. Liberty knows (as does Sirius) that there is no leverage. So if a buyout were to unfold there is no doubt that it will be for less than its true long-term value.
Learning From Apple
It is interesting when investors look at Apple (NASDAQ:AAPL) today and try to appreciate what it has become - which is the standard of today's company and stock. But many investors fail to realize that it almost never happened. Everyone knows that its pre-2000 era was murky at best where is required a bailout of sorts from Microsoft (NASDAQ:MSFT). But many do not remember that several years before that during its "darkest days" Apple resisted offers of an acquisition by Oracle (NASDAQ:ORCL).
Oracle was planning to conduct a hostile takeover and reached out to Steve Jobs (who was then no longer with the company) and asked him to return to the company. Jobs ultimately declined which then took the air out of the bid. The offer Oracle presented in 1995 would have valued Apple at $3 billion. This is less than "chump change" when you consider Apple's current market cap of almost $360 billion.
By Steve Jobs declining Oracle's offer, Apple has grown by an average of $22 billion per year for 16 years. It is remarkable when you consider that for 16 years it has increased its market cap more than 7 times the $3 billion that Oracle had initially offered for an outright purchase. There are examples like these all over the place. In 2008 Facebook offered $500 million to purchase Twitter. Twitter's management declined and three years later Twitter is now valued in the range of $8 to $10 billion.
Summary
There is a reason that Liberty may be looking to acquire Sirius – it has become a cash cow and is now in a better position fundamentally than it was three years ago. As investors continue to salivate at the instant gratification that a buyout would provide, this idea only affirms the notion of a "lottery ticket" that offends so many Sirius longs. As both Apple and Twitter have shown sometimes it is best to stay put. The management of both firms saw the value within the company as the suitors looked for a quick payday. Both did the right thing and resisted, and (at this point) so should Sirius.
Disclosure: I am long SIRI, ORCL, AAPL, MSFT.