As a new health care paradigm emerges, we should see a continued shift towards personalized medicine: Giving the right treatment, to the right patient, and the right time. Even since before the Human Genome Project began in 1990, industry experts have been premature on the speed in which personalized medicine will come to be the health care paradigm. Unfortunately, in investing, early still means wrong. There's no denying the US health care system, as well as every developed country's health care system, will continue to move to this paradigm eventually.
To paraphrase the Personalized Medicine Coalition: Physicians have always tried to tailor their therapies to the patients; the only difference is now they have the genetic tools to do it better. This paradigm shift will happen, and there are near-term and long-term opportunities.
Personalized Medicine Today
Personalized medicine has already found itself in medicine today, and we will continue to see it grow. It will change the health care landscape because it's good for patients, payers, and providers. One of the most talked about examples is getting the correct dosing for the drug Warfarin.
Warfarin
Warfarin is an important and effective anticoagulant manufactured by multiple companies. Inaccurate dosing (both under and over dosing) of Warfarin can have extreme side effects, including death. Previously, various methods included trial and error in order to figure out the correct dosing. Because of advances in personalized medicine, Warfarin metabolism can be checked at the molecular/genomic level, preventing adverse complications due to dosing. Some companies with a Warfarin Test include Nanosphere (NSHP); AutoGenomics, Inc; Third Wave Technologies (NASDAQ:HOLX); Biotage Inc. (OTC:BITGF); and Luminex (NASDAQ:LMNX).
Patients avoid health complication associated with the wrong dose.
Payers avoid paying for excess hospital time or treatment due to warfarin-related complications.
Providers avoid litigation and feel more comfortable with the treatment the patient receives.
Personalized Medicine Tomorrow
PM is already here, but it's clear its full impact is still in the future. Analysts have been trying to predict the timing of the great drive for personalized medicine. Not all personalized medicine plays can be made today; look for certain drivers to impact the industry. There will be huge catalysts for personalized medicine and opportunities to make well calculated bets on the industry.
The Catalyst: FDA Policy On MDx
Right now FDA categorizes Molecular Diagnostic tests (MDx) as medical devices under the subheading IVD. These tests are getting increasing complex and more difficult for the FDA to evaluate. The evaluation process needs to be driven by experts who understand the testing complexity. Advancing these test can be greatly helped by having a specific FDA branch for molecular testing. When its own branch is created and the FDA finally creates a section and policy for companion diagnostics, expect a huge drive in MDx.
Tailwind For Personalized Medicine
Controlling Costs
According to Mckinsey and Company, health care costs have consistently outgrown GDP growth over the last 40 years. As we all know, this trend cannot continue. We are seeing increasing reluctance of the payers (insurers and Medicare/Medicaid) to pay premiums for marginal benefits. The health care system of the future will continue to allow the payer more say in the treatment decision. The only way that will be ethical, of course, is when cost control overlaps with maintaining high quality of treatment. PM provides that avenue.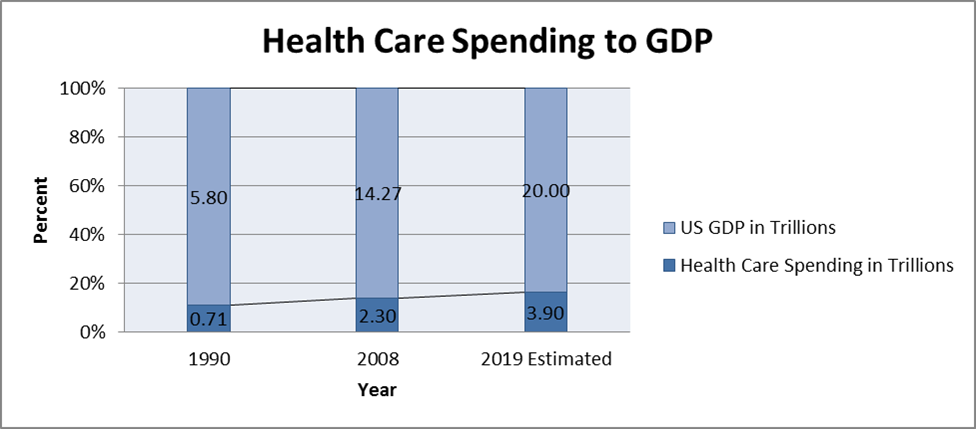 Headwind to Personalized Medicine
Short-Sighted Health Care System
While PM represents the system of tomorrow, many times the initial investments make them unattractive. Going from the cellular to the subcellular for more accurate and complete testing costs more. Extreme focus on the deficits of today may create cost saving measure today that will slow development processes. Today we are seeing government cuts in educational research spending and R&D spending. While the long term costs savings from personalized medicine is real and present, money needs to be spent today.
Playing the Paradigm Shift
Right now I believe certain subsectors of health care will benefit from this change in paradigm. So how do we play this paradigm shift as investors in public companies? As this paradigm becomes reality, there will be winners and losers.
Some Home Run Possibilities: Molecular Diagnostics Firms, Sequencing Firms
Diagnostics make 80 percent of the therapeutic decisions, but only represent 2 percent of the costs, according to a study by Lab Corp. Because of the increased importance of diagnostics to the health care system, reimbursement will shift from therapeutics to diagnostics.
Look for companies with the tools and technology to be at the forefront of this paradigm shift:
Examples of these type of companies-Cepheid (NASDAQ:CPHD), Gen-probe (NASDAQ:GPRO), Genomic Health (NASDAQ:GHDX), Myriad Genetics (NASDAQ:MYGN), Pacific Biosciences (NASDAQ:PACB), Ilumina (NASDAQ:ILMN), Life Technology (NASDAQ:LIFE), Rosetta Genomics (NASDAQ:ROSG), Sequenom (NASDAQ:SQNM), Complete Genomics, Inc. (NASDAQ:GNOM), Hologic (HOLX), Response Genetics (NASDAQ:RGDX), Nanosphere (NASDAQ:NSPH), Meridian Bioscience Inc. (NASDAQ:VIVO), Exact Sciences Corporation (NASDAQ:EXAS), Affymetrix Inc. (NASDAQ:AFFX), Luminex (LMNX), Fluidigm Corporation (NASDAQ:FLDM), Alere Inc. (NYSE:ALR), Quidel Corp. (NASDAQ:QDEL).
Timing and Recommendation
Look for the firms that can create the advantages of personalized medicine: Technology for spotting many biomarkers related to a therapeutic options, and relationships already in place with pharma.
There are only a few of these that will be homeruns, some possibilities might be Life Technology (LIFE) and Qiagen (NASDAQ:QGEN), since they both have companion dx programs in the pipelines and are working with directly with pharma.
Beware of prognostics, rather than diagnostics, and one-trick ponies: Genomic Health (GHDX) and Myriad Genetics (MYGN) have diagnostics with a weak link to therapies (without the therapy, it's just a prognostic) and are dependent on a market with one product that some experts believe is priced too high.
Secondary Winners (A Slow but Steady, Buy-the-Dips Group): Diagnostics Testing Centers
While I believe this group as a whole will outperform the market on a risk adjusted basis, do not expect this group to achieve home run returns, but likely solid returns.
In this paradigm shift, large laboratory centers should also benefit. The cost saving paradigm will benefit lean and more efficiently run private testing centers. Automated molecular diagnostic devices will make these firms more productive. Many of tomorrow's tests manufactured by some of the previously mentioned companies will be performed in places like Laboratory Corporation (NYSE:LH), Quest Diagnostics (NYSE:DGX) and Bio-reference laboratory (NASDAQ:BRLI).
Public labs are more likely than private labs to adapt cost saving technology and embrace automation and improvements in efficacy. While this group will benefit from personalized medicine, the group is also exposed to many slow or not growing diagnostic areas. The realization of PM can be felt in these firms today. From first-hand experience, I know these firms are actively seeking the newest and best technologies to make improvements.
Since these firms have very little downside risk, and their performance is not very correlated with the overall economy, I would recommend taking position on dips in price.
Risk to This Investment Thesis
Private Companies
Some of the best companies in the MDx space are still private. They might be the clear-cut winners in the race to benefit from the PM space. Many more efficient and better discovery methods may lead to discoveries of new and novel biomarkers. These discoveries can lead to building around some of the IP created and patented by the public diagnostic companies of today. I believe these companies are well suited to compete in this space, what's still unknown is the impact these firms will have on today's public firms.
Big Pharma
Never underestimate the political power of Pharma. Pharma as a whole is one of the most well connected group in Washington with numerous lobbyists and insiders working around the clock to tweak public policy in its favor. Do not expect pharma to not fight for a continued high rate of reimbursement. Pharma will continue to try to influence public policy even if it means slowing the personalized medicine paradigm.
In Conclusion
Personalized Medicine is not a passing trend, but rather a paradigm that has always been in medicine and will continue to influence the health care sector. The value added to payers, patients, physicals makes it inevitable in health care today and tomorrow. Position portfolios accordingly knowing this trend is here and comes to develop.
Disclosure: I am long ILMN.
Additional disclosure: Please note this article has more to do with sub-sectors and companies positioned well for personalized medicine. Individual companies maybe over or undervalued, even contrary to if they are positioned well or poorly for the trend.