Kyle Bass of Hayman Capital Management released his must read annual letter to shareholders. Bass has a gift of being able to break down complex global political and economic issues into a easy-to-digest framework. Hayman's underlying thesis is that the global credit market debt has reach a point of diminishing returns, and a global restructuring is required.
Bass's previous letters and discussed the quantitative issues in great detail. This most recent letter, while full of fact and figures really focuses on the qualitative issues. The quantitative issues are now well documented and "are what they are" but qualitative issues have become front and center
Below are the highlights of the letter:
Total global credit market debt has grown at more than an 11% CAGR from $80 trillion to approximately $200 trillion. Over the same period of time global real GDP has grown at approximately 4% CAGR.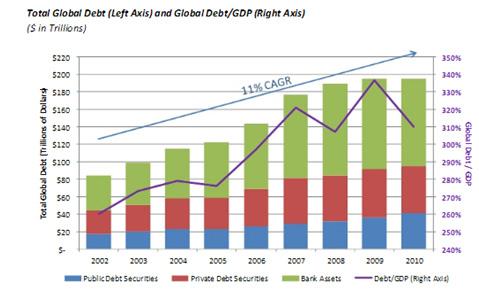 The markets are already pointing to a break-up of the European Monetary Union. Bass points to absolute bond yields of Greece and Portugal and Italy / German spreads. Implied CDS ratings are oftentimes 6 – 10 notches below Moody's ratings. This dislocation oftentimes leads to multi-notch downgrades.
The EFSF is a circular reference. Simply, the mechanism requires guarantees from each of the member countries. As members of the EFSF seek aid, the structure fails. Akin to a group of people climbing a mountain linked together, as members fall the stress become incrementally greater for the other members.
When (not if) there is a default, money printing is better left to the individual member countries as pre-default does not address the problem.
Developed western economies have not defaulted since WWII, so there is this absolute faith in the perceived risk-free nature of sovereign debt. Once defaults begin to start, value at risk models will be "blown apart."
Japan will be on the front page soon. Finally.
Tactical Strategy
The global restructuring that Bass discusses will not be pretty, and precious metals will likely be a beneficiary of the resulting safe-haven trade. We own gold and silver in physical and ETF forms (GLD and SLV). We follow a policy of not timing the market, but slowly accumulating these metals, as they are our insurance policy against inflation. Investors interested in vehicles that retain physical metal should look into Sprott Asset Management's Sprott Physical Gold Trust (NYSEARCA:PHYS) and Sprott Physical Silver Trust (NYSEARCA:PSLV).
Disclosure: I am long GLD, SLV, and also long physical gold and silver.