The S&P 500 posted a near-record gain in October, as investors reacted with relief to the news that EU leaders devised a plan to leverage the European Financial Stabilization Facility (EFSF).
But this encouraging news was undone when Greece's then-Prime Minister George Papandreou called for a national referendum on austerity measures required for a bailout. The referendum was quickly tabled, and Papandreou resigned from his post in short order. Meanwhile, the yield on Italy's 10-year bonds spiked over 7%, reflecting concerns that Rome isn't serious about implementing meaningful reforms.
There's a pattern to Europe's ongoing sovereign-debt drama: Europeans drag their feet until the ensuing panic prompts policymakers to do exactly what the market demands.
Until a few months ago, the EU sovereign-debt crisis mainly affected the Continent's PIIGS - Portugal, Italy, Ireland, Greece and Spain - the nations facing severe economic challenges. After more than two years of austerity, the Greek economy is shrinking quickly and is unlikely to resume growth until 2014. Meanwhile, the larger economies of Italy and Spain are succumbing to the same headwinds that befell their Mediterranean neighbor.
Even as the outlook for the PIIGS crumbled in 2010 and earlier this year, the eurozone's core - the dominant economies of Germany and France - remained healthy. But the rot has spread. Recent European economic data has come in below expectations. The EU will soon slip into recession, if it hasn't done so already.
But Europe hasn't been an engine of global growth for years and the outlook in other regions is sanguine.
"Movin' on Up" depicts the Citigroup Economic Surprise indexes for the U.S., U.K., EU and emerging markets since the beginning of 2010. Interpreting these indexes is simple: A rising line suggests economic data have exceeded expectations, a falling line signals a series of downside surprises.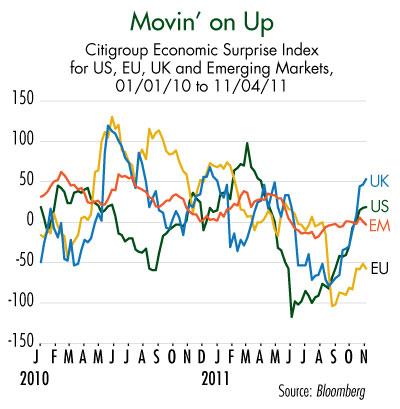 U.S. economic data has strengthened since this summer, and the risk of a recession is receding. Third quarter economic growth came in at 2.5%, beating expectations and overcoming a sizable drawdown in inventories. The data have actually improved since the fourth quarter began. The latest reading of the manufacturing Purchasing Managers Index, for example, shows a pick-up in new orders. Jobless claims also fell to one-year lows. As inventories normalize in the fourth quarter, the U.S. economy should grow by about 3% - double what was expected just three months ago.
A possible freeze in Europe's credit markets poses the greatest threat to the U.S. economy. Fortunately, the damage thus far has been modest. Interbank lending rates have ticked higher but remain well below the levels that prevailed after Lehman Brothers declared bankruptcy in fall 2008. The high-yield bond market has also recovered significantly over the past two months. The U.S. corporate bond market has been active, and rates remain low by historical standards.
The U.S. economy's growth prospects in the second half of 2012 are of greater concern.
Over the next few years, the U.S. faces a series of potential tax hikes - the expiration of a payroll tax holiday in early 2012, the lapsing of the George W. Bush-era tax cuts in early 2013 and new taxes from President Obama's Patient Protection and Affordable Care Act. The specter of rising taxes will be a major source of uncertainty when the U.S. presidential campaign cycle heats up in mid-2012.
The economic outlook remains positive in emerging markets. China recently reported that inflation had declined to 5.5% in October from 6.1% in September and 6.5% in July. By year-end, I expect inflation to fall well below 5.0% - a far more comfortable level.
With inflationary pressures retreating, look for emerging markets to adopt pro-growth policies in 2012. Such an outcome would be a boon to the global economic outlook.
Economic growth in China and the U.S. can withstand a recession in Europe. And the media's incessant focus on the EU obfuscates improving trends elsewhere. Unless a spike in Italian sovereign-bond yields sparks a 2008-style global credit freeze - still an unlikely outcome - the market has room on the upside.
Disclosure: I have no positions in any stocks mentioned, and no plans to initiate any positions within the next 72 hours.