Costco (NASDAQ:COST) recently announced it was increasing its annual member fees by 10% ($50 to $55) for 22 million members, that is some serious mula -- $110 million in additional revenue. The total revenue from membership fees in 2011 was $1.877 billion and Costco's net income was around $1.46 billion, so the company would not be profitable if it were not for the membership fees.
Costco began back in 1976, when its first store was opened in San Diego, under the name "Price Club." The decision to provide only to small business owners proved successful and in time, the first warehouse was opened in Seattle. This furthered the company's success and in six years Price Club had grown from zero to $6 billion sales, setting a record as the fastest growing company in history. Seventeen years later, in 1993, Price Club merged with Costco and began operating as "PriceCostco." The new business opened a total of 206 locations, generating $16 billion combined. In 1997, the decision was made to change the name back to "Costco." The store stands as the largest membership warehouse club chain in the world.
Costco has earned its success and good reputation due to its low prices and large-volume supplies. The idea behind Costco is to provide bulk supplies of goods to small businesses and large families. Prices are kept to a minimum due to the fact that overhead is kept as low as possible. Costco is open only to members and guests of members, and membership currently stands at $55 a year.
Unlike most stores, Costco does not hold a full and complete range of product types or brands within each product category. Instead, it holds a specific range of brands in specific categories making sure quality of supplies is always high with reasonable prices. The big-box retail prices mean that customers are charged a yearly fee as stated above. This means that product quality is consistently high with low markups, keeping customers happy and employees satisfied with good wages and healthcare benefits.
Costco houses a large number of supplies in a range of different categories. Sundries are recognized as Costco's largest business segment, making up 23% of Net Sales. Sundry merchandise includes sweets, snack-foods, alcohol, non-alcoholic beverages, tobacco and cleaning supplies. Their second biggest segment is food, with 21% of Net Sales. This segment is generally responsible for dry and packaged foods. Hard-lines makes up 19% of Net Sales, and includes the supply of electronics, hardware, beauty products, sporting supplies and office goods. Fresh food makes up 12% of Costco's products and soft-lines, which include jewelry, housing goods and media make up the smallest 10%. The ancillary, that includes the stores' petrol stations, pharmacy and food court make up the remaining 15%.
The business growth of Costco has been impressive. In the last ten years, earnings per share have increased at 10% annually. In 2010, the recorded financial year shows that there was a 9.1% rise in Net sales to $76.3 billion. It also shows a net income increase of 20% to $1.3 billion.
Today Costco has 595 stores worldwide, located predominantly in the United States (432). Other locations include Canada, Australia, Canada, Mexico, the UK, South Korea, Japan and Taiwan. In terms of sales, Costco classifies as the largest retailer in its market. Competitors include Wall-Mart (NYSE:WMT) owned "Sam's Club" and BJ's, a smaller retail warehouse. All three companies share the same high volume low price model. Sam's Club has 200 more stores than Costco, though Costco still earns more in revenue (about $1 billion more).
Costco opened a net of 20 new stores in the previous fiscal year with 13 in the U.S., three in Canada, two in Taiwan and two in Australia. Costco expects to open 20 new stores for 2012, with half located in the U.S. and half located outside of the U.S.
I'm estimating Costco's market saturation for the U.S is 1000 stores, which at its current rate of store expansion will be reached in about 16 years. At this point I can't really extrapolate the company's growth outside of the U.S, although it could be very large. Based on the company's store expansion growth potential and a growth rate of 10% per year, a discounted cash flow analysis reveals a price for Costco's stock of $86, which is about where the stock is trading today. Based on this, I don't see the company's stock price continuing to increase at the 50% clip as it has over the last year plus change, as shown below - (click to enlarge):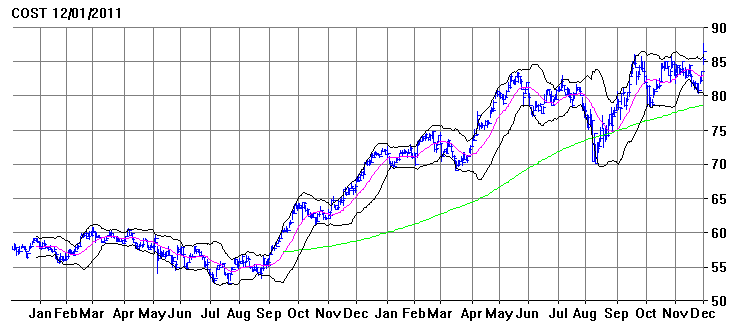 An investor in Costco with a large profit might be considering exiting the position, but this could result in a taxable event. Another alternative is to use a collar position to generate income and also provide downside protection. A collar can be entered by selling a call option against an existing or purchased stock and using some of the proceeds from selling the call option to purchase a put option for protection.
Using PowerOptions search capabilities, a collar position was found for Costco with a potential return of 2% and a maximum potential loss of 8.8%. The time frame for realizing the potential profit is 51 days. The specific call option to sell is the 2012 Jan 87.5 at $2.38 and the put option to purchase is the 2012 Jan 77.50 at $0.66. The 2% return will be realized if the price of Costco's stock has not changed at expiration in January of 2012. As a bonus, if Costco's stock price is greater than or equal to the 87.5 strike of the call option at expiration, the position will return 2.9%. A profit/loss graph for the position is shown below: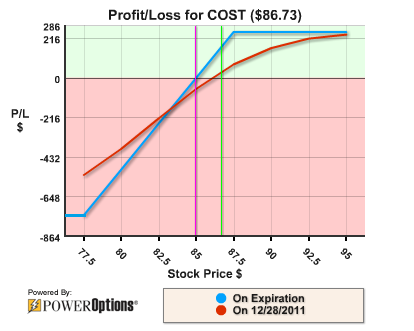 Continued appreciation in Costco's stock price is predicated upon it continuing to add new members and its ability to continue increasing its membership fees. In the near term, Costco's stock price looks appropriately priced and I don't see significant price appreciation in the near term. An investor using a collar position for Costco can generate income and purchase protection at the same time without requiring any additional capital investment. As a bonus, the collar strategy enables an investor to continue receiving Costco's dividends (1.1% dividend yield) as long as the position is managed to ensure the stock is not assigned.
Disclosure: I have no positions in any stocks mentioned, and no plans to initiate any positions within the next 72 hours.