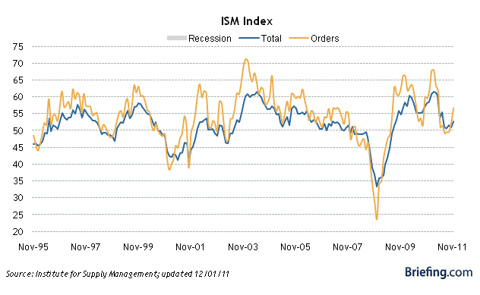 Click to enlarge
The market was mixed on Thursday as data and European headlines did not allow for another follow through in upside for the market. After a few weeks of declining jobless claims, last week saw unemployment claims pop back over 400K. It was the first time for that to occur in several weeks, and the market was hindered by that news. On the flip side, the ISM Index was at its best level since June, and it was a good sign for the economy.
Europe was pretty quite today. The markets overseas were mixed, and questions are definitely prevalent as the market moves to the all-important December 9th EU meeting of leaders. U.S. markets continue to follow Europe closely, so it will be important to see how these markets continue to fare to understand where we are headed. That relationship will remain the same for some time.

Earnings have started to slow, although we do have some important retailers still to report over the next week. Today, we did get some important earnings reports. Lululemon (NASDAQ:LULU) disappointed on sales, and shares of the stock sank over 5%. Kroger (NYSE:KR) had pretty strong earnings as well as Aeropostale (NYSE:ARO). Retailers have been doing really well overall during earnings season, and those earnings do help the market get a better idea of the consumer.
We put together a nice combination of trades here over the past two days. First, we had a fantastic day yesterday as we were able to sell positions of stock in Smithfield (NYSE:SFD) and Deere (NYSE:DE) for 4% and 5% gains, respectively. Additionally, we were able to get a solid move out of McDonald's (NYSE:MCD) in our $97.50 Jan21 calls that returned 25% in gains. Many of our other positions are doing excellent, including longs in Visa (NYSE:V), Apple (NASDAQ:AAPL) and Nike (NYSE:NKE). We also started a new promotion for December to make 30% in 30 days for our entire portfolio in options.
We started our second position in the promotion of our options portfolio by going long on Bed, Bath and Beyond (NASDAQ:BBBY) today with $62.50 calls that look like they can make a nice move to the upside into earnings for BBBY.
Moving into tomorrow, the market is going to mostly be looking at jobs. How is the jobs report? How should we interpret the jobs report? Will we hit the 125K estimates? Based on the ADP employment change and initial jobless claims over the past several weeks, it looks like this should come out in the right direction ... but it's anyone's guess. A good report should continue this trend to 1260. A bad report could see us giving up a lot of the gains from Wednesday.
One stock we are watching right now is LinkedIn (NYSE:LNKD). After a detrimental performance before Wednesday, LNKD has soared over the past two days. It looks like the stock could be in trouble as it approaches $70. We have a fair value price of $38 for the stock, and it is extremely overvalued right now. We are definitely going to be looking at the weekly options on LNKD for the company to see what kind of move this stock will be making with the market. If it's up, we cannot fight the trend and would love to sell some puts. If it's down, we would love to do a bear call spread. The volatility of this stock makes weekly options on expiration day still worthwhile. Just have to pick the direction.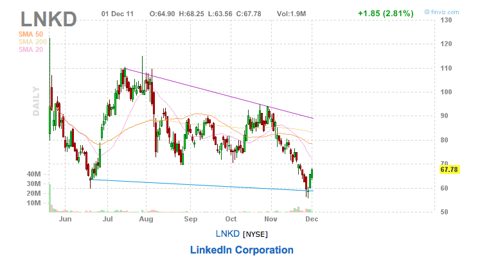 Disclosure: I am long BBBY, MCD, SFD, DE, ARO, AAPL, V, NKE.
Additional disclosure: I may open a position in LNKD.